Drones manufactured in Iran and used by various state and non-state actors continue to threaten security on land and sea across the Middle East, with the Iranian regime's web of lethal exports now extending far beyond the region.
Iran is a major producer and exporter of unmanned aerial vehicles (UAVs), commonly known as drones. It also pushes out UAV equipment and training to an expanding network of proxy and partner networks, Iran Primer reports.
Iran has the largest drone arsenal in the Middle East, with at least nine different types of suicide drones, per the US Defence Intelligence Agency (DIA).
This proliferation and variety of drones "provides Tehran a deniable means of attacking US and partner interests throughout the Middle East", DIA director Lt. Gen. Scott Berrier said last May.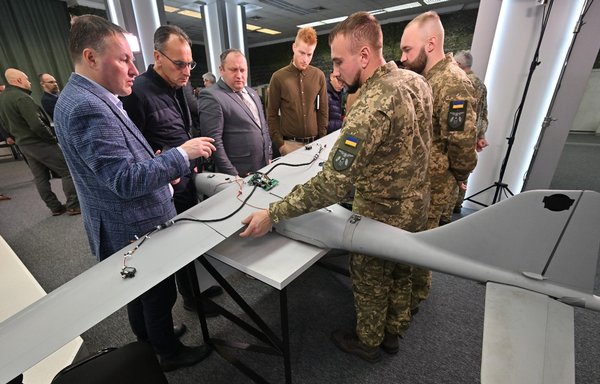 Iran's hand can be seen behind dozens of attacks on US and international coalition forces in Syria and Iraq, including a recent assault that began with a Thursday (March 23) drone strike near the Syrian city of al-Hasakeh.
The deadly "suicide drone" attack targeted a maintenance facility at an international coalition base, killing a US contractor and wounding five US service members, and sparking a US response and stern warning from President Joe Biden.
Sabotage in Syria and Iraq
In Syria, Iranian drones have been used to attack international coalition bases, undermining counter-terrorism operations and paving the way for the "Islamic State of Iraq and Syria" (ISIS) to regain a foothold in the war-ravaged country.
Reports last August that specialists from Iran-backed Lebanese Hizbullah were giving members of the Fatemiyoun Division militia training on drone operation in the eastern desert (Badiya) near Palmyra angered Syrian activists.
Syrian lawyer Bashir al-Bassam challenged the use of drones by Iran-affiliated militias in Syria, saying this "puts Syria and Syrians in a more difficult position".
"The question is, why equip these militia groups with drones?" he said, suggesting Iran's actions will expose Syria to additional international sanctions.
In Iraq, shadowy Iran-aligned militias have used drones to attack foreign diplomatic facilities and international coalition forces fighting ISIS.
These militias also have used drones to attack and intimidate Saudi Arabia and the United Arab Emirates (UAE) from Iraqi soil.
Such attacks directly threaten Arab relations, including the Iraq-Saudi rapprochement, potentially diverting much-needed Saudi reconstruction funds away from Iraq.
Lethal export to Yemen
In Yemen, Iranian drones have been paraded through Houthi-controlled Sanaa.
Drones are likely being used to transport arms to the Houthis, according to a February report to the United Nations Security Council, literally flying in the face of efforts to bring an end to the protracted conflict.
Yemeni forces in January intercepted a shipment of UAV engines bound for the Houthis at the Oman border, while inspecting a truck purportedly loaded with clothing, according to media reports.
"How many people could these drones have killed? How many have been smuggled over the past eight years?" Consultation and Reconciliation Commission deputy head Abdulmalik al-Mekhlafi said on Twitter.
Islamic Revolutionary Guard Corps (IRGC) experts have been deployed to Yemen's al-Hodeidah province to help the Houthis set up attacks on international shipping in the Red Sea and Bab al-Mandeb strait, officials said in January.
The presence of IRGC specialists, who have set up platforms for the launch of missiles and drones, coincided with Houthi threats of an escalation and fresh attacks on shipping lanes, Al-Hadath news channel said in December.
Speaking to Al-Mashareq in January, al-Hodeidah provincial spokesman Ali Hameed al-Ahdal said the Houthis are "assembling Iran-manufactured drone components" on the mainland and on Kamaran Island in the Red Sea.
Iran's drone carrier division
Iranian drones that attack international shipping routes in the Red Sea and commercial operations in Saudi Arabia cause major disruptions in waters that are a major route for world energy supplies.
Carried out by "drone boats" or from Yemeni soil, attacks also have repeatedly targeted an airport in the Saudi city of Abha and oil industry facilities in Jeddah.
In a March 7 report, the Middle East Institute (MEI) said it has learned the IRGC's Navy is converting two merchant container ships owned by the sanctioned state shipping line IRISL Group into its first aircraft carriers.
"The Shahid Mahdavi and the Shahid Bagheri will presumably become part of the Iranian Navy's drone carrier division, which comprises several ships and submarines," it said.
The two ships are being designed to carry helicopters and runway-launched, fixed-wing drones, including the Shahed-136 suicide drone, which has a range of up to 2,500 km, the report said.
The Iran Shipbuilding & Offshore Industries Complex Company (ISOICO) at Bandar Abbas near the Strait of Hormuz is supporting the conversion, which has been under way on the Shahid Mahdavi since at least last May, the report said.
According to Iranian media, the carriers will increase Iran's long-range surveillance and strike capabilities in the Middle East and beyond, MEI said.
They may be used to carry out "asymmetric and opportunistic" strikes on the maritime assets and soft targets of US allies and partners in the region.
"As Iran did with its drones, it could export this capability to state and quasi- or non-state partners and proxies in the Middle East and around the world," the MEI report said.
In 2021, it noted, the IRGC Navy converted an oil tanker into a forward base ship, the IRINS Makran, which can carry combat drones.
UAV exports to Russia and beyond
Iran regularly adds new UAVs to its arsenal, and has become increasingly ambitious in their manufacture, use and export.
As of this month, Iran has exported hundreds of Shahed suicide drones and Mohajer strike and reconnaissance drones to Moscow, Iran Primer reported.
Russia has been using Iranian Shahed-series drones in its attacks against Ukrainian infrastructure that have disrupted heat, water and electricity supplies to much of the population and caused civilian casualties.
Ukraine on Tuesday said Russia had launched a total of 15 Iranian-made drones at the country overnight, 14 of which had been destroyed.
Ukrainian armed forces said they had shot down a dozen Russian drones over Kyiv, and "a non-residential building caught fire due to falling UAV wreckage", AFP reported.
In addition to providing lethal drones to Russia, Iran has been providing drones to at least four other governments: Venezuela, Sudan, Ethiopia and Tajikistan, as well as seven proxy militias, according to Iran Primer.
In light of the ongoing and expanding threat Iranian drones pose to the region and beyond, US Central Command (CENTCOM) is actively seeking tips and information from the public about the use of UAVs.
This includes drones manufactured in Iran and variants of Iranian UAVs.
CENTCOM's Department of Defence Rewards Programme pays monetary rewards of up to $5 million to eligible persons who provide information that protects US or allied forces and enables them to combat terrorism.