Thousands of Houthi fighters paraded in Sanaa as the Iran-backed group marked the eighth anniversary of its September 2014 coup with a show of strength, in a move seen as a violation of the spirit of the ongoing truce.
Drones and missiles that have been hallmarks of the Houthis' military campaign on Wednesday (September 21) filed past a grandstand on flatbed trucks, three weeks after a similar display in al-Hodeidah, which is under the group's control.
Iran began to supply the Houthis with drones, drone parts and technology as part of a proxy war strategy not long after the group staged its September 2014 coup in Sanaa, which kicked off a protracted and ongoing war in Yemen.
The Houthis are reported to have "the most advanced and diverse drone arsenal among Iran's proxies", according to The Iran Primer.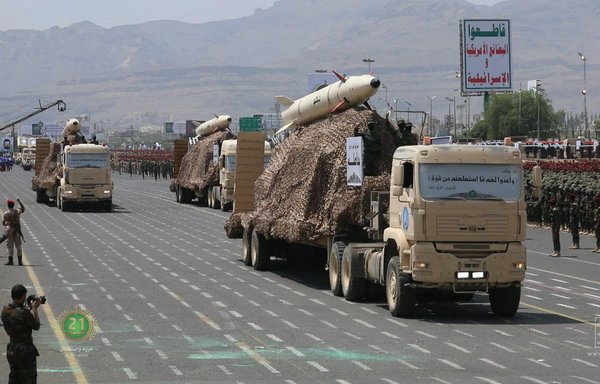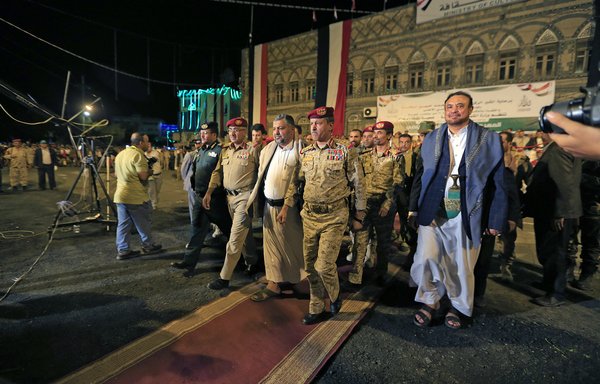 The Houthis' arsenal now includes combat and reconnaissance drones, also known as unmanned aerial vehicles (UAVs), some supplied directly by Iran and others copied or cloned.
They have used weaponised drones to target civilian facilities in Saudi Arabia and the United Arab Emirates (UAE), as well as civilian homes in Yemen.
Hostilities have sharply declined since a United Nations-brokered truce came into effect in April. It is up for renewal on October 2.
While the chairman of the Houthis' Supreme Political Council, Mahdi al-Mashat, stressed the group's "great desire for peace", deputy military spokesman Brig. Gen. Aziz Rashid issued a threat to the legitimate government and its allies.
He said the parade contained clear "messages" to the Saudi-led Arab coalition, which intervened in support of Yemen's government following the Houthis' coup.
"The military parade indicates the development of military capabilities, from drones to warplanes, which are now participating in the parade," he said.
If these messages are not understood, he warned, "there will be other advanced capabilities that the coalition will not be able to bear".
Houthi drone and missile attacks have repeatedly targeted airports and oil facilities in neighbouring Saudi Arabia. Three people died in a series of strikes on the UAE, a coalition partner, in January.
The Houthis' Al-Masirah TV channel claimed the parade included "new strategic weapons that have not been revealed before".
Iran displays new missile
A day after the Houthis' military parade, on Thursday, Iran unveiled a new medium-range ballistic missile during an annual military parade commemorating the start of the 1980–1988 Iran-Iraq war, state television said.
"The liquid-fuelled Rezvan ballistic missile has an operational range of 1,400km," said the station, which aired images of the missile mounted on a military vehicle.
Islamic Revolutionary Guard Corps (IRGC) commander Maj. Gen. Hossein Salami described the weapon as "a precision ballistic missile", according to state news agency IRNA.
Since the early 1980s, Iran has been working to develop a drone programme that enhances its position as a military power in the Middle East.
Iran has about 20 types of ballistic missiles as well as cruise missiles and drones, says the International Institute for Strategic Studies.
In February, the IRGC unveiled the Kheibar Shekan, a medium-range missile it claimed is capable of "hitting targets within a radius of 1,450km".
Yet analysts say Iran's short- and medium-range missiles offer limited strike and deterrence capabilities, and repeated failures and setbacks have undermined any talk of meaningful weapons development.
Threats and intimidation
The IRGC's continued development of drone technology and its production of replica drones for its proxies are a "concerning means of threat", said strategy analyst Qahtan al-Khafaji, a professor at Baghdad's al-Nahrain University.
Because the IRGC's proxies use copies of Iranian drones in their attacks, Iran is able to evade direct responsibility for attacks carried out by these groups, he said, by claiming that the drones were manufactured by the proxies themselves.
While its proxies carry out attacks in the region, he added, Iran attempts to intimidate its neighbours by boasting about its weaponry prowess, and to tamper with regional security by continuing to develop its drone technology.
Lethal weapons, including weaponised drones, are smuggled from Iran across land borders to Iraq, and onwards from Iraq to neighbouring countries, or by sea from Iran to Yemen, he told Al-Mashareq.
The Iranian regime seeks to perpetuate the destructive presence of its regional militias in pursuit of its mission to "export the revolution" of 1979 and extend its hegemony in the region, he said.
US Central Command (CENTCOM) rewards individuals who share useful, verifiable and timely tips on terror group operations, drone threats and lone wolf attacks against US forces and weapons caches.
Monetary rewards of up to $5 million are paid out to eligible persons who provide information that protects US or allied forces and enables them to combat terrorism. Tips can be submitted here.