BEIRUT -- The Lebanese army on Thursday (August 10) seized munitions belonging to Hizbullah from a truck that overturned on a key route to Syria in an incident that has triggered renewed calls for the Iran-backed party to disarm.
Violence erupted Wednesday evening after the truck overturned as it rounded a curve in Kahale, a town in the mountains east of Beirut, on the road linking the Lebanese capital to the Bekaa Valley bordering Syria, AFP reported.
Residents had surrounded the truck demanding to know what was inside, before Hizbullah members escorting it opened fire and killed one of them.
The incident was "unexpected", Kahale mayor Abboud Abi Khalil told Al-Mashareq.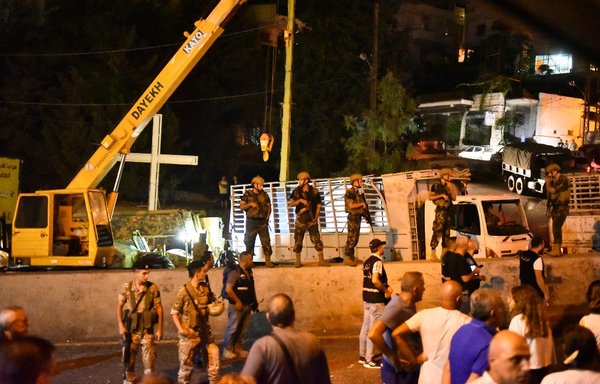 "When locals tried to approach the truck, there was uncontrolled use of weapons, leaving [Kahale resident] Fadi Bejjani dead," he said.
Abi Khalil confirmed the truck was loaded with weapons.
"We all know that [Hizbullah] is the owner of weapons used across the country," he said, adding that all Lebanese, not just the people of Kahale, "are angry over Hizbullah's uncontrolled weapons".
Hizbullah said one of its members was shot and later died of his wounds.
The army on Thursday confirmed two people had been killed and said ammunition had been seized from the truck.
"The cargo of the truck has been transported to a military center, and an investigation has been opened," it added.
The army said it had removed the truck at dawn and reopened the Beirut-Damascus road, which Kahale residents had blocked in protest.
A funeral was held Thursday for Ahmad Ali Kassas, the Hizbullah member who was killed in the Kahale clashes, in Beirut's southern suburb, a Hizbullah stronghold, with heavy gunfire ringing out during the procession.
The office of Lebanese Defense Minister Maurice Slim said a "stray bullet" of unidentified origin hit the minister's car as it passed through a district near the area, without harming him.
Hizbullah supporters posted pictures on social media showing Kassas dressed in military fatigues in Syria, where Hizbullah has been fighting on the side of the regime of Bashar al-Assad despite Lebanon's policy of dissociation.
'Open road for moving weapons'
Hizbullah is the only Lebanese faction that kept its weapons after the end of the 1975–1990 civil war.
The Iran-backed party is considered a terrorist organisation by many governments.
The Kahale incident sparked renewed demands for the party to disarm, with Kahale residents angered by the killing of Bajjani carrying signs denouncing "the Iranian occupation".
In a similar incident in August 2021, angry residents of a mainly Druze village in southern Lebanon stopped a truck carrying a Hizbullah rocket launcher, accusing the Iran-backed party of endangering civilian lives.
Military analysts said the munitions seized from the Kahale truck were for sophisticated weapons, MTV reported. Politicians and activists told the TV station that Lebanon has become an open road for moving weapons.
"Hizbullah's uncontrolled weapons are all over Lebanon, and there isn't a single area that [Hizbullah] can't reach," said security analyst and retired Lebanese military officer Khalil Helou.
"Hizbullah's weapons are spread per a systematic plan in order to achieve undeclared control, to a point that anger over the party's uncontrolled weapons has peaked among all Lebanese," he told Al-Mashareq.
The party has been trucking weapons from Iran to Lebanon via Syria for years, via the Beirut-Damascus highway and other unmonitored roads, he said.
In 2007, the Lebanese army seized a truckload of Grad rockets, mortars and ammunition for automatic rifles and machine guns near Baalbek.
The weapons belonged to Hizbullah, Helou said.
'A foreign object in Lebanon'
Lebanese MP Nazih Matta of the Strong Republic Bloc -- the parliamentary bloc of the Lebanese Forces -- also noted Hizbullah "has been moving weapons loaded on trucks on Lebanon's roads for a long time".
Dozens of trucks carrying its weapons must have passed through Kahale over the years, "and will continue to cross it and other roads as well", he said.
"Hizbullah is a foreign object in Lebanon," he said, warning that Lebanon "can't put up with an armed group with ties, loyalties, extensions, decisions, ambitions and agendas that have nothing to do with it".
Matta said anger over Hizbullah's weapons and domination is not confined to a certain group or community but "extends all over Lebanon".
"Kahale isn't the only route through which Hizbullah's weapons pass," said Lebanese Center for Research and Consulting director Hassan Qutb.
The Kahale accident "has sparked a broad debate about fundamental and fateful issues", he said, including tensions over Hizbullah's weapons, the party's political agenda in Lebanon and its regional role.
"Why were all these weapons on their way to Beirut?" he asked.
The Syrian regime, which is supported by Russia and Iran, plays a role in stoking tensions in neighboring countries, especially Lebanon, Qutb said, noting that Iran's weapons pass through Syria on their way to Lebanon and Hizbullah.