Iraq and Saudi Arabia have made significant progress on their path to rapprochement despite the concerted and continued efforts of Iranian proxies such as Asaib Ahl al-Haq to drive a wedge between them.
Despite these attempts at sabotage, the two neighbours have laid the foundation for a sustainable partnership, and on November 8 launched a joint co-ordination committee in Baghdad, with the participation of a large Saudi delegation.
The joint committee has been working to stimulate trade and revive Saudi investment in Iraq, particularly in the energy and agricultural sectors, and also has been facilitating co-operation in the security and intelligence arena.
A Saudi delegation headed by Minister of Commerce and Investment Majid al-Qasabi arrived in Baghdad on July 19 to discuss trade development with senior Iraqi officials.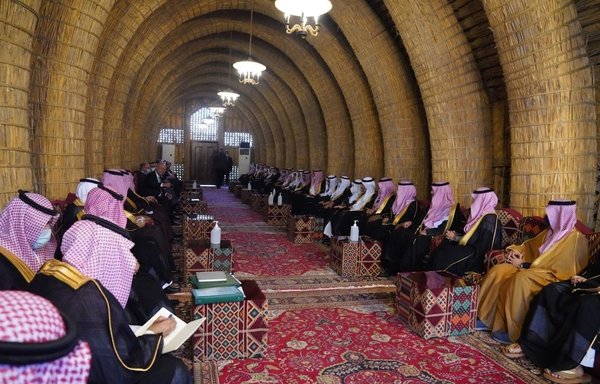 "Iraq and Saudi Arabia are rapidly deepening their relationship, despite the militias' attempts to disturb and threaten the current climate of rapprochement in the service of Iran's agenda," said political writer Adel al-Ashram.
Sabotage attempts
Asaib Ahl al-Haq in October objected to Saudi Arabia's proposed investment in one million hectares of Iraqi desert -- part of a huge investment project that includes cattle, poultry and other livestock farms.
The militia, led by Qais Khazaali, receives money and weapons from the Islamic Revolutionary Guard Corps Quds Force (IRGC-QF).
Asaib Ahl al-Haq and its partners are Iranian agents who actively seek to sabotage the ties between Iraq and Saudi Arabia by suggesting the kingdom's investments are "colonialism" and pose a security threat to Iraq, al-Ashram said.
"But the real colonialism is the criminal activity carried out by Iran and the factions loyal to it to create chaos in Iraq, destroy its economy and fight investments, in order to control its resources," he said.
Asaib Ahl al-Haq and other Iran-backed factions, such as Kataib Hizbullah, have more than once sought to disrupt Iraq-Saudi relations, but have failed, he noted.
Under Prime Minister Mustafa Kadhemi's leadership, the Iraqi government has turned its back on the militias and their threats, and moved towards strengthening relations with Riyadh, he said.
During Kadhemi's March 31 visit to Riyadh, the two nations signed five co-operation agreements in vital sectors and announced the establishment of a $3 billion joint Saudi-Iraq investment fund.
An Arab electricity connection project also was discussed to reduce dependence on purchasing electricity from Iran, which burdens the Iraqi treasury.
"Saudi Arabia sincerely intends to support Iraq and help it overcome the challenges it is facing, especially with regard to electricity supply, agricultural infrastructure development, and other areas," al-Ashram said.
The terrorist acts of groups like Asaib Ahl al-Haq and other Iran-backed militias will not stop the development of Iraqi-Saudi relations, he added, noting that the two sides have been engaged in positive, mutually beneficial co-operation.
Regional allies
Egyptian President Abdel Fattah al-Sisi and Jordan's King Abdullah travelled to Baghdad on June 27 to take part in a tripartite summit with Kadhemi that saw the three leaders agreeing to bolster security and economic co-operation.
The meeting marked an important turning point for Iraq's regional relationships, making it clear that it seeks to move closer to Arab allies of the United States.
In a post on Twitter, Iraqi President Barham Saleh said the encounter was "an eloquent message amid enormous regional challenges", AFP reported.
"Iraq's recovery paves the way to an integrated system for our region built on the fight against extremism, respect for sovereignty and economic partnership," he said.
The summit broached regional issues, as well as ways of bolstering co-operation between the three countries in the fields of security, energy and trade, according to a joint statement released at the end of the meeting.
"Hopefully, all these indicators will be translated into reality and into practical steps so that we can confront Iran's malicious ambitions and agendas," al-Ashram said.
Baghdad and Riyadh restored diplomatic relations in December 2015, paving the way for promising investment and economic development, said economist Abdul Rahman al-Mashhadani.
Help with reconstruction
Al-Mashhadani said he participated in previous meetings with Saudi economic delegations that visited Iraq when Haider al-Abadi was prime minister, and there was talk of huge investments and mutual trade.
But such plans encountered strong opposition by the militias on illogical pretexts, he said, which delayed the entry of Saudi investment companies.
"The government's general approach today is to implement a policy of openness, and in return, there is a Saudi effort to reciprocate this rapprochement with promising offers for investment," he said.
These will be in the food, energy and petrochemical sectors, to name just a few.
To further facilitate trade between the two neighbours, the Arar crossing between Iraq and Saudi Arabia has reopened.
Iraq must secure Saudi and other foreign investments and create a stable and attractive environment for investing companies, al-Mashhadani said.
This will ultimately help Iraq, he said, "as we need huge financial resources estimated at $140 billion in order to upgrade our infrastructure".
"These companies can help us achieve the desired reconstruction, creating job opportunities for young people and motivating them to work in their country's service instead of falling into the militias' arms," he said.