As US forces work with international coalition partners to stabilise Iraq and Syria following the territorial defeat of the "Islamic State of Iraq and Syria" (ISIS), they have come under repeated attacks from Iran-backed forces.
Since January 2021, dozens of attacks have been launched on US positions in Syria alone, with US military and civilian targets in Iraq also coming under regular fire from a range of shadowy Iran-backed militias.
The latest salvo began Thursday (March 23) when a drone "of Iranian origin" hit a maintenance facility on a coalition base near al-Hasakeh city, killing one US contractor and wounding five US service members.
In response to the unprovoked attack from a one-way unmanned aerial vehicle (UAV) or "suicide drone", US forces conducted "precision strikes" Thursday night on Islamic Revolutionary Guard Corps (IRGC) facilities in al-Hasakeh province.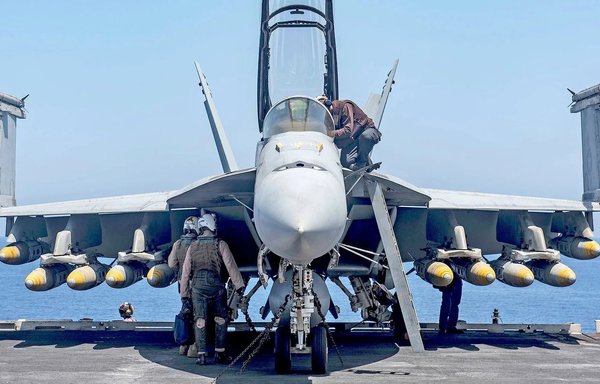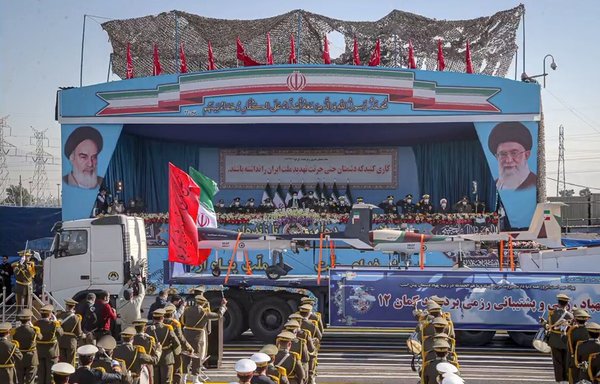 US President Joe Biden on Friday issued a stern warning to Iran, while pledging that the United States will keep up its efforts to counter terrorist threats from ISIS in the region, in partnership with the international coalition.
"The United States does not -- does not, I emphasise -- seek conflict with Iran, but be prepared for us to act forcefully to protect our people," he said.
Iran-backed militias staged further rocket attacks late Friday, the Syrian Observatory for Human Rights reported.
Ten rockets were fired at US and coalition forces at the Green Village base in northeast Syria, the US military's Central Command (CENTCOM) said.
There were no injuries or damage to facilities at the base, but one rocket struck a home around 5km away, causing minor wounds to two women and two children, CENTCOM added.
Iran-backed militias later Friday targeted a base in the Conoco gas field, the Observatory said.
It said rocket fire then targeted coalition facilities at al-Omar oil field base and in the eastern countryside of Deir Ezzor, "causing material damage", AFP reported.
A "cautious calm" returned to the Deir Ezzor area in the early hours of Saturday morning, the Observatory said.
'Reckless attacks' harm stability
Iran has launched 78 attacks on US positions in Syria since January 2021, CENTCOM commander Gen. Michael "Erik" Kurilla told the committee responsible for Pentagon funding and oversight on Thursday, before the al-Hasakeh attack.
The United States has about 900 troops in posts across northeastern Syria to keep pressure on ISIS remnants and support the Syrian Democratic Forces (SDF), which control most of the country's northeast.
US personnel in Syria frequently have come under attack from Iran-backed militias, which have a heavy presence across Syria, especially along the border with Iraq, and south of the Euphrates in Deir Ezzor province.
On January 20, international coalition forces and members of the Syrian Free Army (SFA) responded to an attack by three UAVs in the vicinity of al-Tanf garrison in the tri-border area along the Syrian, Jordanian and Iraqi frontiers.
Coalition forces successfully engaged two of the three drones, preventing their impact, the international coalition said in a statement.
The third landed within an SFA compound, without damaging infrastructure or causing harm or casualties, the international coalition said.
Maj. Gen. Matthew McFarlane, commanding general of Combined Joint Task Force – Operation Inherent Resolve, condemned the hostile activity.
"Not only do these reckless attacks put the lives of innocent civilians and our service members at risk, they affect regional stability by undermining the ongoing defeat-ISIS efforts of our partner forces," McFarlane said.
The IRGC in January began a new round of training to teach members of its allied militias in eastern Syria how to operate drones, with around 70 members of the Fatemiyoun Division undergoing training in Deir Ezzor, sources said.
After completing a two-month training course, 26 members of the IRGC-led Afghan militia were sent to Iran for further military training on drones and intelligence, the Observatory said.
Long history of Iranian attacks
On August 15, US forces shot down two drones targeting al-Tanf garrison.
Later findings indicated that the UAVs, identified as Iranian Samad series drones, had been launched from the Jurf al-Sakhr complex, in Iraq's Babil province -- a fully closed "military zone" controlled by Iran-backed Kataib Hizbullah.
On August 24, three US service members sustained minor injuries when several rockets hit both the Conoco and Green Village bases in Deir Ezzor -- facilities run by the SDF.
In response, US attack helicopters struck several sites used by Iran-backed militants to fire rockets, destroying three vehicles and equipment used to launch some of the rockets and killing suspected Iran-backed militants, CENTCOM said.
Drones manufactured and supplied by Iran have flooded countries around the region that host Iran-backed militias.
In Yemen, the Iran-backed Houthis have used Iranian drones on many occasions to strike installations in Saudi Arabia and the United Arab Emirates.
In a February report submitted to the United Nations (UN) Security Council, the panel of experts on Yemen also raised the possibility that drones are being used to smuggle Iranian weapons to Houthi-controlled areas of Yemen.
In Iraq, Iran-backed militias have used Iranian drones for years to hit foreign military bases and targets in the Arabian Gulf.