US Central Command (CENTCOM) is actively seeking tips and information from the public about the use of unmanned aerial vehicles (UAVs), or drones.
Drones manufactured in Iran, and variants of Iranian UAVs made by the Islamic Republic's proxies, are being used more and more often to cause chaos and destruction in the region.
Though proxy groups claim many of these attacks, evidence gleaned from the shrapnel and other threads of forensic evidence lead back to Iran, which sits like a spider at the centre of the web.
Iran regularly adds new UAVs to its arsenal, and has become increasingly ambitious in their manufacture, use and export.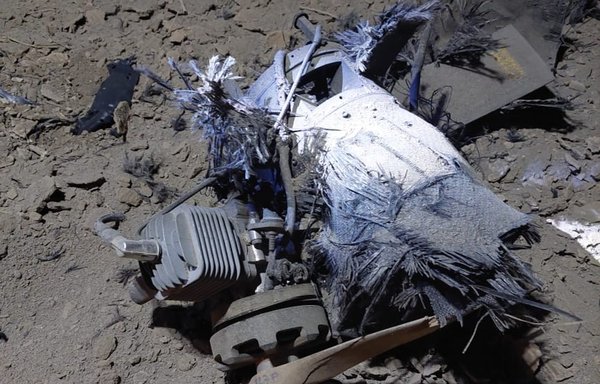 The Islamic Revolutionary Guard Corps' Quds Force (IRGC-QF) frequently supplies Iranian-made drones to the Houthis in Yemen, allied Iraqi militias and Lebanese Hizbullah.
Weaponised Iranian UAVs have been used in Iraq, Lebanon, Yemen, the United Arab Emirates (UAE) and Saudi Arabia.
Ending the scourge
Iran's proxies have a long history of engaging in drone attacks across the region.
In late February, 16 civilians were injured in Saudi Arabia when the kingdom destroyed a drone that the Iran-backed Houthis launched in the direction of King Abdullah Airport in Jazan.
Twelve other civilians were injured by falling debris after the Saudi military blew up a Houthi drone targeting Abha International Airport on February 10.
In January, the Houthis targeted the UAE with three drone and missile attacks, killing three civilians.
Emirati forces intercepted and destroyed additional "hostile drones" targeting the UAE on February 2, in an attack claimed by a shadowy Iraqi militia linked to Iran calling itself Alwiyat al-Waad al-Haq.
The group is believed to be a front for Kataib Hizbullah.
Meanwhile, Lebanese Hizbullah chief Hassan Nasrallah on February 16 boasted that his Iran-backed party is now capable of using drones to turn its missiles into precision-guided weapons.
Iran's proxies in Iraq have carried out a number of drone attacks, the latest of which was on Tuesday (May 24) morning when an explosives-laden drone struck near a military base by Baghdad International Airport.
In mid-January, Iraqi forces thwarted an attack in which three drones targeted al-Balad air base near Baghdad, a day after rockets were launched at the Green Zone and a number of military areas.
On February 13, a source in the international coalition told Shafaq News Agency that Iraqi defences detected "a number of drones coming from the country's eastern borders".
Earlier this year, Iraq launched a plan to protect its airspace by installing modern air defence systems capable of detecting all types of aircraft, including UAVs.
Reward money
CENTCOM's Department of Defence Rewards Programme rewards individuals who share useful, verifiable and timely tips on terror group operations, drone threats, lone wolf attacks against US forces and weapons caches.
The programme pays monetary rewards of up to $5 million to eligible persons who provide information that protects US or allied forces and enables them to combat terrorism.
Tips on drones are of high priority and can be submitted in several languages via the reward website found here.
The value of each rewardable activity varies. The more unique and important the information, the higher the value of the reward.
Assessing the reward value depends upon many different factors, such as how valuable CENTCOM deems the information provided and the severity of the incident that is prevented or that has occurred.