Iran began to supply the Houthis with drones, drone parts and technology as part of a proxy war strategy not long after the group staged its September 2014 coup in Sanaa, which kicked off a protracted and ongoing war in Yemen.
Iran also has supplied unmanned aerial vehicles (UAVs) and expertise to allied Iraqi militias and Lebanese Hizbullah, but the Houthis have "the most advanced and diverse drone arsenal among Iran's proxies", according to The Iran Primer.
Iran has been funneling UAVs, commonly known as drones, and drone components to its proxies since around 2004, according to the website, which brings together 50 Iran analysts from the Islamic Republic and the West.
And the Houthis have used UAVs -- some supplied directly by Iran and others copied or cloned -- to deadly effect in Yemen and beyond.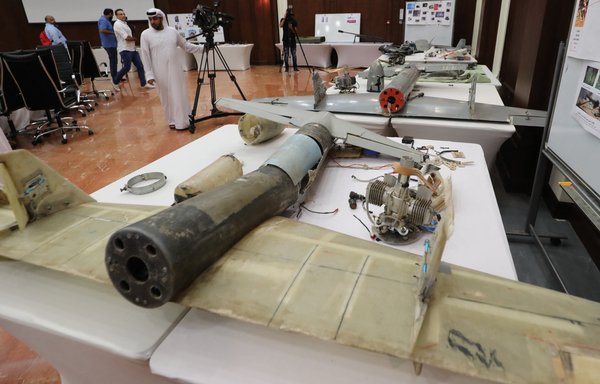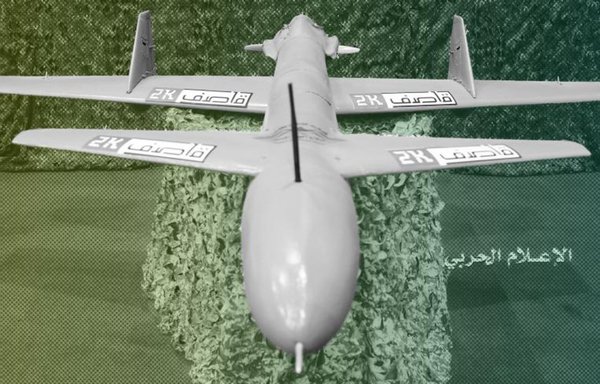 They have used weaponised drones to target civilian facilities in Saudi Arabia and the United Arab Emirates (UAE), as well as civilian homes in Yemen.
In February, 12 civilians of various nationalities, including airport workers and travellers, were injured by falling debris after the Saudi military blew up a Houthi drone targeting Abha International Airport.
The airport has been regularly targeted by Houthi drones launched from Yemen.
In September, Houthi ballistic missile and drone attacks in southern Marib province's Rahba district wounded and killed civilians, destroyed private homes and displaced dozens of families -- some for a second time.
The Houthis used ballistic missiles and armed drones to stage January 17 attacks on Abu Dhabi that killed two civilians working for Abu Dhabi National Oil Company, when three petrol tanks exploded near a storage facility.
Six others were wounded in the attack, which also ignited a fire in a construction area at Abu Dhabi airport. Emirati police said "small flying objects, possibly belonging to drones" were found at both sites.
Early use of drones
The Houthis' first recorded use of UAVs came in December 2015, per an August 2019 International Institute for Strategic Studies (IISS) report, when they launched a commercial drone allegedly stolen from a local television station.
By early 2016, there were reports that the group had been using drones in an intelligence, surveillance and reconnaissance capacity in Marib province.
In 2017, the extent of the Houthis' UAV arsenal became clearer, when the group began to publicly claim to have produced its own drone systems and boast about them, the IISS report said.
In February 2017, the Houthis "unveiled highly stylised infographics of UAV operations, detailing their technical specifications and sensationalising their effectiveness", it said.
But the group's inclusion of commercially available UAVs in its presentation "suggested that the group's claims to have indigenously produced these systems itself might be overblown", the report said.
The Houthis' early arsenal included repurposed commercial UAVs, it said, but to produce indigenous systems, the group needed to source components from the global market, including "electrical components of Chinese origin".
While Iran initially provided the Houthis with components and designs for combat drones, the Houthis learned to manufacture drones using local parts and components smuggled into Yemen, a United Nations (UN) panel reported in January 2020.
The Houthis' arsenal
The Houthis' arsenal now includes combat and reconnaissance drones. The first drones they claimed to have produced themselves, unveiled in 2017, were Raqib, Rased and Hudhud-1, light reconnaissance drones.
According to a number of sources, at least some of these were modified commercially produced drones.
The Qasef-1 was the first combat drone they used, with the Qasef-2K serving as a "virtually identical" upgrade, and the materials needed to assemble it coming from Iran, per a January 2018 report by the UN panel of experts on Yemen.
In a study published January 2019, "Suicide drones, the Houthis' strategic weapon", Yemen's Abaad Centre for Strategic Studies said the Qasef-1 serial numbers indicate "they are merely another version of the Iranian Ababil UAV".
The so-called "suicide drones" are programmed to detonate remotely or when they reach pre-programmed co-ordinates, the study said.
Some drones are smuggled to the Houthis intact, the study said, pointing to the seizure of UAVs destined for the Houthis by security forces in Marib, while others are reassembled in Yemen by specialists trained in Iran and Lebanon.
By 2020, according to the UN, the Houthis were able to manufacture the fuselage and wings of Qasef drones using locally available materials, while sourcing components such as engines from abroad, The Iran Primer reported.
In September 2019, it said, the Houthis unveiled a new class of drone, Sammad, powered by engines shipped in from Iran. These include Sammad-1 (reconnaissance), Sammad-2 (combat) and Sammad-3 (stealth combat).
In March 2021, the Houthis presented Sammad-4 to the media, alongside other new weapon systems, per a January 2022 UN panel of experts on Yemen report.
Sammad-4 "carries two rockets and allegedly has a range of 2,000km", it said.
A short-range hexacopter, Rujum, appeared to be a modified Chinese drone, it said, while a delta-wing (plane-type) drone, Waed, may have a longer range.
Most UAVs used by the Houthis are assembled in areas under their control "using locally available materials, as well as commercial components, such as engines and electronics, which are sourced from abroad using a complex network of intermediaries in Europe, the Middle East and Asia", the report said.
The hand of Iran
In an exclusive interview with Al-Mashareq in 2019, Abaad Centre for Strategic Studies director Abdulsalam Mohammed said Iran has been smuggling UAVs to the Houthis via two units of the Islamic Revolutionary Guard Corps' Quds Force.
"Iran uses a number of methods to deliver UAV technology to the Houthis, including smuggling, technology transfer and local manufacturing under the supervision of experts, and it is all handled by special units of the IRGC," he said.
"The engines of the UAVs can be purchased and smuggled across the sea as spare parts, and its propellers can be ordered via the internet, while the fiberglass hull is manufactured in local factories and workshops. Suicide UAVs are filled with TNT [trinitrotoluene] and C-4 explosive material."
"The UAVs can be smuggled whole across Yemen's long coastline, and the technical and operating instructions can also be transferred through the internet, after which the UAVs are assembled by Iranian and Hizbullah experts present with the Houthis," he said.
The study reveals the smuggling is handled by IRGC-QF units 400 and 190.
Formed in the 1980s, Unit 190 "is responsible for the smuggling of weapons and modern technologies to wars outside the borders of Iran" and has formed large weapon smuggling networks across the Middle East.
Unit 400 focuses on planning and conducting attacks outside Iran.
It transfers military aid to armed groups around the world and co-ordinates them for attacks that serve the interests of the Iranian regime, according to the Abaad Centre for Strategic Studies.