Drones manufactured in Iran, and variants of Iranian unmanned aerial vehicles (UAVs) made by the Islamic Republic's proxies, are being used more and more often to cause chaos and destruction in the region.
Though proxy groups claim many of these attacks, evidence gleaned from the shrapnel and other threads of forensic evidence lead back to Iran, which sits like a spider at the centre of the web.
Iran's position as the hub of regional drone operations is one that it proudly showcases, analysts noted, pointing to the Army Day celebrations the country held on April 18.
In Tehran, President Ebrahim Raisi watched from a platform bedecked with flowers and flanked with photos of Islamic Republic founder Rouhollah Khomeini and his successor, Ali Khamenei, as a military parade rolled by.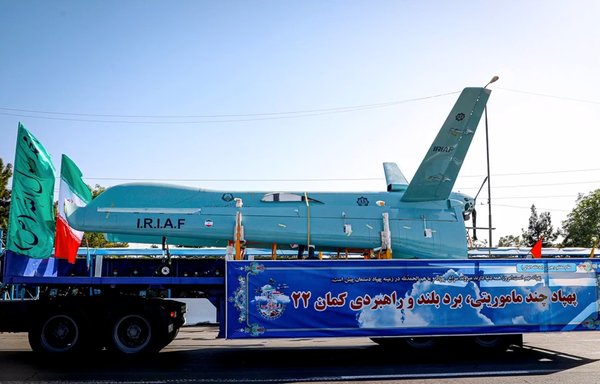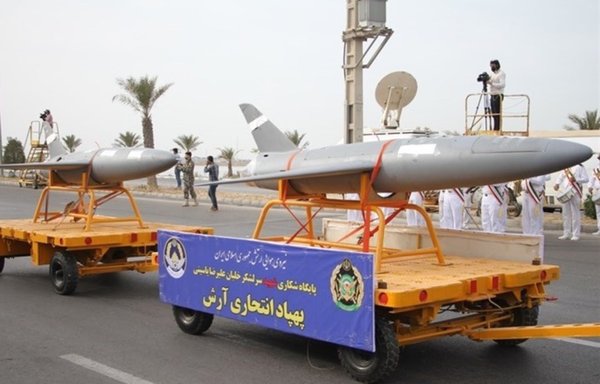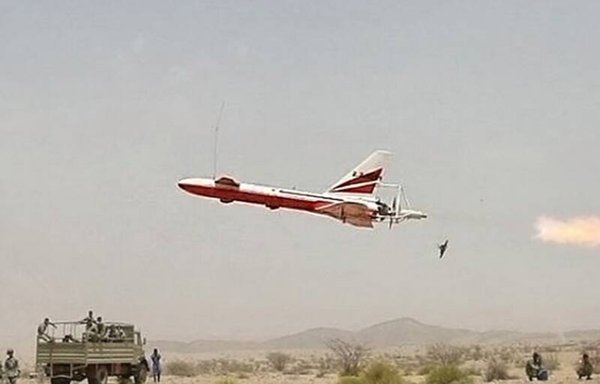 The nationally televised parade displayed military vehicles and tanks, and weapons and defence systems, including missiles and missile launchers.
It also included more than a dozen types of UAVs -- more than 50, in total, including suicide drones -- which were driven by on flatbed trucks with fanfare.
Iranian officials claim these drones have operational capabilities in the areas of reconnaissance, combat, one-way attack (also known as "suicide drones") and defence.
Iran's UAV arsenal
In recent years, drones have been at the centre of Iran's destabilising actions in the Middle East. The Islamic Republic regularly adds new UAVs to its arsenal, and has become increasingly ambitious in their manufacture, use and export.
Some experts consider Iran's drones as much of a threat as its ballistic missiles.
"In recent years, Iran has increasingly used combat drones in military operations on both its eastern and western borders," said Kerman-based political analyst Faramarz Irani.
Drones have been used in attacks on Iraq's Kurdish region and against "some hostile groups in Afghanistan", he said.
The Islamic Revolutionary Guard Corps Quds Force (IRGC-QF) frequently supplies Iranian-made drones to the Houthis -- Iran's proxies in Yemen, allied Iraqi militias and Lebanese Hizbullah, he said.
Iran also has exported its drones to Venezuela.
Weaponised Iranian UAVs have been used in Iraq, Lebanon, Yemen, the United Arab Emirates (UAE) and Saudi Arabia, including in the September 2019 attack on two Aramco oil facilities, claimed by the Houthis.
Iranian drone types showcased in the April 18 military parade were various models of Mohajer-6, Karrar, Nasser, Kayan-1, Kayan-2, Arash, Omid and Mohajer-4, IRGC-affiliated Fars News reported.
Kaman-22, the latest army-manufactured drone, described as a "strategic multi-tasking aircraft", was displayed for the first time in Tehran on Army Day.
Iranian military officials claim it is in its final testing stages.
They say it can fly for 24 continuous hours at an altitude of 8,000 metres and has a 3,000km range. It reportedly weighs 1.5 tonnes and is capable of carrying up to 300kg of ammunition, laser-guided and smart missiles.
Iran's Defa Press claims Kaman-22 has the ability to monitor, control, gather information and photograph distant targets.
Also on display was the Ababil-5 drone, the most recent addition to the Ababil family. Although no technical details about the new UAV have been disclosed, it appears to be structurally similar to Mohajer-6, according to reports.
Drone manufacturing hub
Early Iranian military drones were used during the war with Iraq in the 1980s, for aerial reconnaissance in war zones where conventional military reconnaissance aircraft could not fly, said Tehran-based intelligence analyst Sassan Tamgha.
After the Islamic Revolution, the IRGC established Iran's first research centre for the production and operation of drones at the Jihad Training Centre of the University of Esfahan.
The first four drone models manufactured by the centre -- Talash, Mohajer-1, Mohajer-2 and Mohajer-3 -- were used during the war for aerial photography.
In the 2000s, Mohajer-4 and Ababil-3 were manufactured at the same centre. IRGC officials say they have exported those two to African and South American countries.
In addition to the IRGC's Jihad Training Centre, the Quds Aviation Industry Company and the Shahed Aviation Industries Research Centre also are active in designing and manufacturing drones.
The latter two centres co-operated to manufacture the HESA-100 drone, an early version of the Shahed models, Tamgha said.
The Shahed-129, a combat drone capable of carrying air-to-surface missiles (including Fatah-362 and Sadid-361 missiles), was manufactured but was not used as it did not have a suitable launcher, he said.
In 2020, Iran unveiled Arash, which with a range of 2,000km is described as the world's longest-range suicide drone.
Other notable Iranian drones include Ghareh, Simorgh, Saegheh and Karrar.