BEIRUT -- Throughout 2021, and despite losing the respect of many of its supporters, Hizbullah has proven itself ineffective in addressing Lebanon's various crises.
Many see this as a direct result of Hizbullah chief Hassan Nasrallah's subservience to the Iranian regime, and his insistence on carrying the torch of slain top Iranian general Qassem Soleimani's legacy of interference and bloodshed in the region.
During his lifetime, Soleimani made no secret of his relationship with Hizbullah and its chief.
He considered Hizbullah's success in carrying out its tasks as his own, analysts said, noting that Hizbullah's operations in Syria, Yemen and Iraq were all in areas where Soleimani was seeking to extend Iran's influence.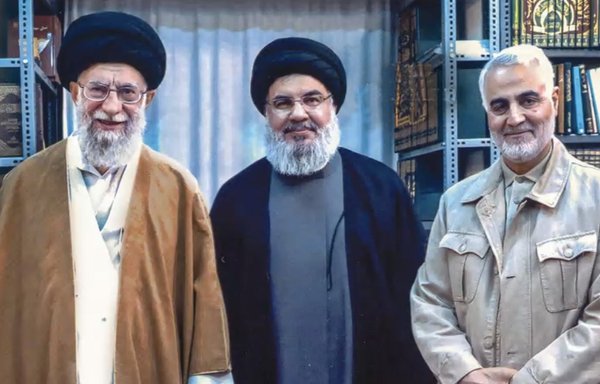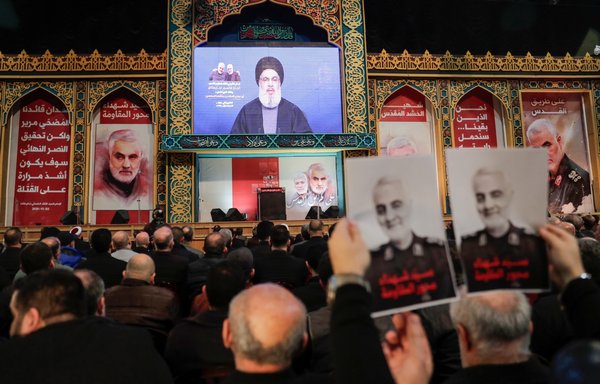 Two years after his death, the effects of that relationship can still be felt in the deep economic crisis that has hit Lebanon -- among the world's worst economic meltdowns in over a century -- and in the government's paralysis due to Hizbullah's hijacking of the decision-making process.
Soleimani's legacy is directly linked to his close relationship with Nasrallah, as was made evident "from the influence he had on the party and the direct military, logistical and material support" he provided to Hizbullah, former Future Movement MP Mustafa Alloush told Al-Mashareq last year.
This influence directly impacted what happened inside Lebanon, he said.
A militia, not a political party
Lebanon's political and economic crisis was exacerbated over the past year by the coronavirus pandemic and the aftermath of the cataclysmic August 4 explosion at the Beirut port.
Hizbullah's opponents blame it for many of the country's problems, while it has also lost the respect of many of its supporters.
Some accuse it of being a state within the state, by virtue of its weapons and engagement in corrupt activities, smuggling and deprivation of the Lebanese treasury of millions of dollars.
"A large segment of the Lebanese population holds Hizbullah responsible for bankrupting Lebanon over a period of 30 years," Radio Free Lebanon editor-in-chief Antoine Murad said.
The party has lost its credibility, its regional influence is in decline, and its policies have resulted in international isolation for Lebanon, he said.
Hizbullah is a "militia before it is a political party", said Southerners for Freedom co-ordinator Hussein Ataya.
"It is a military battalion affiliated with [Iran's] Islamic Revolutionary Guard Corps (IRGC)."
"It receives orders from Tehran and from IRGC commanders in Damascus, and today from the cultural advisor at the Iranian embassy in Beirut, which means that it is not qualified to solve Lebanon's problems," he said.
Hizbullah must be removed from the political decision-making process, Ataya stressed.
"Moreover, Hizbullah's involvement in fighting in Syria on the side of the regime has compounded its problems in Lebanon, by widening the divide in Lebanon between supporters of the Syrian revolution and those opposed to it," he said.
Its involvement in the fighting "was an Iranian decision to help the Syrian regime confront the Syrian popular majority", Ataya said.
"It showed the world that Hizbullah does not have the freedom and independence to make decisions, and is rather a subordinate of the IRGC and Wilayat al-Faqih (Guardianship of the Jurist)," he said.
Hizbullah must disarm
A major sticking point in Lebanon's inability to pull itself out of the quagmire is Hizbullah's large store of weapons, which it uses to threaten, intimidate and assassinate its political opponents, experts said.
The party's weapons were on full display in Beirut on October 14, as militiamen from Hizbullah and the Amal movement fired assault rifles and rocket-propelled grenades (RPGs) towards the Christian neighbourhood of Ain al-Remmaneh.
The fighting erupted amid a Hizbullah/Amal rally to demand the dismissal of Judge Tarek al-Bitar, who is leading the probe into the Beirut port blast.
A few days after the incident, Nasrallah made it known that his party had 100,000 "trained" and "armed" fighters at its disposal, revealing for the first time how many fighters were in its ranks, AFP reported.
"As long as [Hizbullah] holds onto its weapons and the state, it will be the prime suspect in the series of assassinations and the harassment of its opponents," Change Movement head Elie Mahfoud said.
Hizbullah's weapons have been a major factor in the government's failure and disruption, through affiliated ministers who undermine it and who also sabotage Lebanon's relations with its Arab and Gulf neighbours, Mahfoud said.
"We call for a divorce from Hizbullah, because we cannot live with a militia that is Iranian, not Lebanese," he said.
Political writer Tony Boulos said Hizbullah's agenda has caused the state to fail and rendered it powerless through the establishment of parallel systems.
These systems include a security apparatus, communications network, financial institutions such as al-Qard al-Hassan, and medical and other institutions.
"Hizbullah has a government and an executive authority separate from the state that make up its parallel statelet," he said. "It is waiting for the collapse of the [Lebanese] state to emerge as a legitimate state."
'Death squad'
Nasrallah is known to control a death squad that has assassinated prominent opponents.
The assassination, in February, of political activist Lokman Slim is just one of many examples of the party's brutal slayings, often carried out by its so-called "Unit 121".
In an August 25 report in the Washington Post, security sources revealed that Salim Ayyash, a Hizbullah operative convicted for his involvement in the assassination of Prime Minister Rafik al-Hariri, was a member of Unit 121.
The unit, which has carried out at least four other assassinations, operates on direct orders from Nasrallah, the sources said.
But "Nasrallah controls Lebanon as [Iranian leader Ali Khamenei] pleases, including the series of assassinations of politicians and journalists, because the party's decisions are not autonomous but rather are centralised and follow a certain agenda", said a Shia opponent of the Iran-backed party.
Nasrallah "was in the beginning a small wage-earner created by Iran, which made him a leader and gave him a large [mandate] and powers to serve al-Wali al-Faqih (Khamenei)", the source said.
Hizbullah's Unit 121 "was primarily formed to gather international information under the command of Imad Mughniyeh", the party's international operations chief, said Ataya, of Southerners for Freedom.
Mughniyeh -- who was assassinated in 2008 and succeeded by Mustafa Badr al-Din -- was directly linked to Soleimani.
After Badr al-Din's death, Ataya said, the unit came under Nasrallah's direct command and guidance, with Talal Hamiyah later assuming the leadership position.
Ataya noted that Hizbullah "is Iran's most powerful affiliate in the eastern Mediterranean, upon which it relies heavily, on account of its proximity to the border with Israel".
"Hizbullah does everything Iran asks it to do and performs major services for it, such as carrying out attacks against Israel every time it needs to complicate matters further with the West, and the United States in particular," he said.
Negative consequences for Lebanon
The spread of Iranian influence via Hizbullah has had negative consequences for Lebanon, from international sanctions on Lebanese individuals and entities to total social collapse, economist Violette Ghazal al-Balaa said.
It has seen Lebanon's economic and financial isolation increase, within the region and beyond, she said, and the flow of investment and tourism cut off because of the party's hostile political stance against Gulf states.
The country lost its ability to attract dollars, with the deficit in the balance of payments reaching about $10.5 billion in 2020, almost double that registered a year before, central bank statistics showed.
The poverty rate among the Lebanese has reached about 74%, according to the United Nations, as a result of the 90% decline in the exchange rate of the pound and the financial deterioration that swallowed up the entire value of wages, she added.
On December 9, the central bank raised the exchange rate for US dollar deposits held in the country's banks "from 3,900 to 8,000 Lebanese pounds", it said in a statement.
The move amounts to de facto recognition of the Lebanese pound's devaluation, AFP reported.
Meanwhile, the country continues to be plunged in darkness, with just two hours of power supplied each day.
Iran has been trumpeting its readiness to build two power plants in Lebanon. It also sent a shipment of oil to Lebanon, via Syria, in September.
But many are sceptical of Iran's true motives.
"I only see Iran's promises of electricity as it presses on with its incursion into Lebanon and tightening its grip on it, and this is what we reject," Beirut resident Muhammad Koraytem said.
"Hizbullah is looking to exploit the crisis to invite Iranian offers to build power plants that would allow the presence of Iranian experts and technicians from the IRGC on Lebanese soil," he warned.