BEIRUT -- A Lebanese court on Thursday (October 14) threw out a request to remove the judge investigating last year's devastating blast at the Beirut port as violence erupted in the capital during a Hizbullah rally calling for his removal.
Gunfire killed at least six people and wounded at least 30 at a Beirut rally organised by Hizbullah and Amal to demand the dismissal of Judge Tarek al-Bitar, the lead investigator into the incident.
The families of the blast victims have largely thrown their support behind al-Bitar, who has been a target of a political campaign led by Hizbullah and Amal.
Hizbullah chief Hassan Nasrallah this week accused the judge of political bias and has challenged him over his decisions to summon various officials in the past.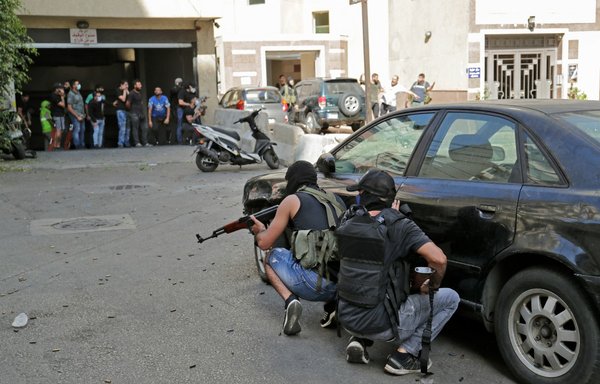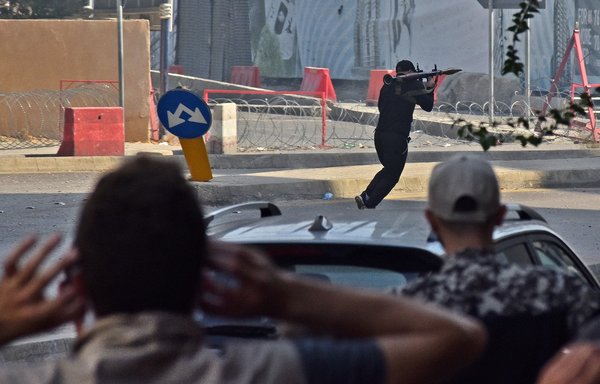 Al-Bitar was forced to suspend his probe on Tuesday, for the second time in a month, after former ministers he had summoned on suspicion of criminal negligence filed lawsuits against him.
On Thursday, the Court of Cassation turned down a lawsuit filed by two ex-ministers demanding a replacement, a court official said.
Senior Amal lawmaker Ali Hasan Khalil earlier threatened a "political escalation" if the course of the investigation "was not rectified", after al-Bitar on Tuesday issued an arrest warrant against him for failing to show up for questioning.
A Tuesday cabinet session ended with a row as ministers affiliated with Hizbullah and Amal pressed the government to support their demand to replace al-Bitar, according to a senior official who asked to remain anonymous.
A follow-up session scheduled for Wednesday was postponed.
Since taking up the case, al-Bitar has summoned an array of former premiers and ministers as well as top military and security officials for questioning on suspicion of criminal negligence.
Amnesty International and Human Rights Watch have repeatedly accused officials of interfering with the investigation in order to dodge accountability.
Al-Bitar's predecessor, Fadi Sawan, was forced to suspend investigations, and was then removed, in February.
Missing chemicals
The August 4, 2020, explosion, caused when tonnes of ammonium nitrate stored at the port ignited, killed more than 200 people, wounded thousands and destroyed swathes of the capital.
In an extensive investigation into the incident, the Organised Crime and Corruption Reporting Project (OCCRP) noted that not all of the ammonium nitrate stored at the port had exploded during the catastrophic blast.
During investigations conducted after the blast, it said, the US Federal Bureau of Investigation reportedly concluded that only 20% of the chemicals stored there had exploded, raising questions about what happened to the other 80%.
It is possible that the remainder may have been pilfered from the Beirut port.
The OCCRP investigation also noted that the Cypriot owner of the ship that had initially transported the ammonium nitrate to Beirut [en route to Mozambique] was in debt to a Lebanese-owned bank in Cyprus and Tanzania.
The US Treasury had previously declared the bank, whose clients included Hizbullah associates and a company allegedly linked to Syria's weapons of mass destruction programme, a "primary money laundering concern".
"Journalists and investigators have probed the possibility that the ammonium nitrate shipment was never meant to end up in Mozambique, but instead was abandoned in Beirut on purpose to be smuggled into Syria and used in explosives," the OCCRP investigative report said.
Bekaa Valley seizure
On September 18, Lebanese authorities reported seizing 20 tonnes of ammonium nitrate in the eastern Bekaa Valley, state media reported.
According to the National News Agency, security forces raided a fertiliser warehouse in Bednayel in the Baalbek district, an area that is considered a hub for smuggling operations between Lebanon and Syria.
Authorities seized 20 tonnes of the dangerous chemical stored inside a truck parked at the warehouse and transported it to a "safe place".
Investigations into the ammonium nitrate confiscated in Bednayel "point to Hizbullah having something to do with it in some way", security analyst Naji Malaeb told Al-Mashareq.
The investigation "is ongoing to ascertain whether [the ammonium nitrate] was smuggled out of warehouse 12 at Beirut port", said Youssef Diab, a journalist specialising in judicial affairs.
Some information was sent to al-Bitar, the investigative judge, to compare it to data he has on the Beirut port explosion "and to proceed accordingly", he said.
While none of the investigations have revealed Hizbullah's involvement with the confiscated amount of 20 tonnes, Diab said, it remains that "the ammonium nitrate was in a warehouse in Bednayel, which is within Hizbullah's close environment".
"So, how is it possible that Hizbullah did not know about it or its destination?"
Threats from Hizbullah
On September 21, after an arrest was made in connection with the Bednayel seizure, media outlets said that Wafiq Safa, the head of Hizbullah's liaison and co-ordination unit, had sent a threatening message to al-Bitar on behalf of the party.
The US Treasury sanctioned Safa in July 2019, saying that he had exploited Lebanon's ports and border crossings to smuggle contraband and facilitate travel on behalf of Hizbullah.
"Hizbullah leveraged Safa to facilitate the passage of items, including illegal drugs and weapons, into the port of Beirut," the Treasury said. "Hizbullah specifically routed certain shipments through Safa to avoid scrutiny."
In his threatening message to al-Bitar, Safa vowed to pursue the legal path "to the end" and threatened to have the judge removed "if it doesn't work out".
Hizbullah has not denied that it threatened al-Bitar.
According to a September 22 Nidaa Al-Watan report, the threatening message al-Bitar shortly after Safa visited the Palace of Justice, where he met with Supreme Judicial Council president Judge Suhail Abboud and the Public Prosecutor at the Court of Cassation, Judge Ghassan Oweidat.
Judicial sources described the visit as a crass and insulting attempt to interfere with the judiciary.
A journalist following the investigation told Al-Mashareq that if Hizbullah was not involved with the ammonium nitrate seized in Bednayel, "Safa would not have threatened the investigative judge in the Beirut port explosion case".
Safa's threat to al-Bitar can be regarded as "pressure" from Hizbullah, which fears the investigations "could lead to embarrassing consequences that it cannot bear", he said.