Yemenis who support the Houthis (Ansarallah) have been sending donations to Lebanon's Hizbullah in response to a new fundraising campaign, even though their own country and people are in dire need of help.
An estimated $132,000 in donations has been delivered to post offices in parts of Yemen controlled by the Houthis since May in response to the ongoing campaign to support Hizbullah, local media reported.
Both the Houthis and Hizbullah are backed by Iran.
The campaign has been publicized through media outlets and social media accounts in Yemen controlled by or affiliated with the Houthis, and via posters displayed at post offices.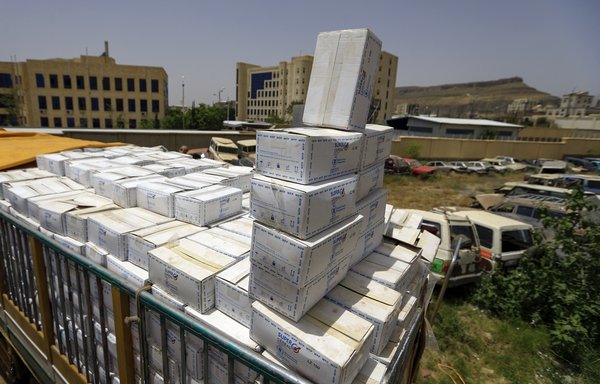 As the Houthis solicit funds for Hizbullah, the UN has said that as of mid-2019, funding for Yemen's Humanitarian Response Plan stood at 28%, reflecting a deficit in funding for relief activities.
A full $4.19 billion was requested to provide humanitarian support for Yemen's people in 2019, of which only $1.18 billion has been delivered, the UN said, noting that over 24 million Yemenis are in need of humanitarian assistance.
This amounts to more than 80% of the war-ravaged country's population.
Sanctions hurt Iran's proxies
The Houthis' collection of donations for Hizbullah is not unexpected "as the co-operation between the Houthis and Hizbullah is clear", Yemeni lawyer and human rights activist Abdul Rahman Berman told Al-Mashareq.
What makes this action remarkable, however, is that while many Yemenis are on the brink of starvation, "the Houthis are collecting donations and sending them to Hizbullah to engage in violence and terrorism in Syria and elsewhere".
"I think the publicly announced amount collected is token, and the aim of making it publicly known is to send a message that Yemenis are standing by Hizbullah and Iran," Berman said.
"I am certain that donation [is] mandatory for followers of the Houthis, in addition to the levies imposed on merchants, and I am also certain that no money was donated by the general public," he said.
Postal worker Mohammed Saleh, who is using a pseudonym for safety reasons, told Al-Mashareq that the amounts donated to Hizbullah are "many times larger" than the salary of ordinary employees "who have gone more than two years without a salary".
Public sector salaries in areas controlled by the Houthis have been drastically reduced or suspended for years, contributing to skyrocketing levels of poverty and hunger and leaving people little money to spare.
Deputy Minister of Human Rights Nabil Abdul-Hafeez noted with irony "that the Houthis are collecting donations for Lebanon's Hizbullah while the UN is soliciting donations to provide relief to the Yemeni people".
Exchanging donations between the Houthis and Hizbullah is reciprocal, he told Al-Mashareq, as Hizbullah openly collects donations for the Houthis in Lebanon.
This process has intensified since Iran informed both sides it is reducing its financial assistance, he said, noting that sanctions have affected its ability to fund its affiliated militias in the region.
Donations boxes also have been set up in Tehran to encourage the Iranian people to support the Houthis and Hizbullah, even though they too are suffering as their economy sinks as a result of the decisions made by their leadership.
"The Houthis are collecting donations to ultimately harm the Arab world and Yemen," Abdul-Hafeez said, noting that at the same time, the militia has been preventing aid from reaching the Yemeni people.
Houthis put Iran before Yemen
The sanctions imposed on Iran have "without question forced it to reduce its support for Hizbullah, as it used to cover all the group's expenses and salaries", Berman said.
"The international sanctions on Iran and ensuing significant reduction of support for Hizbullah led Iran to direct the Houthis to support Hizbullah so it can continues its activities," he added.
The Houthis are collecting donations for Hizbullah "while the Yemeni people are experiencing an economic crisis brought on by the Houthi coup and the militia's determination to prolong the war", said political analyst Rashad al-Sharaabi.
This confirms the Houthis' "subservience to Iran, and that they care more about Hizbullah's situation than that of the Yemeni people, who are experiencing a disaster", he told Al-Mashareq.
The Houthis are invested in implementing the Iranian agenda "at the expense of Yemen's priorities, interests, sovereignty, independence, unity and disaster-stricken people", al-Sharaabi added.