BEIRUT -- Hizbullah chief Hassan Nasrallah is known to control a death squad that has assassinated prominent opponents, intimidating the Lebanese people and holding them hostage to Iran's agenda.
Iran's outsized influence has plunged Lebanon into a crisis inside its borders and also threatens the country's security, observers said, as Hizbullah has been using Lebanese territory as a launchpad for attacks on neighbouring Israel.
Opponents of the Iran-backed party who spoke with Al-Mashareq -- one on condition of anonymity due to fear of reprisal -- said they blamed Hizbullah for Lebanon's collapse.
The assassination, in February, of political activist and Hizbullah opponent Lokman Slim is just one of many examples of the party's brutal slayings, often carried out by its so-called "Unit 121".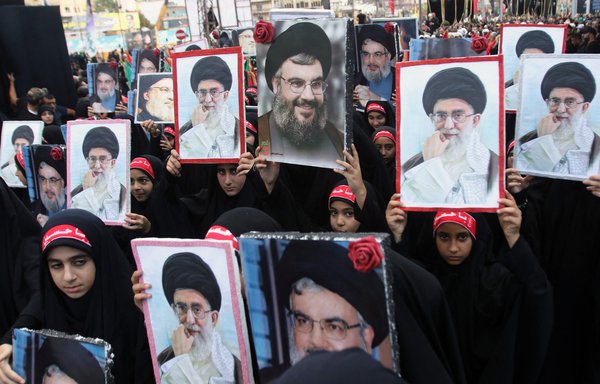 In an August 25 report in the Washington Post, security sources revealed that Salim Ayyash, a Hizbullah operative convicted for his involvement in the assassination of Prime Minister Rafik al-Hariri, was a member of Unit 121.
The unit, which has carried out at least four other assassinations, operates on direct orders from Nasrallah, the sources said.
'Orders from Iran'
The Hizbullah chief "receives his orders from Iran and controls Lebanon's internal and international decisions", said a Shia opponent of the Iran-backed party.
Nasrallah "was in the beginning a small wage-earner created by Iran, which made him a leader and gave him a large [mandate] and powers to serve al-Wali al-Faqih (Guardian of the Jurist, Iranian leader Ali Khamenei)", the source said.
"Nasrallah controls Lebanon as [Khamenei] pleases, including the series of assassinations of politicians and journalists, because the party's decisions are not autonomous but rather are centralised and follow a certain agenda."
Hizbullah's wide-scale campaign of political incitement against Slim was responsible for his assassination, regardless of who carried it out, the source said, describing the killing as a disgrace to the party.
Slim's assassination showed the Lebanese Shia community Hizbullah's true colours, the source said.
"Lokman's assassination points a spotlight on the series of assassinations that took place in Lebanon and Hizbullah's role and responsibility for them through Unit 121," the source said.
The Lebanese people are hostages to the fear that these killings will resume, he said.
Hizbullah's Unit 121
Hizbullah's Unit 121 "was primarily formed to gather international information under the command of Imad Mughniyeh", the party's international operations chief, Southerners for Freedom co-ordinator Hussein Ataya told Al-Mashareq.
Mughniyeh -- who was assassinated in 2008 and succeeded by Mustafa Badr al-Din -- was directly linked to former Islamic Revolutionary Guard Corps Quds Force (IRGC-QF) commander Qassem Soleimani.
After Badr al-Din's death, Ataya said, the unit came under Nasrallah's direct command and guidance, with Talal Hamiyah later assuming the leadership position.
"The unit carried out assassinations of politicians and media figures, so the likelihood that it assassinated political activist Lokman Slim is not far-fetched."
Ataya noted that Hizbullah "is Iran's most powerful affiliate in the eastern Mediterranean, upon which it relies heavily, on account of its proximity to the border with Israel".
"Hizbullah does everything Iran asks it to do and performs major services for it, such as carrying out attacks against Israel every time it needs to complicate matters further with the West, and the United States in particular," he said.
The July War of 2006 between Hizbullah and Israel was an Iranian decision executed by Mughniyeh, he said, and was waged in the interests of Hizbullah and Iran, not Lebanon.
'Negative consequences'
The spread of Iranian influence via Hizbullah has had negative consequences for Lebanon, from international sanctions on Lebanese individuals and entities to total social collapse, economist Violette Ghazal al-Balaa said.
It has seen Lebanon's economic and financial isolation increase, within the region and beyond, she said, and the flow of investment and tourism cut off because of the party's hostile political stance against Gulf states.
Lebanon's banking ties with the international community have been severed as a result of the crisis, which shook confidence in its future, she added, not to mention Hizbullah's threat to steer Lebanon eastward rather than westward.
The country lost its ability to attract dollars, with the deficit in the balance of payments reaching about $10.5 billion in 2020, almost double that registered a year before, central bank statistics showed.
Meanwhile, remittances from expatriates declined to about $6.3 billion in 2020, compared to about $8 billion before the outbreak of the crisis, al-Balaa said.
The poverty rate among the Lebanese has reached about 74%, according to the United Nations, as a result of the 90% decline in the exchange rate of the pound and the financial deterioration that swallowed up the entire value of wages, she added.
Al-Balaa said the collapse of the banking and financial system "is due, in part, to the policy of sanctions imposed on Hizbullah financing channels", beginning with the US Treasury's designation of the Jammal Trust Bank.
The pace of deterioration accelerated with the March 2020 decision of the government of Hassan Diab -- a Hizbullah ally -- to default on Lebanon's financial foreign currency debt, she said.
"The decision sent signals to the financial markets confirming Lebanon's bankruptcy, in a precedent that Lebanon had not witnessed in the darkest stages of its political, security and economic crises," al-Balaa said.