BEIRUT -- While the Lebanese people suffer under a crushing economic crisis, Lebanese politicians linked to Hizbullah have prioritised the politicisation of the ongoing Yemen conflict -- and as a consequence further isolated Lebanon -- over solving the deep economic and political problems that plague the country.
In an interview recorded in August and aired last week, Information Minister Georges Kordahi said the Iran-backed Houthis were "defending themselves... against an external aggression" by the Saudi-led Arab coalition.
His comments sparked angry rebukes from Saudi Arabia and its allies, worsening diplomatic ties that have weakened significantly in recent years over the growing dominance of Hizbullah, which the kingdom has designated a terrorist group.
In response, Saudi Arabia on Friday gave Lebanon's ambassador 48 hours to leave the country, recalled its envoy from Beirut and suspended all imports from Lebanon.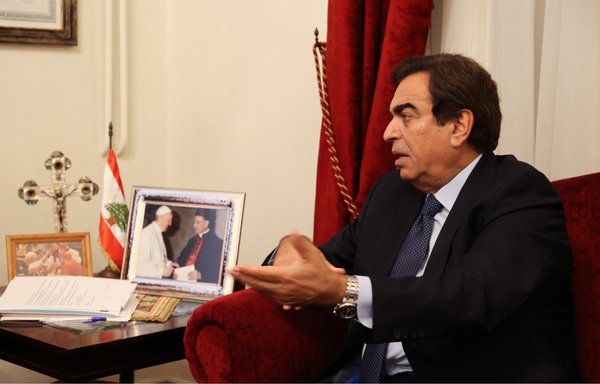 The United Arab Emirates (UAE), Bahrain and Kuwait were quick to follow suit.
So far, only Qatar has offered to mediate to resolve the crisis, Lebanese Foreign Minister Abdullah Bou Habib said.
The Saudi foreign ministry said the measures were taken after "insulting" remarks made by a Lebanese minister on the Yemen war, but also due to the influence of Iran-backed Hizbullah.
The party controls Lebanese ports and "hijacks" the government's decision-making process, it said.
The situation further worsens the outlook for Lebanon's crippled and fragile economy.
Earlier this year, Saudi Arabia announced it was suspending fruit and vegetable imports from Lebanon, saying shipments were being used for drug smuggling and accusing Beirut of inaction.
On Sunday, Saudi Arabia said dealing with Beirut was "pointless" because of Hizbullah's dominance.
Damage to Lebanon
A crisis meeting of ministers was held in Lebanon on Saturday, amid public disagreement over whether Kordahi -- who is a member of a political bloc allied with Hizbullah -- should resign.
Lebanese Prime Minister Najib Mikati has said he "regrets" the Saudi decision and urged Riyadh to reconsider its move.
The diplomatic crisis with the kingdom and its allies is a fresh blow to Lebanon, where a fragile government is struggling to secure international aid, including from wealthy Arab neighbours.
Saudi Arabia is Lebanon's third largest export market, accounting for 6% of its exports in 2020, worth about $217 million, according to the chamber of commerce.
The Lebanese-Saudi Business Council on Sunday warned of the impact of the row on trade and the thousands of Lebanese working and living in the Gulf.
Political writer Ali al-Amin said the escalatory Gulf actions "threaten the very existence of the [Lebanese] state and its institutions".
"Lebanon cannot do without a normal and excellent relationship with Saudi Arabia and the Gulf states," he told Al-Mashareq.
Al-Amin said he expects the dispute to give impetus to an internal opposition that is calling for the disarmament of Hizbullah.
"Civil society is facing a test that reflects its will for change to get Lebanon out of the crisis brought on by Hizbullah," he said.
"What is needed today is an integrated Arab-international position to deal with the Lebanese situation," he said, which requires the Lebanese "to carry the torch for real change in the state structure and put an end to Hizbullah's weapons".
'Regional issue'
Saudi Arabia and its allies accuse Hizbullah of supporting the Houthis, who seized control of the Yemeni capital in a 2014 coup.
The Saudi-led Arab coalition, which has included the UAE and Bahrain, intervened in support of the Yemeni government in 2015.
Bou Habib described Hizbullah's activities outside Lebanon as a "regional issue" that cannot be checked by the Lebanese state.
"A US-Iranian agreement or a deal between Saudi and Iran can help solve this issue but we can't resolve it by ourselves," he said.
He refuted comments by Saudi Arabia's foreign ministry claiming Hizbullah controlled the Lebanese state.
"Hizbullah is a strong component of the Lebanese state, perhaps the strongest, but it doesn't have a political monopoly," he said.
"It has a regional armed dimension, yes, but this is beyond what we can resolve," he told Reuters.
"Saudi Arabia is demanding that the government restrict the role of Hizbullah," he daid. "We are confronted with a big problem because if they just want Hizbullah's head on a plate, we can't give them that."
"We all want one army and one country, but we have a reality to contend with," he added.
Rejecting Iran's axis
Lebanese Centre for Research and Consulting director Hassan Qutb said Kordahi's statements "increased Lebanon's Arab and international isolation, and underscored that Lebanon is part of Tehran's axis in the region".
"Getting Lebanon out of its crisis requires a review of the government's performance and a strengthening of the policy of dissociation from regional axes and conflicts," he said.
It requires "stopping Hizbullah from tampering with the state's foreign policy and from pushing it further along the path of serving Tehran's project in the region", he added.
The diplomatic squabble is "economically and socially devastating, and will be more destructive if it is followed by actions that could lead to isolating Lebanon from its Arab and Gulf surroundings", said political writer Simon Abou Fadel.
The current government is "totally crippled and unable to address any crisis", he said, noting that the way to resolve the various crises Lebanon is facing requires an independent judiciary and transparent elections.
"Lebanon must choose between Iran's axis and the sovereignty of the state and restoration of friendly relations with its natural Gulf environment," he said.
"The separation between the state and Hizbullah's project has become the obligatory prerequisite for restoring minimum stability to Lebanon and its relationship with the Gulf states," said activist and political writer Asaad Bishara.