Lebanon on Wednesday (August 5th) began a day of mourning, the first of three declared by President Michel Aoun, as search and rescue teams combed the area around Beirut's port for survivors following yesterday's devastating blasts.
Lebanon's National Defence Council declared Beirut a disaster zone, and the Lebanese Red Cross on Wednesday said the blasts had killed more than 100 people and injured over 4,000, in the latest updated toll.
Injuries were recorded across the city, with glass blown out of buildings in multiple districts. A ship moored off the port was on fire, and a vessel deployed with UN peacekeeping force UNIFIL was damaged and some personnel injured.
The explosions, felt some 240 kilometres away in Cyprus, were logged by seismologists, registering as the equivalent of a 3.3-magnitude earthquake.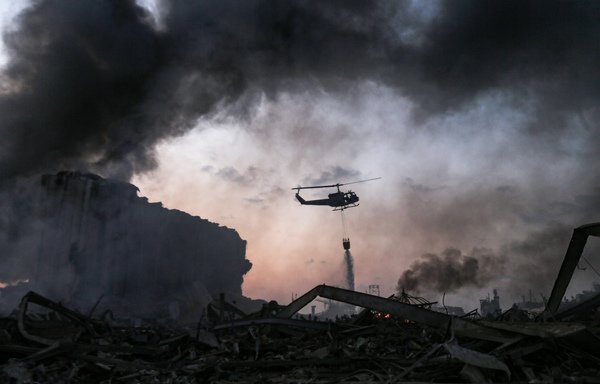 Late Tuesday, thousands of families drove out of Beirut to take their families to safety, but many others were left stranded without a roof, unable to go anywhere or unwilling to leave their gutted homes open to looters.
The rescue effort was slowed at night by the lack of electricity, which was already intermittent at best in much of the city before the explosion.
Security forces on Tuesday sealed off a huge area around the blast site, turning away residents trying to reach their homes to assess the damage, as rescuers worked through the night into Wednesday.
Beirut governor Marwan Aboud on Wednesday said the blasts left 300,000 people homeless and caused over $3 billion of damage across half of the city.
Engineers and technical teams have yet to conduct an official assessment.
'A disaster in every sense'
The blast appeared to have been caused by the ignition of a huge depot of ammonium nitrate that was left unsecured in a warehouse at Beirut's port, officials say, but many questions remain.
An initial large explosion in the port area of Beirut took place around 6 p.m. Tuesday, resulting in a fire, several small blasts and then a colossal explosion that flattened the harbour front and surrounding buildings.
Video stills show an intense blazing fireball rising above a line of massive storage silos, then a billowing cloud towering into the sky as a powerful shockwave rips through Lebanon's biggest city.
Lebanon's Prime Minister Hassan Diab said 2,750 tonnes of ammonium nitrate, an agricultural fertiliser, stored in a portside warehouse had blown up, sparking "a disaster in every sense of the word".
Ammonium nitrate is an odourless crystalline substance that has been the cause of numerous industrial explosions over the decades. When combined with fuel oils, it creates a potent explosive widely used in the construction industry, but also by extremist groups for improvised explosive devices (IEDs).
"What happened today will not pass without accountability," Diab said. "Those responsible for this catastrophe will pay the price."
Lebanon's General Security chief Abbas Ibrahim said the material had been confiscated years earlier and stored in the warehouse.
"The incident was caused by a blast at a chemicals depot containing ammonium nitrate," said Customs Administration director Badri Dhahir. "The explosive material had been seized and stored at a chemicals warehouse in Beirut port."
"The container was seized based on a court order as a result of a dispute between the importer and carrier," Dhahir said.
There has been no indication from Lebanese officials that the explosions were caused deliberately, though some social media users accused Hizbullah of storing weapons and explosives at the port.
Beirut appeals for help
Aoun has announced he will release 100 billion lira ($66 million) of emergency funds. But the country is in the middle of an enormous economic crisis and its hospitals are already overwhelmed by the coronavirus pandemic.
"Beirut is appealing for help," former Prime Minister Saad al-Hariri said in a social media post. "The hurricane that hit it bleeds hearts. Everyone is called to Lebanon's rescue and to stand in solidarity with our people."
"The scale of losses is too big to be described, but the biggest loss is the loss of dozens of people who were killed and wounded," he said. "We pray to God to protect our capital and people from all harm."
The blast damaged al-Hariri's residence, where he was heading a meeting of the Future Movement. At first, many believed he had been the target of the blast.
His father, former Lebanese premier Rafic al-Hariri, was killed in a massive suicide bombing in 2005, and a UN-backed tribunal is poised to give its verdict Friday on the murder. Four alleged members of Hizbullah are on trial in absentia.
Across Beirut and its suburbs, eye witnesses told Al-Mashareq, panic and horror prevailed amid scenes of destruction, with buildings destroyed and the glass and doors of most high-rise buildings shattered.
Large-scale damage was reported in central Beirut, Achrafieh, Dora, Grand Serail, Parliament, Baabda Palace, hospitals, malls, the Lebanon Electricity Company and Beirut International Airport.
"What happened is bigger than Lebanon at its current circumstances," said Health Minister Hamad Hasan, instructing all hospitals to receive and treat the wounded at the ministry's expense.
"This disaster is a challenge to the state and a real catastrophe."