Despite its unexpected rapprochement with Saudi Arabia in March and its purported commitment to negotiate a return to the 2015 nuclear agreement with global powers, Iran's actions continue to speak louder than its words.
As it claims to pursue peace, Iran has been supplying drones that various states and proxy groups have used to carry out attacks in Yemen, Iraq, Saudi Arabia, the United Arab Emirates (UAE), Sudan and, most recently, Ukraine.
It has continued to disrupt international shipping lanes in the Arabian Gulf and has been smuggling drugs and weapons across the region by sea.
And it has continued to enrich uranium and develop its nuclear capabilities.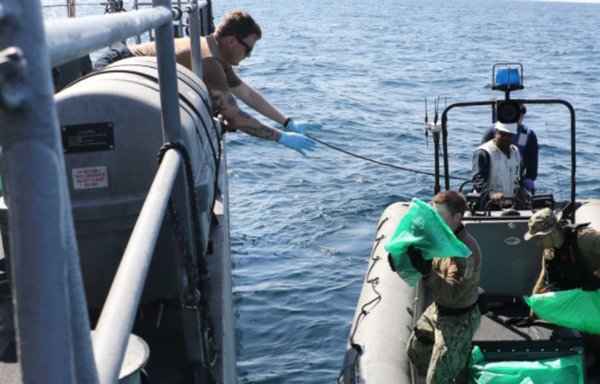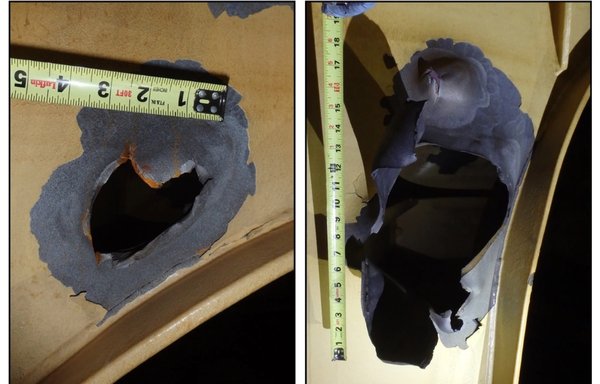 Iran has the largest arsenal of unmanned aerial vehicles (UAVs), commonly known as drones, in the Middle East and is a major producer and exporter -- notably to the Houthis in Yemen and increasingly to Russia.
On May 8, Ukrainian air defences shot down 35 Iranian-made Shahed drones that Russia had deployed in the Kyiv region, according to Ukraine's air force, with debris damaging several buildings and injuring civilians.
Iran has delivered more than 400 drones to Russia since August, mainly of the Shahed type, US National Security Council spokesman John Kirby said Monday (May 15).
Iran in turn is seeking to buy attack helicopters, radars and Yak-130 combat trainer aircraft from Russia, he said, noting that "in total, Iran is seeking billions of dollars worth of military equipment", AFP reported.
"Interactions between Iran and Russia in matters regarding the selling of advanced weapons, especially more advanced UAVs, are now continuing," he said, as Russia seeks to acquire more sophisticated military drones.
"This is a full scale defence partnership that is harmful to Ukraine, to the region in the Middle East, and to the international community," he said, adding that further sanctions would soon be announced.
Smuggling by land, air and sea
In a February 21 report submitted to the United Nations, a panel of experts said Iran many be smuggling drones to the Houthis in Yemen via a new air route in order to avoid surveillance from the Combined Maritime Forces (CMF).
Forces operating as part of the multinational maritime coalition have regularly seized shipments of Iranian weapons destined for the Houthis along well-known smuggling routes.
A British warship on February 23 intercepted a boat smuggling Iranian weapons, including anti-tank missiles, off the coast of Oman.
The small craft, determined to have originated from Iran, was initially spotted by US aerial surveillance as it travelled at "high speed" after dark in international waters, the British embassy in the UAE said.
On board, UK forces discovered packages that included Iranian versions of Russian 9M133 Kornet anti-tank guided missiles, known in Iran as Dehlavieh, and medium-range ballistic missile components.
On January 15, French forces, with support from the US military, seized a massive shipment of Iranian arms destined for the Houthis in the Gulf of Oman, along a route historically used to traffic weapons unlawfully from Iran to Yemen.
More than 3,000 assault rifles, 578,000 rounds of ammunition and 23 advanced anti-tank guided missiles were recovered from the vessel, the US military said.
The US Navy on January 6 seized 2,116 AK-47 assault rifles from a "stateless dhow" crewed by six Yemeni nationals along a well-known maritime smuggling route from Iran to Yemen.
A US Coast Guard fast response cutter operating as part of the CMF this month interdicted two fishing vessels that had departed from the Iranian port of Chabahar and seized massive shipments of potentially deadly illegal drugs.
A boarding team seized $80 million worth of heroin during the May 10 interdiction, and on May 8 seized $30 million worth of heroin and methamphetamine, commonly known as "crystal meth".
Tensions flare in Gulf waters
Iran has continued to seize oil tankers in several recent incidents since the March "peace deal" with Saudi Arabia.
Iran on May 3 seized a second oil tanker in less than a week, with a fleet of high-speed Islamic Revolutionary Guard Corps Navy (IRGCN) craft surrounding the Greek-owned Niovi as it travelled empty from Dubai to Fujairah in the UAE.
The Panama-flagged vessel's seizure in the Strait of Hormuz came six days after a similar incident in Gulf waters, when helicopter-borne Iranian navy commandos abseiled onto the deck of a US-bound Marshall Islands-flagged tanker Advantage Sweet.
Satellite photos analysed by the Associated Press show the two oil tankers anchored off the coast near Bandar Abbas, the media outlet reported May 7.
"Iran's actions are contrary to international law and disruptive to regional security and stability," the US Navy's Bahrain-based 5th Fleet said in an April 27 statement following the seizure of Advantage Sweet.
In February, the Liberian-flagged tanker Campo Square was struck by a drone in the Arabian Sea in an attack that likely involved an Iranian Shahed-136.
Concerns about Iran's malign activities have increased as it has continued to attack vessels in international shipping lanes, prompting the United States to prepare over 100 unmanned surface vehicles (USVs) ready to operate within a few months.
The United States aims to have the USVs, also referred to as "robots at sea", operational by the end of summer, CMF commander Vice Admiral Brad Cooper said April 14.
The initial target of 50 USVs was achieved in February.
Washington's commitment to the Middle East remains "unshakeable", White House National Security advisor Jake Sullivan said May 5.
The region is "vitally important to our shared future, and deeply interwoven with American interests and those of our allies and partners", he said, underscoring Washington's focus on countering any threats from Iran or Iran-backed militias.