A British warship, supported by US airborne intelligence, surveillance and reconnaissance, last week intercepted a boat smuggling Iranian weapons, including anti-tank missiles, off the coast of Oman.
The small craft was initially spotted by US aerial surveillance as it travelled at "high speed" after dark in international waters, the British embassy in the United Arab Emirates (UAE) said.
The vessel, determined to have originated from Iran, was intercepted on Thursday (February 23) by forces from British frigate HMS Lancaster as it travelled south from Iran, before it could navigate back to Iranian territorial waters.
On board, UK forces discovered packages that included Iranian versions of Russian 9M133 Kornet anti-tank guided missiles, known in Iran as Dehlavieh, and medium-range ballistic missile components.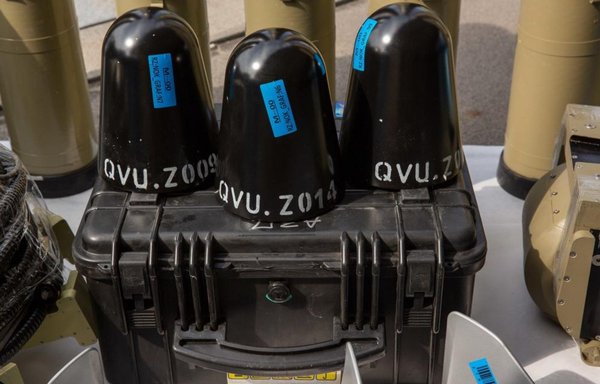 The seizure took place along a route historically used to smuggle weapons to Yemen, according to the US Navy's 5th Fleet, which is based in Bahrain.
The direct or indirect supply, sale or transfer of weapons to the Houthis in Yemen violates United Nations Security Council Resolution 2216 and international law, it said.
"This is the seventh illegal weapon or drug interdiction in the last three months and yet another example of Iran's increasing malign maritime activity across the region," said US 5th Fleet commander Vice-Admiral Brad Cooper.
Cooper also heads US Naval Forces Central Command (NAVCENT) and the Combined Maritime Forces (CMF), a multi-national naval coalition.
"We will continue to work with our partners in pursuing any destabilising activity that threatens regional maritime security and stability," he said.
Arms seizures along smuggling route
Interdictions in the past three months have led to the seizure of 5,000 weapons, 1.6 million rounds of ammunition, 7,000 proximity fuses for rockets and 2,100kg of propellant used to launch rocket propelled grenades, the US military said.
Security forces also have seized 30 anti-tank guided missiles, medium-range ballistic missile components and $80 million worth of illegal drugs, it added.
Elite French forces, with support from the US military, on January 15 seized a massive shipment of Iranian arms destined for Yemen's Houthis.
The maritime interdiction took place in the Gulf of Oman, US Central Command (CENTCOM) said.
"More than 3,000 assault rifles, 578,000 rounds of ammunition and 23 advanced anti-tank guided missiles were recovered," it said.
On January 6, the US Navy intercepted a fishing vessel in the Gulf of Oman as it attempted to smuggle more than 2,100 assault rifles along a smuggling maritime route from Iran to Yemen.
In December, US naval forces seized explosive precursor materials, rocket fuses and propellant being smuggled on a fishing trawler from Iran to Yemen.
The cargo included 140 tonnes of urea fertiliser, 70 tonnes of ammonium perchlorate and 50 tonnes of ammunition rounds.
And in November, the US Navy said it had scuttled a boat transporting "explosive materials" from Iran to supply the Houthis, with enough power to fuel a dozen ballistic missiles.
'Teamwork and multinational collaboration'
A US Coast Guard ship on Saturday seized illegal drugs worth $20 million in US street value from a fishing vessel in the Arabian Sea, the CMF said.
The illegal shipment -- transported on a vessel manned by four mariners -- included 1,350kg of hashish, 276kg of methamphetamine and 23kg of amphetamine pills, it said.
The US Coast Guard vessel was operating in support of Combined Task Force 150 (CTF 150) -- one of four task forces organised under the CMF.
"This is the result of excellent teamwork and multinational collaboration. It is important that we continue relentlessly pursuing any destabilising maritime activity," said US Navy Capt. Anthony Webber.
The CMF, the largest international naval partnership in the world with 38 member nations and partners, on Tuesday completed a three-day joint sail in the Arabian Gulf, involving naval assets from five nations.
Ten vessels from Bahrain, Kuwait, Saudi Arabia, the UAE and the United States operated under CTF 152, which is focused on maritime security in the Arabian Gulf.
Crew members from various units interacted, conducted professional exchanges and demonstrated multinational presence, the CMF said.
Uranium enrichment nears bomb grade
The latest interdiction of Iranian arms comes as the International Atomic Energy Agency (IAEA) on Tuesday announced that its inspectors in Iran had found uranium particles enriched to nearly bomb grade, or 90%.
IAEA head Rafael Grossi is slated to meet with Iranian President Ebrahim Raisi in Tehran on Saturday to try to "relaunch the dialogue" on the country's atomic work, AFP reported.
A confidential IAEA report seen by AFP said that uranium particles enriched up to 83.7% -- just below weapon grade -- had been detected at Iran's underground Fordow plant.
The discovery came after Iran had substantially modified an interconnection between two centrifuge clusters enriching uranium, without declaring it to the IAEA.
"Discussions are still ongoing" to determine the origin of nearly bomb grade particles, the IAEA said in the report.