MANAMA -- The navies of the United States and Bahrain on Tuesday (October 26) concluded a joint exercise at sea, dubbed "New Horizon", that began to integrate unmanned systems into regional maritime operations.
It was the first time the US Navy has integrated unmanned surface vessels (USV), commonly known as "boat drones", with manned ships at sea in the Middle East, and the first time with a regional partner testing in Gulf water.
The US 5th Fleet, which is based in Bahrain, on September 8 announced the launch of Task Force 59 -- the first of its kind -- which it said will rapidly incorporate drones and artificial intelligence (AI) into Arabian Gulf operations.
"This initiative enables us to expand maritime domain awareness on, above and below the water and enhance regional deterrence," US 5th Fleet commander Vice Adm. Brad Cooper said at the time.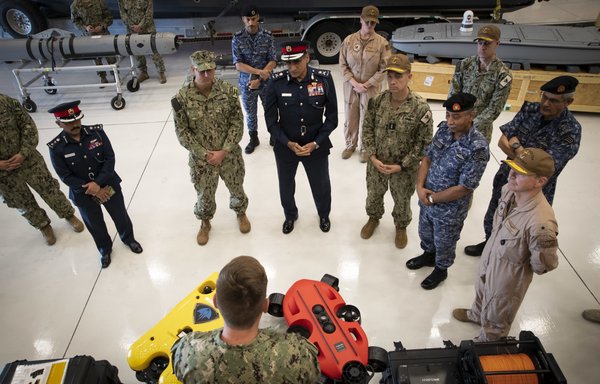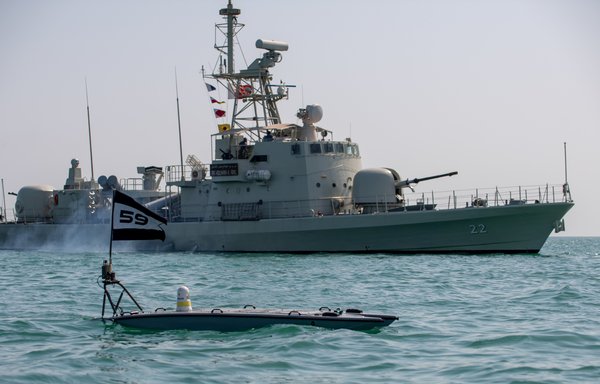 "The bottom line on why we're doing this is so that we can develop and integrate unmanned systems and AI as a means to do two things," he said: "One, enhance our maritime domain awareness, and two, increase deterrence."
The International Maritime Organisation defines maritime domain awareness as the effective understanding of anything associated with the maritime domain that could impact security, safety, economy or the environment.
The newly formed Task Force 59 will rely heavily on regional and coalition partnerships, Cooper said, and "really invigorates our partnerships around this region as we expand our common operating picture".
During a September 23 visit to the US Navy installation in Bahrain, Bahraini leaders committed to partnering with US Naval Forces Central Command (NAVCENT) to accelerate integration of new unmanned systems into operations.
"We have an enduring strategic relationship with the Kingdom of Bahrain and our mutual commitment to advancing new unmanned systems demonstrates us strengthening the partnership in a new way," Cooper said.
The US 5th Fleet operates across about 2.5 million square miles in the Arabian Gulf, Gulf of Oman, Red Sea and Indian Ocean, a territory including three critical maritime choke points: the Strait of Hormuz, Suez Canal and Bab al-Mandeb.
'A significant milestone'
The first phase of the New Horizon drill, on October 20, saw operators controlling new MANTAS T-12 USVs aboard patrol coastal ship USS Firebolt, while the vessels conducted high-speed manoeuvres in formation.
The final phase on Tuesday brought together a larger force of manned and unmanned maritime and aerial assets from NAVCENT, the Royal Bahrain Naval Force and Bahrain Coast Guard.
US and Bahraini forces practiced operating the vessels in formation to strengthen mutual understanding and interoperability, the US Navy said.
"This is a significant milestone for our new task force as we accelerate the integration of unmanned systems and AI into complex, cross-domain operations at sea," said Task Force 59 commander Capt. Michael Brasseur.
"Real-world evaluation is essential," said Brasseur, an expert in maritime robotics who served as a founding member of the NATO Maritime Unmanned Systems Initiative prior to arriving in Bahrain.
"Working with our regional partners on unmanned systems integration is crucial to enhancing collective maritime domain awareness," Cooper said.
"Bahrain, as our first regional partner to collaborate with Task Force 59 during an at-sea exercise, demonstrates the strengthening of our strategic relationship."
As the MANTAS T-12 vessels entered the water Tuesday, with two ships from the Royal Bahrain Naval Force standing by, US Navy spokesman Tim Hawkins said the drill was "critically important to maintaining regional stability and security".
It "will help us understand how we can use these vessels to enhance maritime domain awareness", he said.