BEIRUT -- Sources in Lebanon told Al-Mashareq they can confirm the veracity of a November 20 Al-Hadath news channel report on Hizbullah's transfer of missiles from the Syrian city of Masyaf to al-Qusayr.
In its detailed report, Al-Hadath revealed that the Iran-backed Hizbullah has transported 110 Fajr missiles and over 300 Fateh missiles from the Syrian Centre for Scientific Studies and Research in the Hama province city of Masyaf to its base in al-Qusayr.
A number of Syrians who returned to Lebanon from al-Qusayr -- a town just across the border from the Lebanese town of al-Hermel -- during the summer told Al-Mashareq they noticed the movement of large trucks in the area.
Hizbullah is temporarily storing hundreds of missiles equipped with chemical payload in a warehouse in al-Qusayr for subsequent transfer to the Bint Jbeil region in southern Lebanon, Al-Hadath reported.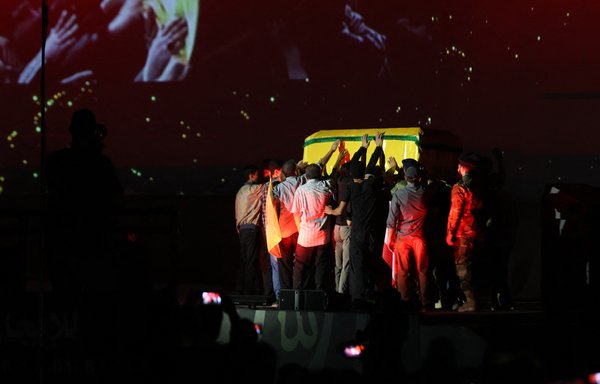 It said Hizbullah had manufactured the missiles in Masyaf, where North Koreans injected them with toxic chemicals under the supervision of an Iranian chemical weapon specialist named Qassem Abdollah-Massoudian.
Unit 2250 of the Islamic Revolutionary Guard Corps Quds Force (IRGC-QF) transported the missiles to al-Qusayr under the supervision of an IRGC operative known as Hajj Sadiq, according to the report.
Underground missile silos
Iran previously operated a chemical warfare facility at a scientific research centre in the al-Safira area, south of Aleppo, said Turki Mustafa, a Syrian researcher who studies Hizbullah.
Precision-guided missiles were produced in this facility at one time, he told Al-Mashareq.
But after the centre was repeatedly bombed, Iran relocated its missile manufacturing activity to the Scientific Studies and Research Centre in Masyaf, he said.
"Missiles loaded with chemical warheads are being manufactured at a rapid pace with the direct assistance of Korean experts," Mustafa said.
He noted that "the IRGC possesses an arsenal of weapons that it stores in underground warehouses under the auspices of Iranian and North Korean experts and Hizbullah elements".
"There is no doubt that Hizbullah has recently transferred several types of missiles with chemical warheads from Masyaf to the al-Qusayr region near the Syrian-Lebanese border," Mustafa said.
"The transfer was carried out by the IRGC's Unit 2250," he added.
According to Iran International, Unit 2250 is a special logistical agency run by the IRGC.
Established as a subset of Unit 2000, it is headquartered in Damascus with offices in locations such as Latakia, Hama, Aleppo and Deir Ezzor.
The unit is in charge of receiving equipment, weapons and personnel from Iran as well as supporting Lebanese Hizbullah, it said, and is tasked with escorting and hosting senior Iranian officials and their families upon arrival in Syria.
The process of transporting and smuggling missiles takes place in stages, the first of which involves their transfer from Masyaf to Qalamoun, which is under Hizbullah control, Mustafa said.
The second stage involves smuggling the missiles on mules and donkeys to Hizbullah's warehouses spread out across the mountain slopes and plateaus of Lebanon, especially in the party's stronghold of Baalbek-Hermel.
On hillsides overlooking the Lebanese towns of Anjar and Majdal Anjar, near the Syrian border, there is reportedly a tunnel that is used for weapon storage, Mustafa said.
He said he has heard that Hizbullah will soon move the missiles to the Bint Jbeil area in southern Lebanon.
Manufacturing missiles, drones
Hizbullah has specialists with knowledge and experience in manufacturing and assembling missile and drone components, Southerners for Freedom co-ordinator Hussein Ataya told Al-Mashareq.
"The components arrive from Iran through Syrian airports and ports, and are transported to the party's workshops in Lebanon via camouflaged routes," he said.
Hizbullah, in co-operation with Iranians and sometimes North Koreans, Ataya said, "has been producing drones and precision warheads for long-range missiles even before 2011, when the Syrian war broke out".
Ataya said Hizbullah, in co-ordination with the Syrian regime, has been manufacturing military equipment to serve its operations in Syria.
Some of its missiles are manufactured at the Syrian Centre for Scientific Studies and Research near Masyaf, and others at manufacturing workshops in the Bekaa Valley, the southern suburb of Beirut and fortified sites in the south, he said.
"Hizbullah's raison d'être is to stir up unrest, create crises and sow instability," said military analyst Yaarob Sakher, a retired Lebanese army officer.
The Iran-backed party executes Tehran's orders to destabilise and start conflict in Lebanon, Syria, Iraq and Yemen, he said.
If follows that a party capable of illegal actions including the manufacture, smuggling and trafficking of drugs, assassinations and bombings, "is also committing the crime of manufacturing chemical weapons", Sakher said.