BEIRUT -- Hizbullah, which has a long and well-documented history of producing and trafficking illegal drugs from its heartland in Lebanon, has moved the nexus of its narcotics operation inside Syria, local sources say.
The Iran-backed party and allied militias have exploited the lawlessness in regime-controlled areas of Syria as well as the lower operating costs to set up drug trafficking and manufacturing hubs in certain areas, they said.
Hizbullah and its allies have been openly dealing in hashish and other types of narcotics, including Captagon -- an amphetamine-like stimulant -- in rural Damascus, where these drugs can be readily obtained for low prices.
According to a recent Syrian Observatory for Human Rights estimate, there are about 14 factories producing illegal drugs in Syria, including three in Serghaya, a southwestern town near the border with Lebanon.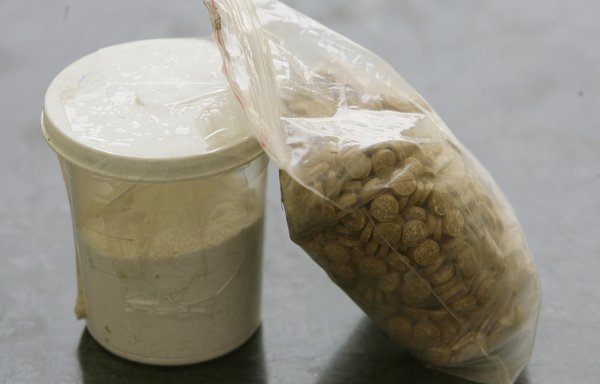 The remaining 11 narcotics manufacturing facilities are located in Rankos, Asal al-Ward, al-Jebbeh, Talfita, Bakhaa, al-Tufail, Madaya and al-Sabboura.
The drugs produced in Syria are sold far and wide, the Observatory said, with heavy consumption evident in regime-controlled areas while trafficking operations deliver drugs to other parts of Syria and outside the country.
Escalating drug trade
After the regime's siege of opposition-held Madaya was lifted in April 2017, Hizbullah imposed its control over the rural Damascus town, according to an opposition activist in Madaya who asked to remain anonymous.
Hizbullah "now has residents loyal to it in the city who run their businesses under the party's protection, which led to a boom in the manufacture, trafficking and smuggling of drugs", the activist said.
There are now Captagon and cocaine manufacturing facilities in the town, run by individuals affiliated with Hizbullah, he said, which basically consist of "single rooms in al-Mazareh area and in neighbourhoods away from watchful eyes".
The drugs are produced and sold locally in the Damascus area, he said, "and the surplus is prepared for export".
Sources in Syria's al-Qalamoun region, along the border with Lebanon, told the Observatory the drug trade "is escalating throughout the region under the aegis of Hizbullah officials and elements", with the participation of pro-regime militias.
They said Hizbullah and allied militias are responsible for the proliferation of drugs in areas controlled by the regime and for the entry of hashish shipments from Lebanon through the non-official border crossings controlled by the party.
These crossings are located in the Serghaya and Assal al-Ward areas of rural Damascus, and there are additional crossings controlled by regime-allied militias in al-Qusayr in rural Homs, the sources said.
Under pressure in Lebanon
Hizbullah and the Syrian regime have turned Lebanon "into a factory for the export of terrorism and drugs", said former justice minister (ret.) Gen. Ashraf Rifi.
He attributed the increased pace of drug production in Syria to the pressure Hizbullah has come under in Lebanon, largely as a result of its association with Iran, which is facing an economic crisis.
"Hizbullah used to receive massive funding from Iran," Rifi said, and through an array of legitimate and illegal enterprises in Lebanon was able to dedicate a huge amount of money to finance its military operations.
Hizbullah and Iran's sources of revenue have come "to an almost complete halt", he said.
This forced the party to step up its drug production inside Syria and in the border areas adjacent to its strongholds in Lebanon, he said.
The increase in drug production in Syria in turn fueled a surge in the smuggling of drugs from Syria through Lebanon to Arab and European countries, he said, as evidenced by recent thwarted smuggling operations in Italy and Egypt.
Regime-linked drug operations
Hizbullah "established its statelet for drug manufacturing inside Syria", said Shia activist Hussein Ataya.
Ataya said Hizbullah is sharing control of the drug manufacturing operation with units of the 4th Division, which is led by the Syrian president's brother, Brig. Gen. Maher al-Assad.
"Hizbullah opened medium-sized factories for the manufacture of Captagon after seizing control of al-Qusayr, western al-Qalamoun and the Dabaa military airfield area, north of al-Qusayr, and the Quneitra region in southern Syria," he said.
The party also set up some small manufacturing workshops in Zabadani, Bloudan, Serghaya and Yabrud in rural Damascus, he said.
The largest operations, which produce a type of Captagon with the street name of Abu Hilalain (Two Crescents), are in al-Qusayr, al-Tufail, Flita and the 4th Division headquarters in al-Sumariya and Ras al-Maara, he said.
These are reportedly under the supervision of Syrian businessman Khodr Ali Taher, who was sanctioned by the European Union and the US Treasury in 2020 for war profiteering.
Major drug manufacturing operations include a factory in rural Homs, and a factory in al-Bassa in rural Latakia, which is the largest, he said. It is reportedly supervised by the 4th Division and run by regime insiders.
The 4th Division also supervises a Tadamon factory and "some small workshops in the Hassia area on the international highway between Damascus and Homs", Ataya said.
He noted that al-Qusayr and its environs, which connect it to Lebanon's Hermel region, "is a military headquarters for [Hizbullah] and a corridor for the smuggling and transport of all kinds of drugs".
Drugs are smuggled via this corridor "from and through Syria to Lebanon and some Arab countries, or through the port of Latakia in Syria or the port of Beirut", he said.