BEIRUT -- Lebanese Hizbullah has long served as a linchpin of Iran's drone programme, assembling drones at its bases with parts smuggled in from Iran via Syria, and training cadres from Yemen's Houthis and other proxies.
Hizbullah chief Hassan Nasrallah went so far as to boast about his party's prowess in this area in February, claiming Hizbullah is using unmanned aerial vehicles (UAVs), or drones, to turn its missiles into precision-guided weapons.
He even invited interested parties to "fill out an application" to buy his party's weapons.
Despite Nasrallah's flaunting, however, Iran is behind most of the party's drones.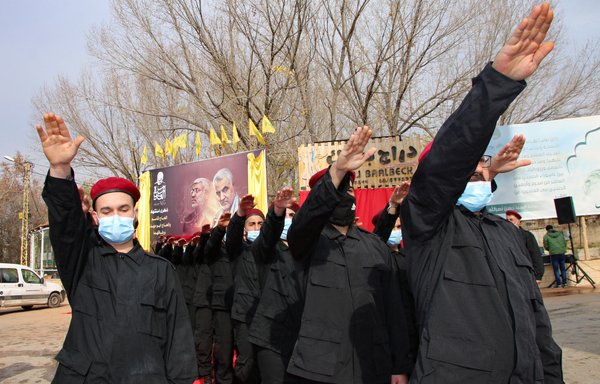 Since 2004, the Islamic Republic has provided drones, drone components and designs to its proxies, including Hizbullah, and also has provided the party's fighters with training, The Iran Primer said in a June 2021 report.
Between 2005 and 2012, Hizbullah obtained more advanced drones, expanding its UAV operations after joining the conflict in Syria in 2012 in support of the regime of Bashar al-Assad.
By late 2013, Hizbullah possessed hundreds of Iranian-designed drones, the report said, including Mersad-1 light-weight combat and reconnaissance drones and heavyweight reconnaissance and combat Ayoub drones, in addition to the Hassan.
"While Hizbullah has been silent about whether it actually has a factory to manufacture drones, it is certain that it has trained experts," retired Lebanese Brig. Gen. Naji Malaeb told Al-Mashareq.
"The question is, do they have the capabilities to manufacture drones?"
"The manufacture of drones requires certain materials, cameras, tracking devices and a satellite link, because they travel long distances while linked to a satellite, which is beyond Hizbullah's capabilities," he said.
He noted that "directing drones requires high-level technologies", suggesting that Hizbullah's drones might be linked to "a satellite of an allied country".
In Hizbullah's case, Malaeb added, there is no certainty that it is manufacturing drones, aside from Nasrallah's public remarks and various media reports about the group's launch of the Hassan and other drones.
"Hizbullah only announces what it wants to announce in this regard," he said.
"But it is certain that it possesses drones that it has used extensively in the Syrian war, by virtue of its leadership position in the militias affiliated with it, such as the Fatemiyoun Division and Zainabiyoun Brigade," he said.
Iran-made drones
In Syria, Hizbullah "hid Iranian-made drones in underground bunkers it had previously dug at an old military base" in the Khirbet al-Ward area near Sayyida Zainab shrine, the Syrian Observatory for Human Rights said in January.
Syrian regime forces had previously used the area to train troops on the use of reconnaissance drones, it said.
The Observatory also noted that shipments of weapons, ammunition and components used in the manufacture of drones had arrived at the Dimas military airport in western rural Damascus.
Iran's Islamic Revolutionary Guard Corps (IRGC) and Hizbullah experts trained in Iran are present in this area, it said.
The Iran-backed party used drones in Eastern Ghouta and in rural Aleppo and Idlib, Malaeb said.
He also noted that Hizbullah "opened Lebanon's doors to the Houthis" to provide them with combat training and lessons on the use of drones at special bases it has near the Lebanese-Syrian border.
The party has ammunition depots at these bases, which are located in the Janta-Yahfoufa-Maaraboun triangle, he added.
Sources in southeastern Homs province said Hizbullah has recently established workshops to manufacture artillery, rockets and land mines and repair drones and various kinds of weapons, Asharq al-Awsat reported Sunday (April 24).
The workshops were reportedly established under the supervision of the IRGC at the Mahin military warehouse in eastern Homs.
Manufacture and assembly
Hizbullah does indeed possess drones, a Lebanese military expert told Al-Mashareq, but contrary to what it claims, the party does not have the capability to manufacture them.
All the party does is assemble drone components that are shipped from Iran, giving these drones whatever names it wants and using them to a limited extent in Syria, he said, asking that his name not be used.
"As for the Houthis, who were trained by Hizbullah at bases in Lebanon, they use drones extensively in their war, but there are doubts about whether they are manufacturing them, as they claim, or they are supplied to them by Iran."
By giving drones to Hizbullah, Iran wants to increase its capabilities "to serve the Iranian project in the region", said Lebanese Centre for Research and Consulting director Hassan Qutb.
This is evident in Syria, Iraq and Yemen, he told Al-Mashareq, where Hizbullah experts have been supervising the technological capabilities of Iranian proxies.
"Iran focused on training the party's technical cadres on the assembly, operation and use of drones," he said.
Hizbullah experts meanwhile assemble the drones from parts that come through Syria, and provide training on their use to a growing number of cadres, he said.