BEIRUT -- Lebanese Hizbullah has been recruiting workers in Syria's western and eastern Qalamoun region, including women and children, to cultivate cannabis, a Syrian opposition media outlet reported in June and other sources confirm.
They are paid no more than 25,000 SYP ($10) for a day's work, according to the SY24 outlet -- an exploitative wage that takes advantage of the prevailing poverty and desperation in regime-controlled areas.
Using agents native to the Qalamoun region, Hizbullah has been able to recruit dozens of people to form a workforce in other areas under the party's control as well, notably al-Qusayr in Homs province, the media outlet said.
Swathes of this area have been turned over to the cultivation of cannabis -- farming operations sponsored by Hizbullah -- and the party and affiliated militias also have established drug-manufacturing factories in the region.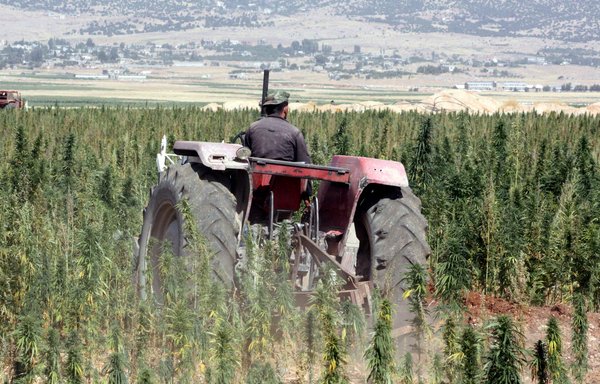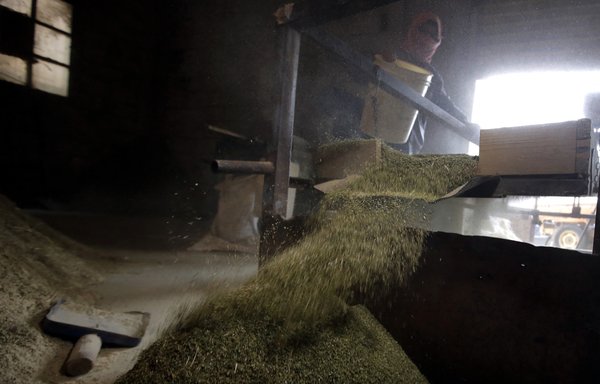 According to a source in Qalamoun, the outlet reported, Hizbullah agents promised the workers who opted to go to al-Qusayr area for work that they would be transported there as soon as possible.
The party reportedly told them it would handle the cost of transportation and accommodation, though the proffered wages are paltry.
A resident of the town of Rankous in the Qalamoun region told Al-Mashareq he was able to verify the SY24 account of Hizbullah's drug enterprise but asked to remain anonymous because of his sensitive personal situation.
He said he had been a refugee in Lebanon between 2014 and 2020 and returned with his family to his hometown in mid-2020, where he was forced by economic pressure to work for Hizbullah.
In Rankous, he cultivated hashish for 14 months for the Iran-backed party before returning to his main occupation, he said.
Syrian labourers exploited
"Our town, like all the towns and villages in western and eastern Qalamoun, is under the full control of Hizbullah, which caused me to bring my family to Lebanon in 2014," the Rankous resident said.
"But because of the economic and health circumstances Lebanon was experiencing and my mother's reassurances that the town was safe, I returned with my family to my hometown, only to find myself in a dire financial situation," he added.
"I was being hounded by middlemen who were trying to persuade me to work for Hizbullah in agriculture," he said.
"I accepted after considerable hesitation, only to discover that I was one of hundreds, if not thousands, of Syrian men, women and children who cultivate cannabis in areas close to my town," he said.
"At certain times we were transported to western rural Homs, near the Orontes river," he said, adding that he was initially paid $25 per day, before wages began to be paid out in Syrian currency at the end of 2021.
Abdullah Abu Ahmad, a Syrian refugee in Lebanon, said his relatives returned to Riblah and al-Qusayr a few months ago and began to work in the fields for Hizbullah, "which controls property and agricultural lands".
"When we called the woman returnees, they told us they were cultivating contraband to put food on the table, in return for daily wages that do not fill their stomachs," he told Al-Mashareq.
"The women were forced to return with their children because of Lebanon's economic circumstances, only to fall prey to Hizbullah," Abdullah said.
Hizbullah's drug industry
In a 2015 report, the Lebanese Institute for Democracy and Human Rights (LIFE) said the cultivation and trade of narcotics in Lebanon are a popular business in Hizbullah's areas of influence.
The hub of this illicit industry is the Baalbek-Hermel area in Lebanon's northern Bekaa Valley, close to the Syrian border, it said.
Many sections of the border are not officially defined by the two countries, it added, and it is difficult for Lebanese security services to exercise tight control over them because of the ruggedness of the areas where the crossings are located.
After the outbreak of the Syrian conflict, in which Hizbullah intervened on the side of the regime despite Lebanon's policy of dissociation from regional conflicts, the party transferred its cannabis cultivation operations to Qalamoun, al-Qusayr, and western rural Homs.
The Syrian demand for cannabis increased substantially after the outbreak of war, a Lebanese worker involved in its cultivation told LIFE, and Syrian gangs buy large quantities of the crop to smuggle into neighbouring countries.
The SY24 report on Hizbullah's drug operations rang true, LIFE executive director lawyer Nabil al-Halabi told Al-Mashareq.
"Hizbullah is taking advantage of the Syrian labour force that was displaced to Lebanon and now has returned to Qalamoun by putting it to work in cultivating, harvesting and packing hashish and cannabis, for very low wages."
After Hizbullah took control of Syrian border areas in 2014, specifically along the Orontes river and in Qalamoun, al-Qusayr and western rural Homs, he said, "it started cultivating hashish and other types of narcotic crops".
Long accustomed to growing these crops in Lebanon, Hizbullah first set out to strengthen their cultivation in Syria, and then to establish drug factories, al-Halabi said.