Iran has been providing its proxies in Iraq with a primitive version of the Katyusha rocket -- not a Russian weapon as the name would suggest, but a domestic variety produced in Iran.
Iran-backed militias in Iraq have been using these low-flying, short-range rockets in attacks targeting the US embassy and diplomatic missions in Baghdad, the capital's airport and various military bases.
Known as "Fajr1" rockets, these are 107 mm caliber Katyusha rocket clones manufactured by Iran, Iraqi security expert and former military officer Majid al-Qaisi told Al-Mashareq.
"These rockets, which have been in use for decades, are now considered primitive weapons, as their range does not exceed 18 kilometres and they are highly inaccurate in hitting targets," he said.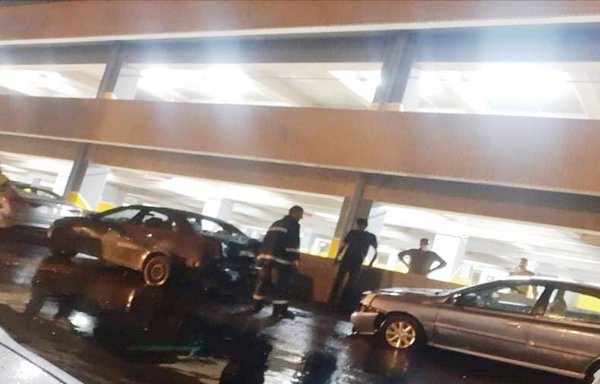 For this reason, he explained, "attackers fire barrages of them at the target".
Despite their inaccuracy, they are "easy to conceal and move from place to place, and can be launched from a launcher mounted on a small truck", he said.
The most dangerous feature of these rockets is that they "operate with an automatic timing system", he said. "As soon as the angle and height are determined and the launch time is set, the rockets are launched automatically."
This provides the attackers with ample time to flee, noting that when security forces arrive at the scene of the attack they find only the launcher.
"These features make these rockets, despite their lack of sophistication compared to modern rockets, an effective weapon in the hands of terrorist and insurgent groups who wage guerrilla warfare," al-Qaisi said.
Widespread use of the rockets
Fajr1 rockets have been used in Afghanistan, Lebanon, Syria, Yemen and Libya.
They can be identified by their green and black or tan and black color, and a handwritten rocket serial number.
Iran-backed groups have been using them to attack international interests in Iraq, al-Qaisi said, with individuals using locally-manufactured launchers and rudimentary techniques for determining height and launch angles.
This lack of training, along with the Fajr's lack of precision, have resulted in civilian casualties, al-Qaisi said.
They pose a danger even without being used, he added, noting that they are often stored in munitions depots in residential neighbourhoods that do not meet standards for safety or temperature control.
This is a disaster waiting to happen, he said, noting that "massive explosions have previously occurred in Baghdad that killed hundreds of innocent people as a consequence of such indiscriminate storage practices".
Iran produces various types of short, medium and long-range rockets bearing many names, such as Fajr, Shahab and Qader, military and strategy expert Alaa al-Nashou told Al-Mashareq.
Iran drew "experiences from Russia, North Korea and China in building and developing its arsenal of rockets, including long-range ballistic missiles", he said, and has used these weapons to fight its proxy wars in the region.
Cloned weapons are inaccurate
"Iran has smuggled these rockets to its proxies, such as Lebanese Hizbullah and the Houthis (Ansarallah)," he said, pointing to the seizure of numerous arms shipments headed to these groups by sea over the past years.
In February, the US Navy seized a shipment of weapons in the Arabian Sea, bound for the Houthis in Yemen, that included dozens of Dehlavieh anti-armour missiles, which are Iranian clones of the Russian Kornet missiles.
There is also an Iranian clone of the Russian Grad missile, al-Nashou said.
"Since 2014, the Iranians have actively supplied their militias in Iraq with Katyusha rockets that are 100% manufactured in Iran, as well as other types of rockets known as field rockets," he said.
These have ranges of between 12 and 80 kilometres, he said.
Iranian-made missiles are "dangerous to use in populated areas, because their margin of error in hitting their target and their accuracy is affected by weather conditions and other influences such as electronic interference", he noted.
Iran-backed groups "have caused the death of many Iraqis as a result of their use of these cheap weapons that the Iranians produce in abundance, and they are still endangering their lives continuing to launch missile attacks", he said.