BEIRUT -- The Lebanese army has been conducting large-scale raids on drug-trafficking cells in the vicinity of Baalbek in the eastern Bekaa Valley since June 3, when it targeted the home of a notorious drug baron.
"The war on drugs has not ended and is ongoing," Lebanese Army Chief Gen. Joseph Aoun said Friday (June 10), amid the ongoing raids.
The crackdown on drug trafficking stems from the military's "sense of responsibility towards our people and our nation", he said during a visit to the Bekaa Valley, where he congratulated soldiers on their progress in this area.
On June 3, the army conducted an hours-long raid in the northern part of Baalbek's al-Sharawneh district, which is mostly dominated by wanted fugitive Ali Munther Zuaiter, nicknamed "Abu Salleh".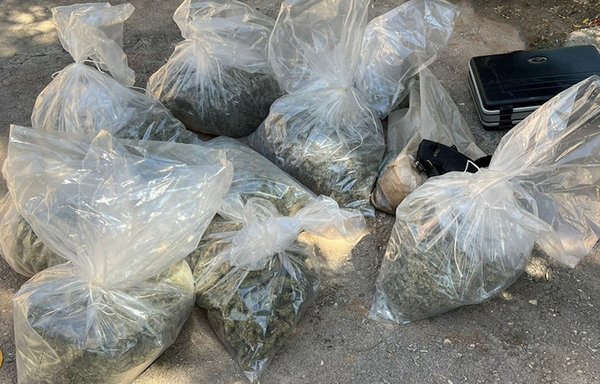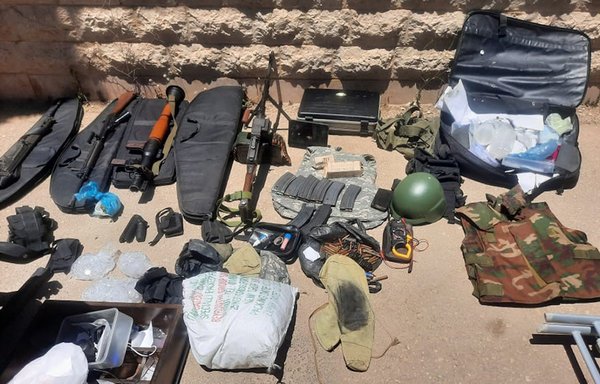 Zuaiter, 42, is wanted on numerous drug-related charges, as well as for weapons possession and attacks on the army.
During the raid, the army seized two factories where illicit drugs were being manufactured, as well as a large quantity of weapons and ammunition, it said in a statement.
Armed clashes broke out after the raid on Zuaiter's home, during which one soldier was killed and others were injured, the army said, and several suspects were arrested.
Zuaiter fled despite sustaining bullet injuries to his leg and abdomen, Asharq al-Awsat reported.
He is thought to have fled to al-Kanissa, which is under the protection of Iran-backed Hizbullah, according to local reports.
The army continues to conduct raids and to search for Zuaiter and other wanted fugitives in the area, despite receiving threats to stop its activity from the head of Hizbullah's sharia committee, Sheikh Mohammed Yazbek.
Meanwhile, security services launched a series of raids on drug dealers and traffickers in the vicinity of Beirut's southern suburb, a Hizbullah stronghold.
There has been a spate of kidnappings, assaults and thefts in the southern suburb, and drug dealing is flourishing in the area "through suspects linked to major insurgents in al-Sharawneh", a security source told Asharq al-Awsat.
Under the protection of Hizbullah
Drug dealers "are protected by Hizbullah, which controls the northern Bekaa (Baalbek-Hermel) and the southern suburb", said political activist Hussein Ataya said.
"Hizbullah benefits from the services of drug dealers, and Abu Salleh is the most prominent among them," he told Al-Mashareq.
Zuaiter/Abu Salleh started in the drug trade in the Zuaitaria-Jdeideh area in the Metn region, earning his nickname from the basket in which he delivered drugs to customers from the balcony of his apartment, Ataya said.
He then moved to al-Sharawneh district in Baalbek, where his clan is based, according to Ataya.
He built himself a house there, which the army has raided on several occasions, as well as a drug manufacturing and packaging facility and a reception hall in which he reportedly hosted drug dealers.
Abu Salleh "is considered one of the most dangerous drug dealers and organised crime figures in Lebanon", Ataya said.
He started out by trading prescription drugs, providing them to customers at a high price, Ataya said.
He then expanded to include cannabis, Captagon, cocaine, cocaine base (crack) and all kinds of pills, he said, such as Tramadol, which may not be accessed without a prescription, Benzhexol, Rivotril, and the hallucinogenic drug Salvia.
Combating drugs an army priority
A source with the Army Command, who asked that his name not be used, told Al-Mashareq that pursuing drug dealers and traffickers is "a priority" for the army and the whole military establishment.
The efforts to crack down on the illicit drug trade are "not limited to what the army is currently doing in al-Sharawneh district in Baalbek", he said, noting it has carried out raids, pursued smugglers and dismantled their drug factories.
The raid on Abu Salleh's house was conducted based on intelligence information, he said, but the target's use of women as human shields impeded the operation.
"A barrage of bullets was unleashed on the soldiers," leaving one dead and others injured, he said, adding that the army arrested a number of suspects after the altercation and is interrogating them.
"What's remarkable is that drug dealers and smugglers use women and children as human shields," he said, stressing, "The drug issue is a priority for us and addressing it entails respect for human rights."
"The Lebanese government has made the decision to put an end to drug smuggling operations to improve its relations with the Gulf, and has partially succeeded in achieving that," economist Antoine Farah told Al-Mashareq.
The army's current focus is "eliminating the heads of drug trafficking in Lebanon", he said, noting that any attempt to prevent the army from carrying out this task can be regarded as "suspicious" behaviour.
"Whoever does that is either a direct beneficiary of the drug trade and uses it to fund his activities, or does not want an end to Lebanon's collapse and a restoration of its relations with the Gulf," Farah said.
In the service of Iran
Hizbullah has a long and well-documented history of producing and trafficking illegal drugs from its heartland in Lebanon.
In recent years, it has moved the nexus of its narcotics operation inside Syria after coming under increasing pressure in Lebanon, largely as a result of its association with Iran, which is facing an economic crisis.
Iran is using drug smuggling operations to strengthen Hizbullah, as it is its strongest and most dangerous affiliate in the region and is furthering its expansionist project, said Syrian researcher Turki Mustafa, who specialises in Iranian affairs and Hizbullah.
"Hizbullah used to receive massive funding from Iran," said former justice minister (ret.) Gen. Ashraf Rifi, and through an array of legitimate and illegal enterprises in Lebanon was able to dedicate a huge amount of money to finance its military operations.
But Hizbullah and Iran's sources of revenue have come "to an almost complete halt", he said.
This forced the party to step up its drug production inside Syria and in the border areas adjacent to its strongholds in Lebanon, he said.