The United States on Tuesday (November 15) imposed a fresh tranche of sanctions on Iranian and Russian entities and individuals, including the Wagner mercenary group, for supporting Russia's war on Ukraine.
This includes Tehran's transfer of unmanned aerial vehicles (UAVs), commonly known as drones, to Russia, which has been using them to strike civilian infrastructure and cities, the US State Department said.
The three sanctioned Iranian entities -- the Islamic Revolutionary Guard Corps (IRGC) Aerospace Force, Qods Aviation Industries and Shahed Aviation Industries Research Centre -- are accused of manufacturing and delivering Iranian drones to Russia.
The IRGC Aerospace Force likely helped facilitate Iran's supply of military UAVs to Russia, the State Department said.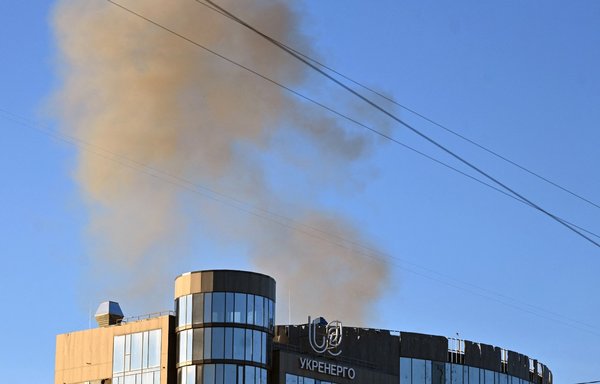 Qods Aviation Industries produces the Mohajer-6.
Shahed Aviation Industries Research Centre produces the Shahed-series UAV variants, including the Shahed-136 one-way attack drone that Russian forces used in recent attacks in Kyiv, Odesa and the Kharkiv region of Ukraine.
The European Union and the United Kingdom sanctioned Shahed Aviation Industries in October.
Blacklisted Russian individuals and entities include the Wagner Group, a private military company (PMC), for operating in the defence and related materiel sector of the Russian economy, the State Department said.
Earlier this year, the Wagner Group sought to purchase Iranian drones, "almost certainly to support its operations in Ukraine", it said.
This is "just one example of Wagner being used as a low cost, low-risk instrument of the Kremlin to advance its goals", it said.
Two individuals, Abbas Djuma and Tigran Khristoforovich Srabionov, are facing sanctions for being involved in the Wagner Group's acquisition of Iranian drones to support combat operations in Ukraine.
The Wagner Group has been blacklisted previously by the European Union, United Kingdom, Australia and Canada. It was already under US sanctions for recruiting and sending soldiers to fight alongside separatists in eastern Ukraine.
Sanctions on third-party entities
Also facing US sanctions, in co-ordination with the government of the United Arab Emirates (UAE), are two "third-party entities involved in the transfer of Iranian UAVs to Russia for use in Ukraine", the State Department said.
UAE-based Success Aviation Services FZC and iJet Global DMCC collaborated with US-sanctioned Iranian firm Safiran Airport Services to co-ordinate flights between Iran and Russia, it said.
This included flights for the Russian air force, as well as those associated with transporting Iranian drones, personnel and related equipment from Iran to Russia.
According to the US Treasury, iJet also worked with blacklisted Syria-based Cham Wings Airlines, allegedly using its branch in Syria, Trade Med Middle East, to assist Cham Wings in facilitating the transport of Syrian fighters to Russia.
The third-party sanctions further demonstrate that "the United States is willing to target international actors involved in supporting Russia's war machine", the State Department said.
"The Iranian government's military support to Russia fuels the conflict in Ukraine, and its transfer of these UAVs is in clear violation of UN Security Council resolution 2231," it added.
"The United States will continue to work to disrupt and delay these transfers and impose costs on actors engaged in this activity."
"As we have demonstrated repeatedly, the United States is determined to sanction people and companies, no matter where they are located, that support Russia's unjustified invasion of Ukraine," said Treasury Secretary Janet Yellen.
The latest round of sanctions expose and hold accountable companies and individuals "that have enabled Russia's use of Iranian-built UAVs to brutalise Ukrainian civilians", she said.
"This is part of our larger effort to disrupt Russia's war effort and deny the equipment it needs through sanctions and export controls," Yellen said.
Iran's drone industry
Iran's position as the hub of regional drone operations is one that it proudly showcases. Drones manufactured in Iran, and variants made by its proxies, are frequently used to cause chaos and destruction in the region and beyond.
Though proxy groups claim many of the attacks, which have targeted oil facilities and civilian infrastructure in Saudi Arabia, the UAE and Iraq, evidence gleaned from the shrapnel and other threads of forensic evidence lead back to Iran.
Iran launched cross-border missile and drone strikes November 14 against Iraq-based Kurdish opposition groups.
Israel on Wednesday blamed Iran after an apparent drone strike hit a tanker operated by an Israeli-owned firm carrying gas oil off the coast of Oman, AFP reported.
The Pacific Zircon was "hit by a projectile approximately 150 miles off the coast of Oman", Singapore-based firm Eastern Pacific Shipping, which operates the vessel, said in a statement.
There were no reports of casualties or any leakage of the cargo.
"This UAV attack against a civilian vessel in this critical maritime strait demonstrates, once again, the destabilising nature of Iranian malign activity in the region," said US Central Command Gen. Michael "Erik" Kurilla.