Ukrainian forces have been destroying Iranian-made drones that Russia has deployed across the country, which are terrorising civilians, even as it becomes clear that Russia's supply of high-precision missiles has dwindled.
Kyiv on Monday (October 10) accused Moscow of using Iranian-made unmanned aerial vehicles (UAVs) sent from neighbouring Belarus as part of multiple deadly strikes Russian forces launched across Ukraine.
"The enemy used Iranian Shahed-136 UAVs in strikes launched from the territory of Belarus" and the Crimean peninsula annexed by Russia, the Ukrainian military said in a statement, adding that nine drones were "destroyed".
Ukrainian President Volodymyr Zelenskyy said Russia targeted Ukraine's energy infrastructure during Monday's strikes across the country, including strikes carried out by Iranian-made UAVs, commonly known as drones.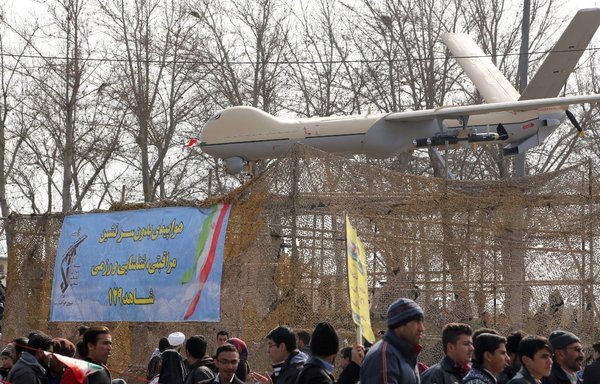 "We are dealing with terrorists. Dozens of missiles and Iranian Shaheds. They have two targets. Energy facilities throughout the country," Zelenskyy said in a video address on social media, adding that "the second target is people".
"They want panic and chaos, they want to destroy our energy system," he said.
Strikes were reported in multiple cities across Ukraine, including rare attacks on the capital Kyiv and the western Lviv region.
Attacks also took place in Dnipro, Vinnytsia and Ivano-Frankivsk in central Ukraine, Zaporizhzhia in the south, and Kharkiv and Sumy regions in the east, among others, Zelenskyy said.
"There may be temporary power outages now, but there will never be an interruption in our confidence -- our confidence in victory," he added.
US President Joe Biden on Monday "pledged to continue providing Ukraine with the support needed to defend itself, including advanced air defence systems", a White House statement said.
NATO chief Jens Stoltenberg said Wednesday that Ukraine's western backers were looking to provide Kyiv with more air defences to protect against Russia's "indiscriminate" missile attacks across the country.
"We will address how to ramp up support for Ukraine and the top priority will be more air defence for Ukraine," he said at the start of a meeting by Ukraine's allies on arms supplies to Kyiv.
Iranian-made drones
Russia has been using Iranian-supplied drones to attack Ukrainian cities for several weeks, in a collaboration that analysts regard as further cementing the isolation both states face in the international arena.
Iran's plans to supply combat drones to Russia for use in Ukraine first came to light in July, following reports that the Russian military was facing challenges sustaining its weaponry after significant losses.
According to media reports, Iran has delivered hundreds of its drones to Russia despite warnings from Washington.
Ukraine took steps to reduce Iran's diplomatic presence in retaliation to Tehran's deliveries of drones to Moscow.
It removed the accreditation of the Iranian ambassador and said it is "significantly reducing" the Iranian embassy's diplomatic staff.
On October 5, one person was injured in an attack with Iranian-made drones in the town of Bila Tserkva southwest of Kyiv, the region's governor said.
"During the night, the enemy carried out strikes with Shahed-136 type kamikaze drones against Bila Tserkva," governor Oleksiy Kuleba said on social media.
Kuleba said there were "six hits and explosions" in the town, where one person was injured and several infrastructure facilities were damaged.
The Ukrainian army's Operational Command South said on Telegram that it had shot down six drones of the same type during the night.
Last month, Ukraine reported the first Russian attacks carried out using Iranian-made drones, but these have so far mainly targeted the south of the country, including the strategic city of Odessa on the Black Sea.
Russian deficiencies
On October 6, Ukrainian military spokesman Oleksiy Hromov said Ukraine had destroyed 60% of the 86 Shahed-136 drones Russia has used as part of its military campaign, the Wall Street Journal (WSJ) reported.
The Ukrainian military previously said it was seeing increasing use of drones by Russia as Moscow's supply of high-precision missiles dwindles.
"This is a new challenge, for which we need specific experience. We're currently studying all methods to effectively target these drones," Ukrainian Air Force spokesman Yuriy Ihnat said on September 26.
The Ukrainian Air Force identified weapons shot down in late September as Shahed-136 "suicide" drones and Mohajer-6 drones that can carry missiles and be used for reconnaissance, the newspaper reported.
According to a Ukrainian artillery commander, it said, "Shahed-136 delta-wing drones, repainted in Russian colours and rebranded as Geranium 2", began appearing in September over Ukrainian armour and artillery positions.
"Russia's use of Shahed-136 drones in Ukraine represents the most challenging expansion of Tehran's arsenal beyond the Middle East, where Iran has used its UAVs to pressure the US and its allies in the region," the WSJ reported.
"It also highlights the deficiencies in Russia's own drone programme, which hasn't been able to match the firepower of armed UAVs deployed by Ukraine."