Kyiv and its allies have strongly condemned Russia's use of Iranian-made drones in its assault on Ukraine in recent days, even as Iran tries to hide its hand and deflect blame, accusing its accusers of making it a target.
Tehran on Tuesday (October 18) said it was ready for talks with Kyiv to clarify "baseless" claims that Iran is providing Russia with weapons and drones to be used in the war against Ukraine.
The Kremlin said Tuesday it had no knowledge of its army using such weapons.
Despite these denials, there is ample evidence that Russia has used Iranian drones to carry out multiple attacks.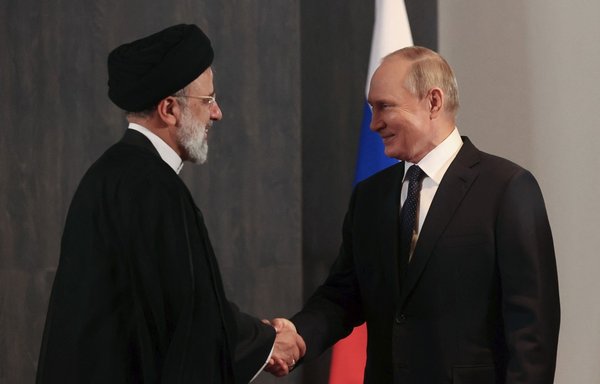 Ukraine's military on Wednesday said it had shot down more than 220 Iranian-made unmanned aerial vehicles (UAVs) in a little more than one month, following this week's attacks that used "suicide drones".
"Since the first downing of an Iranian-made Shahed-136 kamikaze drone on the territory of Ukraine on September 13, the ... Air Force and other components of the Defence Forces of Ukraine have destroyed 223 UAVs of this type," it said.
Evidence Iran supplied drones
The United States on Wednesday joined the United Kingdom and France in raising the issue of Iran's transfer of UAVs to Russia at a meeting of the United Nations (UN) Security Council, the US State Department said in a statement.
The European Union (EU) and United States said they had evidence Iran supplied the Shahed-136s, low-cost drones that explode on landing and are blamed for five deaths on Monday in Kyiv and for the destruction of civilian infrastructure.
The United States began warning in July that Iran was planning to transfer UAVs to Russia for use against Ukraine, the State Department said.
It said there is now "abundant evidence that these UAVs are being used to strike Ukrainian civilians and critical civilian infrastructure".
"As Iran continues to lie and deny providing weapons to Russia for use in Ukraine, we are committed to working with allies and partners to prevent the transfer of dangerous weaponry to Russia," the statement said.
In a Wednesday report citing two US officials, the Washington Post said the US government has examined the wreckage of Iranian-made drones shot down in Ukraine, deepening its insight into the UAVs.
"Information about the drones' structure and technology could prove crucial in helping the United States and its Ukrainian allies better identify and ultimately defeat them before they can reach their targets," the newspaper said.
According to a Ukrainian official, Iranian-made drones are being launched from three Russian military bases in Crimea and from Belarus, the report said.
Tehran has dispatched advisers to Russian-controlled areas, where they have provided operators with technical instruction, it added.
More Iranian weapons en route
In late September, the Ukrainian Air Force identified weapons shot down as Iranian Shahed-136 and Mohajer-6 drones, the Wall Street Journal reported.
According to a Ukrainian artillery commander, it said, "Shahed-136 delta-wing drones, repainted in Russian colours and rebranded as Geranium 2", began appearing in September over Ukrainian armour and artillery positions.
Iran has reportedly delivered hundreds of its drones to Russia, amid reports that Russia's military is having trouble sustaining its weaponry after significant losses.
Tehran is preparing new deliveries of drones, according to a Monday Washington Post report, including dozens of Mohajer-6s and a larger number of Shahed-136s.
It also has agreed to send two types of surface-to-surface missiles to Russia, intelligence officials told the newspaper: Fateh-110 and Zulfiqar missiles.
Ukrainian officials say Iranian drones are being used in strikes like those launched against cities and energy infrastructure on Monday.
Sanctions
On Tuesday, Ukraine's Foreign Minister Dmytro Kuleba said he had suggested to President Volodymyr Zelenksyy that Kyiv cut diplomatic ties with Iran.
He cited "the amount of destruction Iranian drones have caused" in Ukraine and "the possible continuation of Iran's supply of weapons to Russia".
A day earlier, Kuleba urged the EU "to impose sanctions on Iran for providing Russia with drones".
The EU on Thursday has agreed sanctions against three individuals and one entity supplying Iranian drones to Russia, the EU's Czech presidency said.
"After three days of talks, EU ambassadors agreed on measures against entities supplying Iranian drones that hit Ukraine," the presidency said on Twitter.
The sanctions will come into force on Thursday.
"The EU is also prepared to extend sanctions to 4 more Iranian entities that already featured in a previous sanctions list," it said.
The United States warned Monday it would take action against companies and nations working with Iran's drone programme. On Wednesday, it issued a similar warning against all those involved in the transfer of UAVs to Russia.
Last month, Kyiv decided to significantly reduce its diplomatic relations with Tehran over alleged arms deliveries to Russia.
Yet Iran's foreign ministry has continued to play the victim card, insisting that these allegations are "part of the political and purposeful creation of atmosphere by the media organisations of some countries" against Tehran.
'Accomplices in terror'
Zelenskyy said Tuesday that Moscow's widespread use of Iranian-made drones in recent attacks on his country was a symbol of the Kremlin's "military and political bankruptcy".
"The very fact of Russia's appeal to Iran for such assistance is the Kremlin's recognition of its military and political bankruptcy," he said in his daily address.
But, he added, "strategically, it will not help them anyway".
"It only further proves to the world that Russia is on the path of defeat and is trying to draw someone else into its accomplices in terror," Zelenskyy said.
Estonian Defense Minister Hanno Pevkur, on a visit to Washington, said Russia was relying on drones both because of low supplies and due to Ukraine's success in the skies.
The Russians "understand that in air, they don't have supremacy at the moment because there is air defence from the Ukrainian side. They've lost many airplanes already", Pevkur said.