WASHINGTON -- The United States on Thursday (September 8) sanctioned an Iranian air transportation service provider that helped ship drones to Russia for use in Ukraine, warning non-Iranian firms against involvement in the trade.
It also blacklisted three companies and one individual involved in the research, development, production and procurement of drones and components for Iran's Islamic Revolutionary Guard Corps (IRGC), IRGC Aerospace Force and IRGC Navy.
The Paravar Pars company, Design and Manufacturing of Aircraft Engines company and Baharestan Kish company participated in designing and manufacturing military drones in Iran, the US Treasury said.
These included the Shahed series of unmanned aerial vehicles (UAVs).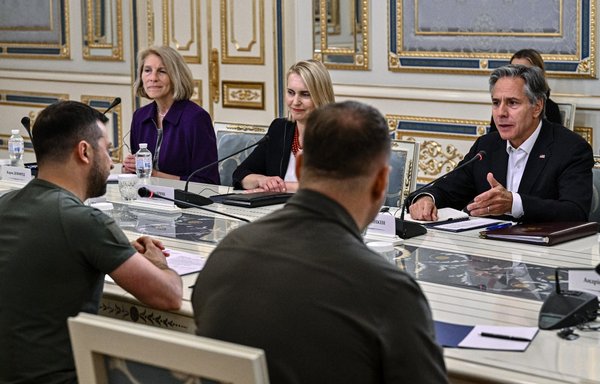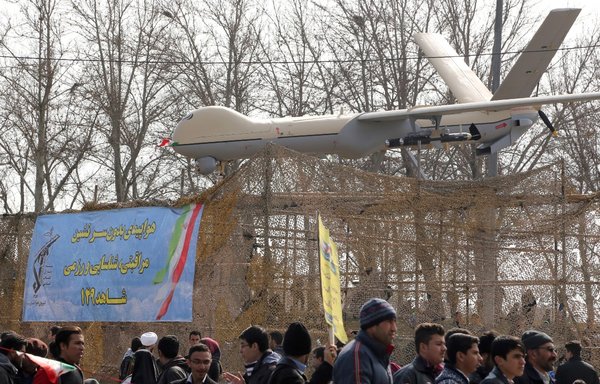 Tehran-based Safiran Airport Services was blacklisted for its role in providing UAVs to Russia.
It had co-ordinated Russian military flights between Iran and Russia, including those that carried UAVs, personnel and related equipment, the Treasury said.
In July, the White House divulged intelligence that Russia was seeking hundreds of Iranian drones, including weapons-capable UAVs, for its war on Ukraine, on an "expedited timeline".
At the time, White House national security adviser Jake Sullivan said information received by the United States supported views that the Russian military was facing challenges sustaining its weaponry after significant losses in Ukraine.
"Our information further indicates that Iran is preparing to train Russian forces to use these UAVs, with initial training sessions slated to begin as soon as early July," Sullivan said at a White House briefing.
On August 30, a Pentagon official said Russia had begun receiving the first of what was expected to be "hundreds" of drones, and claimed, based on US intelligence, that many already were proving faulty.
Warning to UAV producers
In a statement issued Thursday, US Treasury Under Secretary Brian Nelson accused Russia of "making increasingly desperate choices to continue its unprovoked war against Ukraine".
The United States is committed to strictly enforcing sanctions against both Russia and Iran "and holding accountable Iran and those supporting Russia's war of aggression against Ukraine", he said.
"We will also not hesitate to target producers and procurers who contribute to Iran and its IRGC's UAV programme, further demonstrating our resolve to continue going after terrorist proxies that destabilise the Middle East," he said.
"Non-Iranian, non-Russian entities should also exercise great caution to avoid supporting either the development of Iranian UAVs or their transfer, or sale of any military equipment to Russia for use against Ukraine," he warned.
In a separate statement on Thursday, US Secretary of State Antony Blinken said the United States is placing sanctions on a person involved in the shipment of Iranian UAVs to Russia for its war against Ukraine.
Four other individuals also were blacklisted for involvement in Iranian UAV activities, including the production of Shahed-series drones and related components for the IRGC, he said.
The State Department did not identify any of the five individuals.
"The Russian military is suffering from major supply shortages in Ukraine, in part because of sanctions and export controls, forcing Russia to turn to unreliable countries like Iran for supplies and equipment," Blinken said.
"The United States will hold those who support Russia's unprovoked war against Ukraine to account, including by continuing to sanction Iranian or other entities that provide lethal aid to Russia," he added.
It will use all available tools "to prevent, deter and dismantle the procurement networks that supply UAV-related material and technology to Iran, as well as the Iranian entities that engage in such proliferation", he said.
"We also warn any third country that seeks to purchase these drones from Iran that doing so implicates multiple US sanction authorities," Blinken said.
New military support to Ukraine
The new US sanctions were announced as Blinken made a surprise trip to Kyiv, Ukraine, on Thursday, and the United States unveiled $2.8 billion in new military support to Ukraine and neighbours to face Russia.
Blinken travelled in secrecy on his second trip to Kyiv since the Russian invasion in February.
"This assistance combined with the extraordinary courage and resilience of Ukrainian forces and the Ukrainian people has been the recipe for success thus far in the Ukrainians pushing the Russians back," Blinken said Friday.
"I told President [Volodymyr] Zelenskyy on behalf of President [Joe] Biden and the American people that we have been with Ukraine," he said in remarks delivered to the press as he prepared to leave Poland.
"We're with Ukraine today. We will be with Ukraine tomorrow and for however long it takes to deal with Russia's aggression," he added.
"And I come away, again, very confident in Ukraine's future because the Ukrainians are fighting for their homeland," he said.
"It's their homeland, not Russia's."