The United States on Thursday (March 9) blacklisted five Chinese companies and one individual for supplying components to Iran drone builders, in an effort to target proliferators of weapons of mass destruction and their means of delivery.
The US Treasury indirectly tied the Chinese companies to Russian attacks in Ukraine and Iranian attacks on oil tankers in the Gulf region, in both cases using Shahed-136 unmanned aerial vehicles (UAVs), commonly known as drones.
The role of Chinese firms in these transactions further undermines China's assertion that it is a "neutral" mediator capable of bringing an end to the war.
Shahed-136 UAVs are manufactured by the Iran Aircraft Manufacturing Industrial Co. (HESA), which is controlled by Iran's defence ministry and is under US sanctions, the Treasury said.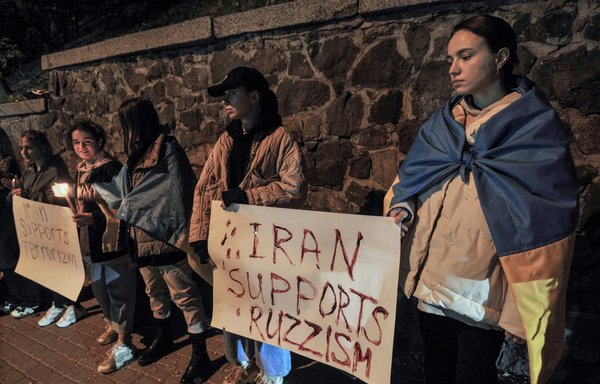 Russia has used them extensively during its war on Ukraine, launching multiple missile and drone attacks against critical infrastructure since October.
Ukraine's air force on Monday said it had shot down a barrage of explosives-laden drones launched from southern Russia overnight after air raid sirens sounded for hours in Kyiv.
It said Russian forces had launched 15 Iran-made Shahed drones from the Bryansk region northeast of Kyiv, 13 of which Ukrainian forces shot down.
Russia also is in talks with a Chinese drone maker to supply it with self-explosive drones that could be deployed in Ukraine, German magazine Der Spiegel reported February 24.
The magazine said it has seen information indicating that Russia's military is negotiating with Chinese drone manufacturer Xi'an Bingo Intelligent Aviation Technology to produce such drones for Moscow on a large scale.
The Chinese manufacturer has agreed to build and test 100 ZT-180 prototype drones before delivering them to Russia by April 2023, the report said, each of which is reportedly able to carry between 35 and 50kg of explosives.
As a further step, it said, Bingo is reportedly planning to send Russia components and know-how for Moscow to manufacture the drones onsite.
Iranian procurement networks
US Secretary of State Antony Blinken said the network sanctioned Thursday is responsible for the sale and shipment of thousands of aerospace components, including those used in Shahed-series drones, to HESA.
He pledged the United States "will continue to use every tool at our disposal to disrupt these efforts" and hold Iran accountable.
The blacklisted Chinese companies are based in Hangzhou, Shenzhen, Guilin and Hong Kong.
China-based Hangzhou Fuyang Koto Machinery Co., Ltd (Koto Machinery) used its business infrastructure to facilitate the sale and shipment of aerospace components to HESA in Iran, the Treasury said.
These include light aircraft engines applicable for Iran's Shahed series UAVs.
To obscure its activity, Koto Machinery used Hong Kong-based front company Raven International Trade Ltd to facilitate transactions worth millions of dollars for aerospace components, it said.
China-based Guilin Alpha Rubber & Plastics Technology Co., Ltd meanwhile facilitated the sale and shipment of thousands of aerospace components worth over $1 million to HESA in Iran.
Also sanctioned are China-based S&C Trade PTY Co., Ltd, its China-based employee Yun Xia Yuan, and China-based Shenzhen Caspro Technology Co.
They have facilitated the sale and shipment of thousands of aerospace components worth hundreds of thousands of dollars for fixed-wing, rotorcraft, and UAV applications to HESA in Iran, the Treasury said.
"Iran is directly implicated in the Ukrainian civilian casualties that result from Russia's use of Iranian UAVs in Ukraine," said Treasury Under Secretary Brian Nelson.
"The United States will continue to target global Iranian procurement networks that supply Russia with deadly UAVs for use in its illegal war in Ukraine."
'Shadow banking' network
In a separate sanctions action, the Treasury placed 39 firms and entities in Iran, Hong Kong, China, Dubai and elsewhere on its blacklist for helping Iran sell petrochemicals internationally in violation of sanctions on Tehran.
The sanctioned entities constitute a significant "shadow banking" network, the US Treasury's Office of Foreign Assets Control said.
It is "one of several multi-jurisdictional illicit finance systems which grant sanctioned Iranian entities, such as Persian Gulf Petrochemical Industry Commercial Co. (PGPICC) and Triliance Petrochemical Co. Ltd. (Triliance), access to the international financial system and obfuscate their trade with foreign customers".
PGPICC is the marketing arm of sanctioned Iranian petrochemical conglomerate Persian Gulf Petrochemical Industries Co. (PGPIC), which generates tens of billions of dollars for the Iranian regime each year.
Iranian exchange houses create front companies abroad to enable trade on behalf of their Iranian clients, with foreign currency transactions maintained via internal ledgers, according to the Treasury.
"Iran cultivates complex sanctions evasion networks where foreign buyers, exchange houses, and dozens of front companies co-operatively help sanctioned Iranian companies to continue to trade," said Treasury official Wally Adeyemo.