When the news began to circulate in August that Chinese President Xi Jinping was expected to visit Saudi Arabia, it set off a flurry of media speculation.
What does China want from the kingdom, pundits wondered, and what would such a visit mean for Saudi Arabia's long-standing relationship with the West?
Speculation intensified on Friday (October 28) when Saudi Prince Faisal bin Farhan appeared to confirm the visit, hailing the "historical and solid relationship" between the kingdom and Beijing.
In a statement broadcast on Saudi television following talks with his Chinese counterpart Wang Yi, the prince also noted that Saudi Arabia is "finalising arrangements" for summit talks between China and Arab countries.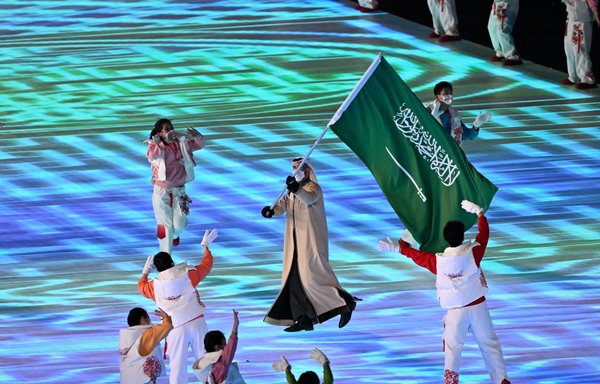 With the Middle East emerging as a "crossroads of competition" between world powers, an expanded partnership with the desert kingdom would help China secure its trade routes and expand its military influence in the region.
Any potential benefit for the Middle East and the kingdom is much less clear.
China has begun to establish a military foothold in the Middle East already, stealthily establishing a presence in strategic regional ports under cover of, and ostensibly in service of, its Belt and Road Initiative (BRI) or One Belt One Road (OBOR).
"Part of the Chinese strategy in the region is to show that it is the more reliable and better partner for Middle Eastern countries than the United States," Washington Institute for Near East Policy managing director Michael Singh told Politico in August.
"We're going to see the message not just from the Saudis, but from our other partners in the region that they have other alternatives for things like arms purchases, or investment or for all sorts of things," he added.
This does not mean "they're actually looking to pivot away from the United States", he noted, but rather that "they're looking for leverage in that relationship".
A risky relationship
China has been aggressively courting the Middle East in recent years. In 2021, the Arab News reported, the Middle East received more visits from Chinese leaders than any other region in the world.
Xi also hosted the Egyptian president, the Emir of Qatar and the Crown Prince of Abu Dhabi during the Beijing Winter Olympics.
China is now the kingdom's largest trade partner, and the largest buyer of its oil.
For its part, analysts said, China would prefer an alliance with Saudi Arabia over its existing partnership with Iran.
But overall it is clear that Saudi Arabia prefers to align itself with the United States and the West, they said, and changing this would be a risky prospect.
This is because the United States plays a key role in the military protection of the region, they said, a role China has not proven itself willing or able to assume.
China's mistreatment of its Muslim population has not played well in the kingdom, showing a disconnect in values between the two nations, and Saudi Arabia is also nervous about China's alliance with Iran.
Iran's expansionist agenda is evident in the Middle East, with the Islamic Revolutionary Guard Corps (IRGC) and its proxies asserting the Islamic Republic's strategic interests in Lebanon, Syria, Yemen and Iraq.
Given China's ties with Iran, analysts said, the kingdom is not expected to jeopardise its alliance with the United States and the West.
Who stands to gain?
"Chinese have good relations with the Iranians and the Saudis," said Princeton University professor of Near Eastern studies Bernard Haykel during an August 19 virtual event hosted by the Hudson Institute, a conservative think tank.
"I think on balance they would much rather be closer to the Saudis than to the Iranians because the Saudis are just simply much more important, strategically, for all kinds of reasons," he said.
"It seems correct that the Chinese view the Middle East as a primary theatre for competition with the United States," he added, noting that China's engagement with the region can be characterised as "opportunistic".
China has been "eying military bases, trying to get into military industry across the Gulf", he said, but this effort is focused on its own best interests.
Speaking at the same event, Centre for Peace and Security in the Middle East director Michael Doran pointed out that there is no example to date of China offering substantial military and diplomatic support to an ally.
"I mean China doesn't really even have any allies," he said. "That model for China hasn't even been tested yet."
Hudson Institute senior fellow Mohammed Alyahya, a Saudi national, noted that "the Chinese have not in fact built an alliance system that is analogous to the American alliance system by a long shot".
Saudi concerns about Iran "will prevent China from supplanting US dominance as the kingdom's superpower ally-of-choice anytime soon", according to an August 16 Politico report.
"The United States is and remains the critical security partner for Saudi Arabia … because Iran remains critical as the most significant single source of threat to Saudi Arabia and beyond Saudi Arabia to the Gulf and to the entire peninsula," said David Satterfield, director of Rice University's Baker Institute for Public Policy.
"China is unconcerned with Iran. Full stop. And cannot and would not be a 'partner', in any meaningful sense, in a conflict in which Saudi Arabia had to have direct, identifiable support from external parties against Iran," he told Politico.
US commitment to region
Delivering a keynote address at the Middle East Institute via video link on February 3, outgoing US Central Command Gen. Kenneth F. McKenzie warned that China is seeking to make military inroads with US partners in the region.
While China would like to supplant the United States as the partner of choice in the Middle East, he said, "it has no desire to pick up the mantle of guarantor of a free and open world order, one that respects human dignity and the rule of law".
He stressed that "the United States, working hand in hand with our like-minded allies and partners, has no intention of setting aside that mantle".
In the competition for geopolitical influence and economic advantage, optics have some role to play, with some analysts noting that China has been dropping "hints" about Xi's prospective Saudi visit for some time.
This serves to keep the relationship in the spotlight, they said, with accompanying speculation, which creates a sort of smoke-and-mirrors effect that makes China's influence look larger than it is.
"Xi himself is eager for red carpet treatment that would make him look statesman-like and highlight the great deference that China is afforded around the world," the US Institute of Peace said in a September report.
Diplomatic visits by other global powers are to be expected, US special envoy to Yemen Tim Lenderking told CNBC in mid-August, in response to news of Xi's prospective visit to the kingdom.
But he stressed that US President Joe Biden had asserted the US commitment to the region in July, following a visit.
"The major message that the president brought to the region is that the United States is not going anywhere," Lenderking said.