US intelligence officials have expressed concern in recent months over Chinese activity at the United Arab Emirates (UAE) port of Khalifa, where they say China was secretly building a military facility.
Though construction appears to have been halted, multiple US officials cautioned that security concerns over the Chinese presence in the country are far from resolved, CNN reported.
For close to a year, US intelligence agencies have known that China was covertly constructing what appeared to be a military facility at the Emirati port, the Wall Street Journal (WSJ) reported in a November exclusive.
The port, where the China Ocean Shipping Company Ltd. (COSCO) operates a commercial container terminal, is located about 5km from Taweelah, itself about around 80km north of the Emirati capital, Abu Dhabi.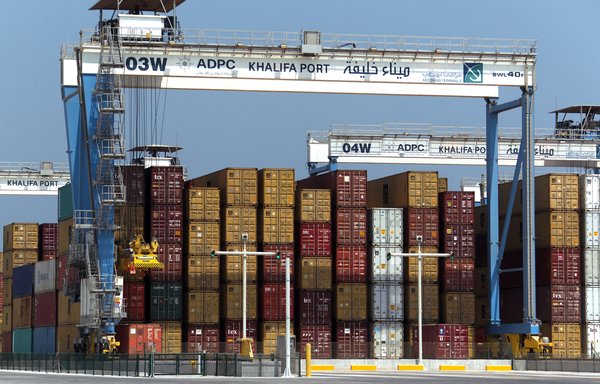 It sits on an artificial island connected to the mainland via a causeway.
Based on classified satellite imagery and other clues, US officials say China has been working to establish "a military foothold in the UAE" and is trying to expand its military presence, according to the WSJ.
According to CNN, "US intelligence has observed ships disguised as commercial vessels that officials recognised as a type typically used by the Chinese military for signals intelligence collection entering the port".
It appears the Emirati government was not aware of the military aspect of the Chinese activity at Khalifa port, the WSJ said.
Regardless, the Chinese presence has complicated the UAE's efforts to purchase F-35 fighter jets from the United States, which is insisting on conditions to ensure the fighter jets would not be vulnerable to Chinese espionage.
'Stealth and subterfuge'
In December 2018, the Abu Dhabi Ports company entered into a 35-year concession agreement with COSCO, which enabled the Chinese company to operate and develop a container terminal at Khalifa port.
The terminal was ostensibly constructed to support trade generated by China's Belt and Road Initiative (BRI), a massive infrastructure project launched in 2013 linking 78 countries across Asia, Africa, Europe and Oceania.
But China's toehold in the strategically located Emirati port -- as with its presence in a "necklace" of strategically located ports that stretch from the South China Sea to the Suez Canal -- also serves other purposes.
In addition to expanding its political and economic influence, observers note, China has been investing in the chain of ports to facilitate military access to the region, setting off a ripple of concern in the Middle East and beyond.
"The revelation that China was constructing a secret military facility at the port of Khalifa in the UAE confirms both Beijing's growing strategic ambition and the stealth and subterfuge with which it is expanding its military footprint beyond its borders," The Indian Express said in a November 23 editorial.
It noted that "in recent years, as China has become more assertive under [President] Xi Jinping, it has used all the tools at its disposal to gain a foothold in strategically significant areas".
In the Indian Ocean region, China has established a presence at key points via the promise of economic and infrastructure partnerships, it said, cautioning that this is part of a "dual use" strategy.
"As in the UAE, these locations could be used -- covertly, or overtly and gradually -- for military purposes," it added.
Dubious intentions
The strategic pact that Iran signed with China in late March also has stoked fears that the agreement will lead to a military foothold for Beijing in the Gulf region.
From Beijing's perspective, "the point of the deal is for China to gain a foothold in Iran, particularly on the islands of Jask and Kish in the Persian Gulf", a former Iranian navy analyst told Al-Mashareq on condition of anonymity.
Though the deal is ostensibly commercial in nature, Chinese investment in the Iranian ports of Jask and Chabahar would allow its rapidly growing navy to expand its reach, the analyst said.
At a 2018 meeting of the China-Arab States Co-operation Forum (CASCF), China pledged $23 billion in loans and development aid to the Middle East -- assistance that will certainly come at a hefty price, observers said.
The UAE's Khalifa port, Oman's Duqm, Saudi Arabia's Jizan and Egypt's Port Said and Ain Sokhna were each identified as key projects that China will develop in association with the BRI in the Middle East, Aggregates Business reported in November 2020.
"Chinese contractors are also involved in major infrastructure construction contracts in Qatar, including the $25 billion expansion plans for Hamad International Airport (HIA)," the news site said.
Questions also are being raised about the intentions of the Chinese military at the port of Gwadar in Balochistan, Pakistan, where a number of suspect buildings are being constructed under a mantle of secrecy.
The Arabian Sea port is expected to be a part of China's BRI, but observers have expressed concern that the Chinese regime could be using the development of the port as a cover to establish a naval base in Pakistan.
Although Chinese plans to build a naval base at Gwadar have not been officially confirmed, satellite images appear to show that several new complexes have been built in the last few years, Forbes reported June 2.
One of the complexes has "unusually high security", it said, identifying it as being used by the China Communications Construction Co., a majority state-owned company that is heavily involved in many civil engineering projects.
The level of security is "extensive" and includes "anti-vehicle berms, security fences and a high wall", defence analyst H. I. Sutton wrote in Forbes. "Sentry posts and elevated guard towers cover the perimeter between the fence and the inner wall," suggesting the presence of "armed guards with rifles".
Two smaller sites, with rows of blue-roofed buildings, could be barracks for a Chinese Marine Corps garrison, some observers said.