As the leaders of Saudi Arabia and China on Thursday (December 8) signed agreements worth roughly $30 billion, other world leaders warned about China's ulterior motives in expanding its footprint in the Middle East.
Chinese President Xi Jinping met with Saudi Arabia's Crown Prince Mohammed bin Salman during an Arab outreach visit that began Wednesday and includes talks with other Arab leaders and a Gulf Co-operation Council (GCC) summit.
The three-day tour is part of a campaign the Washington Post has described as a "global charm offensive" following Xi's re-election to office that is seen as paving the way for the Chinese leader to rule indefinitely.
The campaign has continued even as Xi faces a wave of internal dissent not seen in decades, the newspaper said, noting that since his new term began, Xi has met with at least 26 heads of state or government from every continent.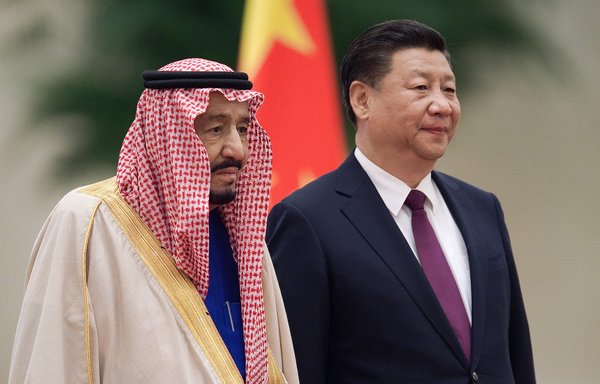 In Saudi Arabia, he is slated to meet with Egyptian President Abdel Fattah al-Sisi, Tunisian President Kais Saied, Palestinian president Mahmud Abbas and Sudan's de facto leader Abdel Fattah al-Burhan.
Iraqi Prime Minister Mohammed Shia al-Sudani, Moroccan Prime Minister Aziz Akhannouch and Lebanese caretaker Prime Minister Najib Mikati also are expected to fly in to take part in a wider Chinese-Arab summit.
China, the top consumer of Saudi oil, has been strengthening its ties with the region, which has long relied on the United States for military protection but which has voiced concerns the US presence could be downgraded.
'Charm offensive'
China's foreign ministry this week described Xi's trip as the "largest-scale diplomatic activity between China and the Arab world" since the People's Republic of China was founded.
Saudi investment minister Khalid al-Falih said the visit "will contribute to raising the pace of economic and investment co-operation between the two countries", according to the Saudi Press Agency (SPA).
It will offer Chinese companies and investors "rewarding returns", he said.
Saudi Arabia remains a crucial US ally, White House National Security Council spokesman John Kirby said Wednesday, while warning of "the influence that China is trying to grow around the world".
"The Middle East is certainly one of those regions where they want to deepen their level of influence," he said.
"We believe that many of the things they're trying to pursue and the manner in which they're trying to pursue it are not conducive to preserving the international rules based order," Kirby said.
Washington has close commercial, diplomatic and military relations with Saudi Arabia. But tensions have erupted over a decision by the Saudi-led OPEC+ cartel to cut production in a bid to raise oil prices.
Kirby said Saudi Arabia had been a strategic US partner for some 80 years but noted that US President Joe Biden has ordered a review of the ties.
"Yes in the wake of the OPEC+ decision a couple months ago we are reviewing that bilateral relationship and make sure that it best suits American national security interests. That work's ongoing," Kirby said.
A risky relationship
An expanded partnership with Saudi Arabia would help China secure its trade routes and expand its military influence in the region, experts warn, noting that any potential benefit for the Middle East and the kingdom is much less clear.
China has begun to establish a military foothold in the Middle East already, stealthily establishing a presence in strategic regional ports under cover of its Belt and Road Initiative (BRI), or One Belt One Road (OBOR).
"Part of the Chinese strategy in the region is to show that it is the more reliable and better partner for Middle Eastern countries than the United States," Washington Institute for Near East Policy managing director Michael Singh told Politico in August.
China would prefer an alliance with Saudi Arabia over its existing partnership with Iran, analysts say. But overall it is clear that Saudi Arabia prefers to align itself with the West, and changing this would be a risky prospect.
This is because the United States plays a key role in the military protection of the region -- a role China has not proven itself willing or able to assume.
Iran's expansionist agenda is evident in the Middle East, with the Islamic Revolutionary Guard Corps (IRGC) and its proxies asserting the Islamic Republic's strategic interests in Lebanon, Syria, Yemen and Iraq.
China's mistreatment of its Muslim population has not played well in the kingdom, showing a disconnect in values between the two nations, and Saudi Arabia is also nervous about China's alliance with Iran.
China's opportunism
China's engagement with the region can be characterised as "opportunistic", Princeton University professor of Near Eastern studies Bernard Haykel said during an August 19 virtual event hosted by the Hudson Institute think tank.
China has been "eying military bases, trying to get into military industry across the Gulf", he said, noting that this effort is focused on its own best interests.
Saudi concerns about Iran "will prevent China from supplanting US dominance as the kingdom's superpower ally-of-choice anytime soon", according to an August 16 Politico report.
Delivering a keynote address at the Middle East Institute via video link on February 3, outgoing US Central Command Gen. Kenneth F. McKenzie warned that China is seeking to make military inroads with US partners in the region.
While China would like to supplant the United States as the partner of choice in the Middle East, he said, "it has no desire to pick up the mantle of guarantor of a free and open world order, one that respects human dignity and the rule of law".
He stressed that "the United States, working hand in hand with our like-minded allies and partners, has no intention of setting aside that mantle".