The Saudi and US air forces have been conducting joint training exercises in recent weeks to counter Unmanned Aircraft Systems (UAS) -- commonly known as drones -- that continue to threaten the kingdom.
The ongoing military drills improve the skills and interoperability of the two air forces as they defend the kingdom from drone attacks carried out by Iran's proxies in Yemen and Iraq and seek to deter future aggression.
"Since January 2021, Iranian-aided Houthi forces have launched more than 150 ballistic missile, land attack cruise missile (LACM), and one-way UAS attacks against military, infrastructure and civilian targets in Saudi Arabia," US Central Command (CENTCOM) commander Gen. Kenneth F. McKenzie said on April 22.
"These attacks have varied in scope and complexity, with UAS detection and interdiction particularly challenging not just for Saudi forces, but also for US and coalition forces supporting Saudi Arabia's defence," he said.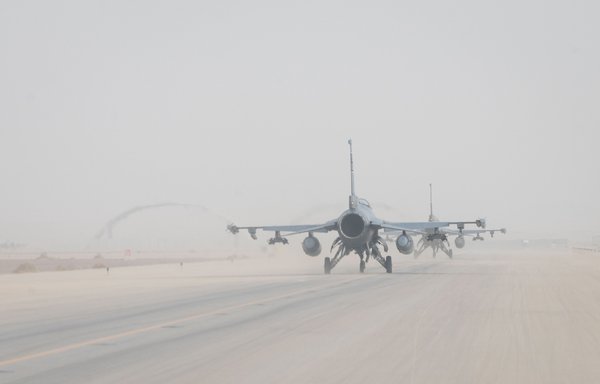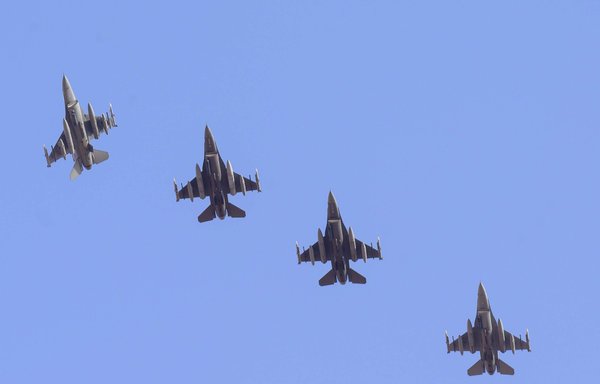 The proliferation of small and medium-sized UAS across the region presents "a new and complex threat to our forces and those of our partners and allies", he added, addressing the US Senate's Armed Services Committee.
Saudi Arabia relies heavily on US-made Patriots to intercept missiles and drones fired at the kingdom on a near daily basis by the Iran-backed Houthis in Yemen.
According to Saudi officer and Arab coalition spokesman Turki al-Maliki, Saudi air defences intercepted a total of 17 Houthi drones on June 20 -- the highest in a single day since the Yemen conflict began.
The drones targeted the southern part of the kingdom, with three directed towards the Khamis Mushayt region, the Saudi Press Agency reported.
Earlier this year, on January 23, drones were launched at al-Yamamah Palace and other locations in Riyadh in an attack claimed by Alwiyat al-Waad al-Haq, a new front group for Iran-backed Iraqi militia Kataib Hizbullah.
Boosting Saudi defence
In light of this escalating threat, CENTCOM has made it a top priority to boost defence against UAS platforms and the technology these systems rely on to operate, which include global positioning systems (GPS) and remote controllers.
The United States and its partners in the Arabian Gulf have been taking part in a series of integration missions that will continue through the summer.
On June 17 and June 30, US and Saudi aircraft and personnel took part in joint exercises to test their ability to collaboratively track and destroy a simulated invading UAS within regional airspace, according to the US Air Force.
On May 27, US Air Force, Army and Marine Corps personnel joined members of the Royal Saudi Air Force in a drill to counter UAS at Prince Sultan air base, south of Riyadh.
During the integrated training event, the joint forces practiced and refined anti-drone tactics, techniques and procedures.
The training enabled the participating personnel "to learn from one another while strengthening partnerships and enhancing base defence capabilities", the US Air Force said.
"The emerging UAS threat in the Middle East requires a wide spectrum of shared resources between the United States and our partners," US Air Forces Central director of operations Col. Matt Dietz said following the June manoeuvres.
"We're very fortunate that our Saudi Arabian allies have the same understanding and are willing to work so closely with us to combat the threat," he added.
More recently, a contingent of US Air Force F-16 Fighting Falcons arrived at Prince Sultan air base to reinforce the base's defensive capabilities, provide operational depth, and support CENTCOM operations, CENTCOM said on July 20.
Aircraft and personnel from the Air National Guard's 113th Wing arrived in the kingdom to join the 378th Air Expeditionary Wing "as it provides combat power projection across the region in defence of US forces", CENTCOM said.
Threat from Iranian drones
In a speech broadcast by Iranian state television on June 27, Islamic Revolutionary Guard Corps (IRGC) commander Gen. Hossein Salami boasted that Iran has drones capable of flying 7,000km, AFP reported.
"We have drones which can fly 7,000km, without a pilot, and land back at the same spot or anywhere else," he said, giving no further details.
With an aging and dilapidated air force fleet and a military that is increasingly prone to mishaps caused by a lack of funding and maintenance, Iran has relied instead on developing drones.
Iran's offensive capabilities include nearly 3,000 ballistic missiles as well as an array of LACMs and UAS, McKenzie said, noting that Iran provides weapons, parts and expertise to the Houthis for the purpose of attacking Saudi Arabia.
"The Iranian regime demonstrated both the capability and willingness to employ all of these offensive weapons in complex attacks against Saudi Arabia's oil facilities in 2019, and again against US forces in Iraq in 2020," he said.
"CENTCOM remains committed to helping defend Saudi Arabia," McKenzie said.
US assistance to the kingdom focuses on providing information to Saudi forces to assist them in thwarting Houthi UAS, ballistic missile, and explosive boat attacks, which "contravene international law and undermine diplomatic efforts", he said.