Beijing is expanding exports of its military drones to customers across the Middle East, while at the same time doing nothing to stop other Chinese-made drones from going to Iran-backed militias in the region, observers say.
The unmanned armed vehicles (UAVs) fired by Iranian proxy militias in recent years are being supplied from China, according to US Assistant Secretary of State for Near Eastern Affairs Barbara Leaf.
"Those UAVs that these [Iranian] proxies use are Chinese," Leaf told members of the Senate Foreign Relations Committee on August 4. "They're not provided by the state, but the state does not attempt to curtail that flow."
She urged Gulf leaders to hold Beijing to account because "China is getting away with murder in some terms".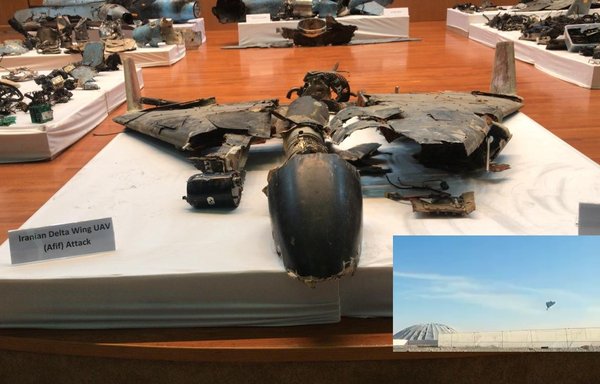 Iran-backed militias have claimed responsibility for several deadly drone attacks on a variety of targets, including oil facilities in Saudi Arabia and the United Arab Emirates (UAE), an Israeli-owned oil tanker off the coast of Oman, and bases hosting US troops in Iraq.
The drones are assembled by the IRGC, which then ships them to its proxies in Iraq, Syria, Lebanon and Yemen as a means to incite conflict and terrorism in the region, observers say.
Beijing is also helping Iran improve its drone guidance systems with satellite navigation and communication lines.
In October 2015, Iranian news outlets reported that Iran Electronics Industries, a state-owned subsidiary of the Defence Ministry, had signed an agreement with China to purchase the Chinese BeiDou technology and launch a satellite navigation system in Iran for military purposes.
Since then, Iran has been increasingly expanding its partnership with China.
Last year, the two countries signed a secretive 25-year "strategic co-operation pact".
The $400 billion deal, whose details are murky at best, is part of a sweeping Chinese plan to fund infrastructure projects and increase China's global sway.
Iranian social media users and civil society activists harshly criticised Tehran for "selling Iran" to Beijing.
'Partner in terrorism, chaos'
"China is a partner in the terrorism and chaos that IRGC-affiliated groups are stirring up in the Middle East," said Iraqi military analyst Rabie al-Jawary, referring to Iran's Islamic Revolutionary Guard Corps (IRGC).
China is engaging with multiple countries in the oil-rich region to reap economic benefits and to further strengthen its own economy, he said.
"The Chinese are supplying Iranians with drones, and at the same time they sign contracts to sell drones to the Gulf states ... they are seeking financial gain as they continue their quest to dominate the world's oil and gas resources," he said.
China's behaviour "threatens regional security and instigates an arms race between the countries of the region that could ignite conflict and wars", al-Jawary said.
"What Beijing ultimately wants is to impose its influence in the region by creating division among countries, either by lethal force or soft power."
China and Iran have the same goals in the Middle East, he said. "Iran is now a member of the alliance against the West, led by China and Russia, and aims to expand its influence by attempting to weaken its neighbours."
Arab countries turn to China for arms
Meanwhile, Saudi Arabia and the UAE rank in the top three countries globally for Chinese construction projects under the Belt and Road Initiative (BRI), also known as One Belt, One Road (OBOR).
In March, officials from Saudi and Chinese firms signed an agreement to build a drone factory in the kingdom.
The Saudi Advanced Communications and Electronics Systems Co. (ACES) and China Electronics Technology Group (CETC), a state-owned defence conglomerate, were the firms.
Riyadh first started purchasing Chinese drones in 2014, when it bought the Wing Loong II and CH-4 drones, a family of UAVs that are copies of the American MQ-9 Reaper.
This family of drones is capable of performing surveillance and reconnaissance and carrying two air-to-surface missiles.
Between 2016 and 2020, China, which historically has not been a major arms supplier to the Middle East, increased its volume of arms transfers to Saudi Arabia and the UAE by 386% and 169% respectively, compared to the four-year period ending in 2015, Defence News reported in April.
The UAE has also purchased a number of Chinese-manufactured Wing Loong drones, and Iraq, Jordan and Algeria have purchased Chinese CH-4B drones, reports say.
"The Chinese have gotten more than their foot in the door, precisely because of their virtual monopoly on drone technology, and they have spread it across the region helter-skelter," Leaf said.
However, despite China's growing strategic influence in the Middle East, Washington maintains a leadership role because of its unparalleled defence partnerships with its allies in the region, she said.
In July, at the Gulf Co-operation Council in Saudi Arabia, US President Joe Biden emphasised the strategic partnership between the United States and the Gulf states.
"We will not abandon the Middle East, and we will not leave a vacuum that will be filled by China, Russia or Iran," he said.
Concerns over reliance on China
Arab countries in the region are concerned about Iran's growing threats, particularly in light of recurring drone and missile attacks by Iran-backed militias.
That concern has prompted them to diversify their weapons and drones sources by turning to China while maintaining strong ties with the United States.
But analysts warn that relying on China is not a good idea, as it is Iran's strategic ally, indirectly supports the IRGC, sells drone parts and engines to the IRGC, and helps Tehran develop its arsenal of drones.