WASHINGTON -- The United States has committed more than $2 billion in new acute near- to long-term food security assistance for the Middle East and North Africa (MENA) and the Horn of Africa regions.
US Agency for International Development (USAID) Administrator Samantha Power on Monday (July 18) promised $1.18 billion to help avert famine in the Horn of Africa and urged other nations including China to do more to fight a food crisis aggravated by Russia's invasion of Ukraine.
Power voiced alarm that the war as well as climate change was worsening hunger around the world, just after a decade of progress had been "obliterated" by the COVID-19 pandemic.
"Today we are confronting something even more devastating as not only are tens of millions more people facing that grave hunger, many of them are at risk of outright starvation," she said at the Centre for Strategic and International Studies in Washington, DC.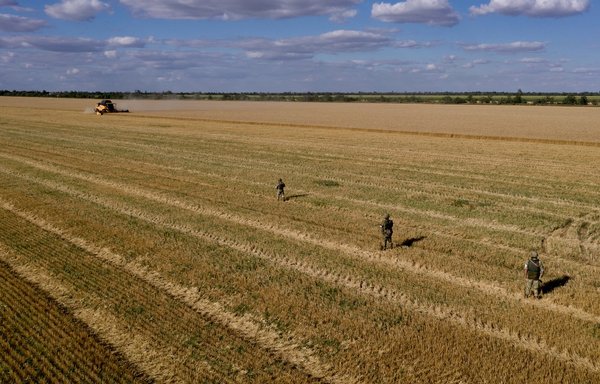 The situation is especially dire in Somalia, Ethiopia and Kenya -- the so-called Horn of Africa -- which is forecast to experience its fifth straight drought later this year, she said.
Announcing an upcoming visit to the Horn of Africa, Power said the $1.18 billion in US aid would include emergency food -- notably sorghum, a locally used grain more readily available than wheat -- as well as a peanut-based supplement for malnourished children and veterinary services for dying livestock.
She said at least 1,103 children in the region are known to have died and some seven million other children are severely malnourished.
"Now we need others to do more, before a famine strikes, before millions more children find themselves on the knife's edge," she said.
Global prices of food have skyrocketed from Russia's invasion of Ukraine, a leading wheat exporter, with Russian warships blocking ports as Kyiv lays mines to avert a feared amphibious assault.
Power criticised the "sinister" policies of Russia but also pinned blame on China over its trade restrictions on fertiliser and "hoarding" of grain.
If China released fertiliser or grain to the global market or World Food Programme, it would "significantly relieve pressure on food and fertiliser prices and powerfully demonstrate the country's desire to be a global leader and a friend to the world's least developed economies," she said.
Strategic partnerships
Power's announcement follows US President Joe Biden's pledge Saturday to provide $1 billion in food security assistance to the MENA region.
The move, announced at the first Jeddah Security and Development Summit with Gulf Co-operation Council (GCC) leaders and regional partners, comes as part of a new US commitment to strengthen co-operation with regional partners to address current challenges.
Biden met with leaders of the Gulf Co-operation Council (GCC) countries (Bahrain, Kuwait, Oman, Qatar, Saudi Arabia and United Arab Emirates) -- as well as of Egypt, Iraq and Jordan (collectively known as the GCC+3).
Together, the United States and the GCC+3 reaffirmed their commitment to a prosperous, peaceful and integrated Middle East, and in working together to address global challenges.
At the summit, "Biden reiterated the importance the United States places on its decades-long strategic partnerships in the Middle East region", the White House said.
He also "affirmed the United States' enduring commitment to the security and territorial defence of US partners, and recognised the region's increasingly important role as a trade and technology crossroads".
Five guiding principles
Biden set forth five principles -- partnership, deterrence, diplomacy, integration and values -- to guide US engagement in the Middle East in the years ahead.
The United States will support and strengthen partnerships with countries that subscribe to the rules-based international order, and will make sure those countries can defend themselves against foreign threats, he said.
It will not allow foreign or regional powers to jeopardise freedom of navigation through the Middle East's waterways, including the Strait of Hormuz and Bab al-Mandeb, he said.
Biden reaffirmed the US commitment to preserving the free flow of commerce through such strategic waterways via multiple joint naval task forces.
In addition, the United States will not tolerate efforts by any country to dominate another -- or the region -- through military buildups, incursions or threats, he added.
The United States will work to reduce tensions and to de-escalate and end conflicts wherever possible through diplomacy, pledged Biden.
It will build political, economic and security connections between US partners wherever possible, while respecting each country's sovereignty and independent choices, he said.
The United States will always promote human rights and the values enshrined in the United Nations Charter, he concluded.
Commitment to food security
GCC leaders underscored their commitment to supporting vulnerable populations in the MENA region through the Arab Co-ordination Group's $10 billion food security package, announced in May.
"Together, the United States and the GCC countries will leverage their collective assistance funds to address immediate humanitarian needs and disruptions," the White House said.
This will include "guaranteeing full, safe and unhindered humanitarian access to populations in need across the region", it said.
In May, the United States and the GCC+3 countries signed the Roadmap for Global Food Security -- Call to Action.
At the Jeddah summit, leaders affirmed their commitment to act with urgency, at scale and in concert to respond to the urgent food security and nutrition needs of millions of people in vulnerable situations.
They committed to provide immediate humanitarian assistance and build the resilience of those in vulnerable situations, among other measures.
Integrated defence co-operation
Biden affirmed the US commitment to accelerate work with allies and partners in the Middle East to integrate and enhance security co-operation.
A key goal is advancing a more integrated and regionally networked air and missile defence architecture and countering the proliferation of unmanned aerial systems and missiles to non-state actors that threaten regional security.
GCC partners also plan to invest $3 billion in projects that align with US Partnership for Global Infrastructure and Investment (PGII) goals. The PGII, unveiled at the June 26 G7 Summit, will be executed across four priority pillars.
These include tackling the climate crisis and bolstering global energy security; developing, expanding and deploying secure information and communications technology networks and infrastructure; advancing gender equality and equity; and developing and upgrading health systems infrastructure, and contributing to global health security.