BAGHDAD -- Armed Iraqi groups striving to help their sponsor Iran advance its expansionist strategy in the region have upped the stakes with a series of recent rocket and drone attacks, including a 'terrorist' drone attack in Erbil last week.
On Sunday (April 18), five rockets targeted al-Balad airbase, north of Baghdad, wounding two foreign contractors and three Iraqi soldiers, a security source told AFP.
Two of the rockets crashed into a dormitory and a canteen of a US security contractor, the source said.
There was no immediate claim of responsibility, but similar attacks are routinely blamed on Iraqi militias backed by Iran's Islamic Revolutionary Guard Corps (IRGC).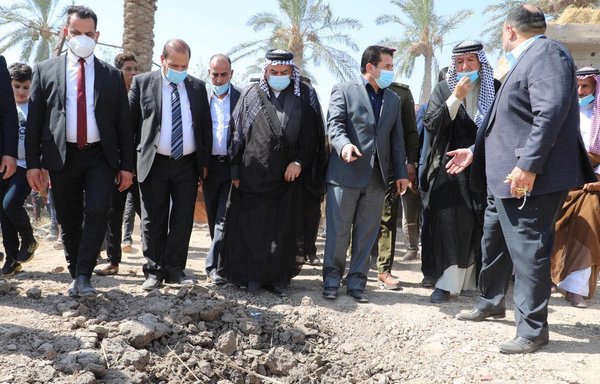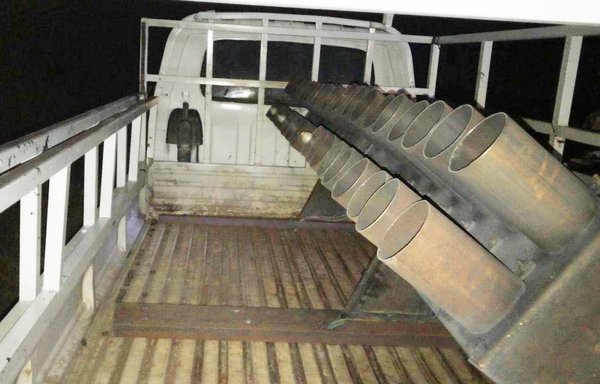 While Iran denies providing its proxies with weapons, the type and quality of rockets used in a series of attacks in Iraq "unquestionably" implicate Iran in the events, observers say.
'Suicide drones'
Last Wednesday's attack used a drone "loaded with TNT", according to Kurdish authorities. It crashed into the headquarters of the US-led international coalition at Erbil airport.
There were no casualties reported, although it did cause damage to a building in the military part of the airport.
"Suicide drones are particularly useful in these types of hits as they can avoid counter rocket, artillery and mortar systems such as C-RAM," the system deployed by the United States to protect its troops in Erbil and Baghdad, said Hamdi Malik, associate fellow at the Washington Institute.
After dozens of rocket attacks -- largely launched from the backs of pick-up trucks that then disappear into the countryside -- the drone strike marks "an escalation and a sign that Iran-backed militias will use various weapons to attack their targets", he said.
It was the first such attack in Iraq, but it is a common tactic elsewhere in the Middle East where Iran's proxies are active.
"The Iranian-backed militias have drones now with a 15-foot wingspan," a senior US defence official told AFP Thursday. "It's an Iranian-made CAS-04, which we've already seen weaponised by the Houthis against Saudi [Arabia]."
In January, drones packed with explosives were intercepted over the royal palace in Riyadh.
Alwiyat al-Waad al-Haq (Righteous Promise Brigades) -- a new façade group for IRGC-backed Iraqi Kataib Hizbullah -- took credit for the January 23 foiled attack on al-Yamamah Palace and other locations in Riyadh.
In Yemen, the Iran-backed Houthis (Ansarallah) have also escalated their drone and missile attacks on Saudi Arabia's oil facilities.
Weakening the Iraqi military
The IRGC continues to supply its proxies in Iraq with rockets and assists them in carrying out attacks that violate the country's sovereignty and damage its interests, Iraqi analysts say.
Since 2019, IRGC-backed groups have launched dozens of rocket attacks on civilian and military targets in Iraq, including international missions.
Six attacks this year were carried out with 107mm short-range rockets manufactured by Iran, known as "Fajr1".
The most recent was carried out on April 4, when two rockets landed near al-Balad air base, which hosts US military advisors and houses the Iraqi F-16 fleet, consisting of 34 aircraft.
The base came under two separate attacks on March 15 and February 20.
Other rocket attacks in Iraq, especially those carried out on the Green Zone in central Baghdad, have killed and injured dozens of civilians and destroyed their homes and properties.
The IRGC smuggles Iranian rockets of various types and ranges into Iraq through unofficial border crossings, observers say.
Some of the shipments continue on to Syria where IRGC-affiliated militias are fighting alongside Syrian regime forces.
The IRGC's key objective is to weaken the Iraqi military, which is tasked with preserving the country's sovereignty and security, said Sheikh Muzahim al-Huweit, a spokesman for the Arab tribes in Ninawa.
The Iranian regime's ambition is linked to plans that focus on destroying the infrastructure of Iraq's army and its security institutions, obstructing efforts to develop the military's expertise, and damaging the reputation of its leaders, he said.
Through its attacks, the regime also seeks to threaten "Iraq's societal fabric", said al-Huweit.
The IRGC and its affiliated groups such as Kataib Hizbullah, Asaib Ahl al-Haq, Harakat al-Nujaba and Sayed al-Shuhada want to sow discord and chaos among Iraq's social, ethnic and religious groups, he said.
"These forces operate under the IRGC's command, which orders them to launch rocket attacks at times of its choosing," said Iraqi political analyst Ahmed Shawki.
Tehran gives "the green light to its proxies to eliminate Iraqi activists and opinion leaders" who expose its agenda, he said.
Many Iraqis have risked their lives to tell the truth, he said, most notably security expert Hisham al-Hashemi, who was killed last year for speaking out against the militias and revealing the real identity of prominent Kataib Hizbullah official Abu Ali al-Askari.
Standing up to militias
The IRGC's rocket attacks also aim to embarrass the Iraqi government and intimidate international companies who seek to do business in Iraq by scaring them away, Shawki said.
The rocket attacks on Erbil airport are one example of this narrative, as they threaten Iraq's most stable cities, he said, adding that such attacks are detrimental to Iraq's economy.
But Iraqi officials are increasingly standing up to Iran.
In a strongly worded message to Tehran, Iraqi Prime Minister Mustafa Kadhemi asked Iran's leaders to rein in their militias in Iraq and suggested he would confront the factions, two Iraqi officials said April 7.
Kadhemi's message came after a provocative military parade was staged by the Kataib Hizbullah-linked Rubu Allah group in central Baghdad, Shawki said.
Baghdad is taking bold steps to initiate diplomatic relations with the Arab world, distance itself from Tehran, combat the spread of illegal weapons and establish the rule of law, he said.