China's growing relationship with Iran is proving to be a costly venture.
Records show that Iran's policy of regional expansion, which is indirectly funded by China's increasing economic support, is undermining Beijing's larger and more important economic interests in the region.
Much has been made of China and Iran's 25-year strategic deal and the growing military ties between the two countries, most recently evidenced by last month's high-profile visit by Chinese Defence Minister Wei Fenghe to Tehran.
But while both sides tout the benefits of the growing relationship, evidence suggests the costs to China are growing larger.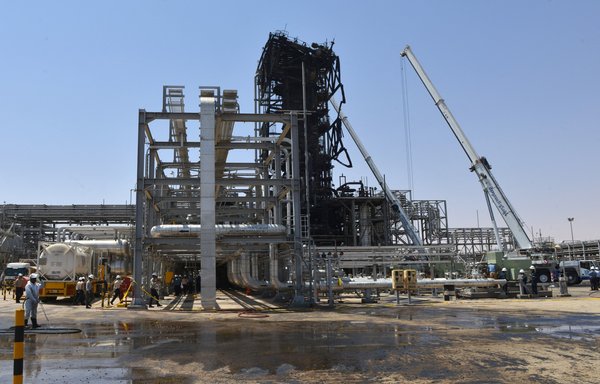 Iran's exports to China have surged by 58% in the past 12 months, while imports from China grew by 29%, according to Iranian media.
China's purchases of Iranian oil rose to record levels earlier this year, Reuters reported March 1, exceeding a 2017 peak when the trade was not subject to US sanctions, tanker tracking data showed.
In January, Chinese imports exceeded 700,000 barrels per day (bpd), according to estimates of three tanker trackers, outstripping the 623,000 bpd peak recorded by Chinese customs in 2017.
However just last week, reports suggest China is now purchasing cheaper, higher quality Russian oil, leaving a significant portion of Iranian oil without buyers.
Regardless, many observers are asking where all this Chinese money is going in Iran, especially as Iranians are suffering from growing poverty, unemployment, inflation and desperation.
Iranians point to corrupt Iranian officials pocketing some of the oil profits, but expanding Chinese assistance to Iran is also providing direct support to the Islamic Revolutionary Guard Corps (IRGC).
"Needless to say, every dollar that flows from Chinese banks to Iran's coffers -- covertly now, but overtly once sanctions are lifted -- is a dollar that can be put toward funding the IRGC's subversive actions across the region," said a May 16 Middle East Institute report on Iran-China ties.
IRGC threatens China's economic interests
Houthi militants in Yemen, whom the IRGC backs, have been launching Iranian-made missiles and drones, "wreaking havoc on China's arguably more important Comprehensive Strategic Partners: Saudi Arabia and the United Arab Emirates (UAE)", the report said.
The Houthis in March fired drones and missiles at 16 targets in Saudi Arabia, hitting Aramco's petroleum product distribution station in Jeddah and causing a fire in two storage tanks.
This is the same company that came under a twin attack blamed on Iran in September 2019, forcing China to pay an additional $97 million per day as Brent crude prices rose to their highest level on record.
Also in March, the Houthis launched a wave of cross-border drone and missile attacks at civilian facilities in Saudi Arabia.
They used Iranian cruise missiles to attack a desalination plant in al-Shuqaiq and an Aramco petroleum distribution plant in Jizan.
The Arab coalition destroyed two boat drones off the coast of al-Hodeidah, which the Houthis were reportedly planning to use in attacks on oil tankers crossing the Bab al-Mandeb strait.
Earlier this year, the Houthis launched three separate attacks on the UAE, after suffering a series of defeats on the ground in Yemen.
Iraq, the top beneficiary of China's Belt and Road Initiative (BRI) in 2021, with $10.5 billion in funding, has also been targeted by drone attacks blamed on Iran-backed Iraqi militias.
Is it worth it?
None of China's top BRI projects in the Middle East pertains to Iran, which in and of itself is quite telling.
"At a meeting of the China-Arab States Co-operation Forum (CASCF) in Beijing in 2018, China pledged $23 billion in loans and development aid to the region," the Aggregates Business news site reported in November 2020.
"The meeting identified the UAE's Khalifa Port, Oman's Duqm, Saudi Arabia's Jizan, and Egypt's Port Said and Ain Sokhna as key projects that China will develop in association with the BRI in the Middle East."
"Chinese contractors are also involved in major infrastructure construction contracts in Qatar, including the $25 billion expansion plans for Hamad International Airport (HIA)," it said.
From Beijing's perspective, the point of the 25-year deal with Tehran is "for China to gain a foothold in Iran, particularly on the islands of Jask and Kish in the Persian Gulf", said a former Iranian navy analyst who spoke on condition of anonymity.
Enhanced Chinese military co-operation with Iran resulting from the deal "is a foregone conclusion", he said.
Still, international sanctions complicate Beijing's relations with Tehran and could pose a major obstacle to the economic and military plans of China.
On Wednesday (May 25), the US Treasury Department sanctioned Beijing-based Haokun Energy Group Co. Ltd. and its subsidiary, Hong Kong-based energy company China Haokun Energy Ltd., for having purchased millions of barrels of Iranian oil, valued at tens of millions of dollars, from the IRGC's Quds Force (IRGC-QF).
Iran-based Petro China Pars Co. -- a joint venture between Iranian and Beijing-based energy companies -- and Beijing-based Fujie Petrochemical Zhoushan Co. Ltd. also were sanctioned.
Both companies were involved in the sale and purchase of tens of millions of dollars' worth of Iranian crude oil from the IRGC-QF.
And Beijing-based Shandong Sea Right Petrochemical Co. Ltd. also was designated for having made payments related to IRGC-QF oil sales and front companies.
In September 2019, US sanctions on two units of China's largest transportation network, China Ocean Shipping Co. (COSCO), for being complicit in circumventing sanctions on Iran, immediately drove up the price of oil shipments in Asia and increased overall costs by some 30%.
Sanctions on Chinese companies or citizens over their Iran-related activities could make China lose significant segments of its global markets, which are estimated to yield several times the potential profit of investing in Iran.