President Donald Trump said Sunday (September 15th) the US is "locked and loaded" to respond to attacks on Saudi oil infrastructure that Washington blamed on Iran, which have sent oil prices soaring.
It is the first time the president has hinted at a potential US military response to the drone attacks, which slashed Saudi oil production by half and led both the kingdom and the US to announce they may tap their strategic reserves.
"Saudi Arabia oil supply was attacked. There is reason to believe that we know the culprit, are locked and loaded depending on verification, but are waiting to hear from the Kingdom as to who they believe was the cause of this attack, and under what terms we would proceed!" Trump tweeted.
On Monday, the Saudi-led Arab coalition said that the weapons used to strike two oil plants were provided by Iran.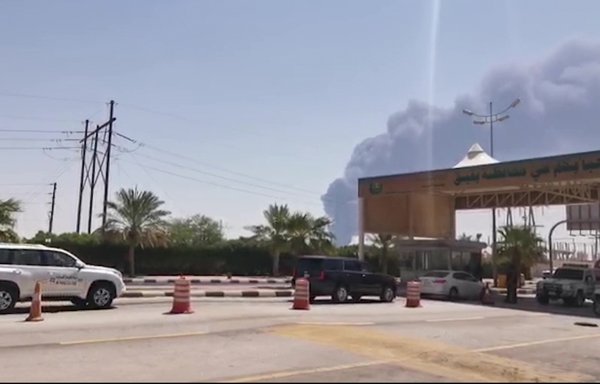 "The investigation is continuing and all indications are that weapons used in both attacks came from Iran," coalition spokesman Turki al-Maliki told reporters in Riyadh, adding they were now probing "from where they were fired".
The Iran-backed Houthis (Ansarallah) in Yemen claimed Saturday's strikes on the two plants owned by state energy giant Aramco.
But US Secretary of State Mike Pompeo pointed the finger squarely at Tehran, saying there was no evidence the "unprecedented attack on the world's energy supply" was launched from Yemen.
"The US will work with our partners and allies to ensure that energy markets remain well supplied and Iran is held accountable for its aggression," Pompeo said.
There is also speculation the assault may have been launched from Iraq, which is home to several Iran-backed militias and paramilitary factions.
Baghdad on Sunday denied any link to attacks, but Kuwait on Monday said it was investigating accounts that a drone intruded its airspace on Saturday.
On Monday, Prime Minister Adel Abdul Mahdi told Pompeo that Baghdad's aim was to "prohibit Iraqi territory being used to wage attacks against any neighbouring, brotherly or friendly country".
'Willing and able to respond'
Saudi Crown Prince Mohammed bin Salman has said the kingdom is "willing and able" to respond to this "terrorist aggression".
Following a phone call between Trump and Prince Mohammed, the White House condemned the attacks on "infrastructure vital to the global economy".
Foreign ministers of the 57-member Organisation of Islamic Co-operation (OIC) on Sunday condemned the attacks.
"The ministers expressed their condemnation of this terrorist attack and welcomed statements from regional and international organisations which have rejected this aggression designed to destabilise Saudi Arabia," OIC secretary general Yousef al-Othaimeen said in a statement released by Saudi state media.
The ministers also expressed their solidarity with Saudi Arabia and their support for "the measures it has taken to deal with terrorism and to preserve its security and stability", he added.
A growing list of nations issued statements condemning the attacks, with some countries and entities, including the EU, calling for "maximum restraint" following the incident.
Saudi on track to restore output
Saudi Arabia, the world's top oil exporter, was on Monday expected to restore at least a third of the lost production, according to experts and reports.
The Saturday strikes on Aramco's Abqaiq processing plant and Khurais oil field knocked 5.7 million barrels per day (bpd) off production, over half of the OPEC kingpin's output, sending shockwaves through markets.
Saudi Energy Minister Prince Abdulaziz bin Salman said Sunday the kingdom would use its vast inventories to partially compensate for the lost production, and the US also authorised the release of its reserves.
But oil prices saw a record surge on Monday, with key contracts more than 10% higher as finger-pointing at Iran fuelled fresh geopolitical fears.
The Energy Intelligence specialist newsletter cited industry sources as saying Aramco was "close to restoring as much as 40%" of the lost production.
The Wall Street Journal cited people familiar with the damage estimates as saying the hit facilities would take weeks to return to full production capacity.
However, one of its sources told the newspaper: "We should be able to have two million barrels a day back online" by Monday.
Industry consultant Energy Aspects also estimated the country would be able to restore almost half the lost production as early as Monday.
A report by Saudi-owned Al-Arabiya television said Monday that Aramco was ready to restart the Khurais plant, which handles 1.5 million bpd.
Saudi Arabia pumps 9.9 million bpd, almost 10% of global demand, of which seven million bpd is destined for export.
The kingdom also has a spare capacity of around two million bpd that it can draw on at times of crisis.
Markets will remain 'well supplied'
Oil prices soared by 10% in early Asia trading on Monday, while Saudi Arabia focused on restoring production at the plants.
Saturday's explosions set off fires that engulfed the Abqaiq plant, the world's largest oil processing facility, and nearby Khurais, which hosts a massive oil field.
No casualties were reported but the full extent of the damage was not clear.
On Saturday, Aramco CEO Amin Nasser said that "work is under way" to restore production, but the incident could affect investor confidence ahead of Aramco's stock market debut.
Trump tweeted that he had "authorised the release of oil from the Strategic Petroleum Reserve, if needed, in a to-be-determined amount" that is "sufficient to keep the markets well-supplied".
The president also "informed all appropriate agencies to expedite approvals of the oil pipelines currently in the permitting process in Texas and various other States", without naming specific projects.