China's evasion of economic sanctions on Iran is fueling Tehran's support for its proxy groups in Yemen and throughout the region.
On March 1, Reuters reported that China's purchases of Iranian oil have risen to record levels in recent months, exceeding a 2017 peak when the trade was not subject to US sanctions, tanker tracking data showed.
Chinese imports exceeded 700,000 barrels per day (bpd) for January, according to estimates of three tanker trackers, outstripping the 623,000 bpd peak recorded by Chinese customs in 2017.
The United States reimposed sanctions on Iranian oil in 2018 after a deal curbing Tehran's nuclear programme fell through, preventing Iran from pumping anywhere near capacity.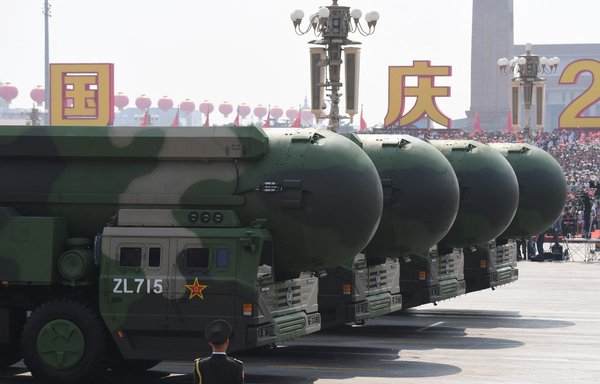 On Sunday (April 3), however, National Iranian Oil Company (NIOC) CEO Mohsen Khojastehmehr announced that "oil production has reached pre-sanctions figures, despite economic pressures", according to state news agency IRNA.
He said output has been restored to the pre-sanctions level of 3.8 million bpd, adding: "We are now in a position to double our exports."
China's oil imports from Iran
China has long been importing Iranian oil under the radar, with the shipments not reflected in official customs data as buyers fear invoking US sanctions.
In January, however, China's customs reported the first import of Iranian crude in a year despite ongoing sanctions.
China's fuel imports from Iran come as Tehran continues to fund and arm its proxies, including the Houthis in Yemen.
A United Nations (UN)-brokered two-month truce took effect in Yemen Saturday, the first day of the Muslim holy month of Ramadan.
The Houthis and the Saudi-led military coalition have both agreed to observe the ceasefire.
But the truce follows a volley of attacks on Saudi Arabia.
The Houthis on March 25 fired drones and missiles at 16 targets in Saudi Arabia, hitting Aramco's petroleum products distribution station in Jeddah and causing a fire in two storage tanks.
A few days earlier, they launched a wave of cross-border drone and missile attacks at civilian facilities in Saudi Arabia.
They used Iranian cruise missiles to attack a desalination plant in al-Shuqaiq and an Aramco petroleum distribution plant in Jizan.
The Arab coalition also destroyed two boat drones off the coast of al-Hodeidah, which the Houthis were reportedly planning to use in attacks on oil tankers crossing Bab al-Mandeb strait.
Earlier this year, the Houthis also launched three separate attacks on the United Arab Emirates (UAE), after suffering a series of defeats on the ground in Yemen.
The Houthis' attacks signal "Iran's malicious intentions towards the security and stability of the region, with its continued smuggling of weapons to the Houthis", said Yemeni Deputy Minister of Legal Affairs and Human Rights Nabil Abdul Hafeez.
"Iran deceives the international community and the United States when it demands that sanctions imposed on it be lifted," he said, referring to the ongoing talks that could see Iran return to the terms of the 2015 nuclear deal.
The Islamic Revolutionary Guard Corps (IRGC) has continued to smuggle arms to the Houthis, officials said, fueling regional tensions and squandering the opportunity to achieve lasting peace in Yemen.
IRGC smuggling networks repeatedly have attempted to breach a UN-imposed arms embargo that bans the supply of weapons to the Houthis, Abdul Hafeez said.
"Hardly a period passes without us hearing about a seizure of Iranian weapons by the US Navy," he added.
Ballistic missile parts from China
Meanwhile, sanctions against Iranian intermediaries smuggling ballistic missile parts from China are another sign of Beijing's contribution to instability in the region.
The United States on March 30 announced sanctions targeting several entities it says are involved in procuring supplies for Tehran's nuclear programme.
The move "reinforces" Washington's commitment to prevent Iran from developing ballistic missiles, said US Treasury Under Secretary for Terrorism Brian Nelson in a statement.
The sanctions target Iranian national Mohammad Ali Hosseini and his "network of companies" as suppliers of the programme, according to the statement.
Hosseini has been personally involved in high-level meetings and traveled with senior IRGC officials in his role as the manager of Sina Composite Delijan Co., the statement said.
He procured processing machines for nitrile butadiene rubber from China using falsified shipping documents, as well as an inert gas jet milling system from Chinese suppliers.
"Jet mills, also known as fluid energy mills, are used in the production of solid missile propellant," the statement noted.
The sanctions also targeted P.B. Sadr Co. which acted as a key intermediary for Iran's Parchin Chemical Industries (PCI), an element of Iran's Defence Industries Organisation (DIO).
P.B. Sadr Co. served as the recipient of China-sourced centrifuge components used in the production of ballistic missile propellant on PCI's behalf.
The sanctions follow Iran's missile attack on Erbil, Iraq, on March 13 and the attack on Saudi Aramco on March 25, as well as other missile attacks by Iranian proxies on Saudi Arabia and the UAE, the Treasury said.
Iran claimed responsibility for the March 13 missile strikes.