TEHRAN -- Last week's visit by a high-profile Chinese military delegation to Iran highlighted the two countries' deepening strategic relations and heightened concerns over regional stability.
Iranian President Ebrahim Raisi last Wednesday (April 27) praised co-operation with the country's largest trading partner China, saying Tehran wanted to "expand its long-term strategic relations" at a meeting with Beijing's defence minister.
"Regional and global developments show more than ever the value of Iran-China strategic co-operation", said Raisi.
"Countering unilateralism and creating stability and order are possible only through the co-operation of like-minded independent powers," Raisi said at the meeting with Chinese Defence Minister Wei Fenghe.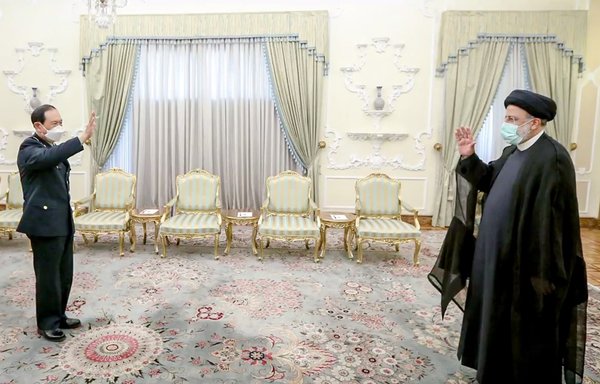 Wei said his visit was aimed at "improving the strategic defence co-operation" between Iran and China.
Wei also met with his Iranian counterpart, Mohammad-Reza Ashtiani, who stressed the need to "strengthen multilateralism", an Iranian Defence Ministry statement read.
Iran's priority was the "successful implementation of the 25-year comprehensive co-operation plan" it signed with China in March 2021, after five years of secretive talks, said Raisi.
The details of the deal have not been made public, and Tehran has said only that it includes "political, strategic and economic clauses".
The comprehensive, all-encompassing deal has been widely criticised inside and outside Iran, with some of the Iranian regime's opponents calling it the "sale of Iran to China".
Iran-China trade surging
Iran's exports to China have surged by 58% in the past 12 months, while imports from China grew by 29%, according to Iranian media.
China's purchases of Iranian oil have risen to record levels in recent months, Reuters reported March 1, exceeding a 2017 peak when the trade was not subject to US sanctions, tanker tracking data showed.
Chinese imports exceeded 700,000 barrels per day (bpd) for January, according to estimates of three tanker trackers, outstripping the 623,000 bpd peak recorded by Chinese customs in 2017.
"Oil production has reached pre-sanctions figures, despite economic pressures," National Iranian Oil Company (NIOC) CEO Mohsen Khojastehmehr announced April 3, according to state news agency IRNA.
Output has been restored to the pre-sanctions level of 3.8 million bpd, he said, adding: "We are now in a position to double our exports."
China has long been importing Iranian oil under the radar, with the shipments not reflected in official customs data as buyers fear invoking US sanctions.
In January, however, China's customs reported the first import of Iranian crude in a year despite ongoing sanctions.
Since the beginning of the year, Iranian shipments have been trading at $5 less per barrel than the Brent standard price, several oil traders told Reuters.
According to an oil market analyst who wished to remain anonymous, most of Iran's oil exports are headed to China "through complex routes and intermediaries. Plus, a small volume enters Syria every month".
China's fuel imports from Iran come as Tehran continues to fund and arm its proxies throughout the region, including the Houthis in Yemen, Hizbullah in Lebanon and various others in Iraq, Syria and beyond.
US sanctions announced March 30 against Iranian intermediaries smuggling ballistic missile parts from China are another sign of Beijing's contribution to instability in the region.
Lies and deception
Meanwhile, as top Iranian officials tout record income on oil exports, lawmakers, observers and civilians are wondering where all the money is going.
The issue is particularly acute as Iranians are suffering from growing poverty, unemployment, inflation and desperation.
On Twitter, which is banned in Iran but used by many Iranian officials and citizens who rely on virtual private networks (VPNs), several conversation threads about the alleged oil profits ended up with questions about why this money was not directly improving the lives of ordinary Iranians.
"Incidentally, I had the same question and asked the oil minister: 'If you're selling more oil and you can repatriate the money, why we do not see its impact on people's livelihood?'" journalist and activist Abdollah Ganji, who is close to the IRGC, tweeted April 10.
"He said: We spent most of that money to make up for the $17 billion budget deficit from last year. The rest of it was spent on importing foodstuff with double prices on the global market."
Oil Minister Javad Owji on March 24 said that "Iran has reached a record high of crude exports and revenues since sanctions hit the country's oil industry in 2018".
A number of social media users had their own opinion of the oil minister's remarks, with one saying, "Because there are too many of those who steal the money."
"It is all lies," another one said.
Entering Chinese troops
Another growing concern is China's direct military presence in the region.
News that thousands of Chinese troops might be deployed to Iran to safeguard Beijing's economic interests has amplified existing concerns about the secrecy surrounding the 25-year deal.
Some domestic critics of the Iranian government have likened the deal to the colonial agreements of the last century, with the prospective military deployment underscoring the colonial nature of China's intentions.
From Beijing's perspective, "the point of the [25-year] deal is for China to gain a foothold in Iran, particularly on the islands of Jask and Kish in the Persian Gulf", a former Iranian navy analyst who spoke on condition of anonymity said last year.
Beijing has already constructed a series of ports along the Indian Ocean, creating a necklace of refuelling and resupply stations from the South China Sea to the Suez Canal.