Systemic corruption in Iran's public and private sectors related to sanctions evasion has drawn in intermediaries in Middle Eastern countries, experts said, warning that this may impact the economic security of these nations.
Even as the Iranian regime takes part in talks to re-enter the 2015 nuclear deal with world powers, it has continued to bypass sanctions by selling underpriced oil to China and Syria and making oil deals with Venezuela.
In February, an Iran-flagged supertanker carrying more than two million barrels of condensate docked at the Venezuelan port of Barcelona, the Associated Press (AP) reported. Venezuela is also under US sanctions.
The tanker's dimensions matched those of the Starla, owned by the National Iranian Tanker Company (NITC), which is under sanctions for helping to fund the Islamic Revolutionary Guard Corps Quds Force (IRGC-QF).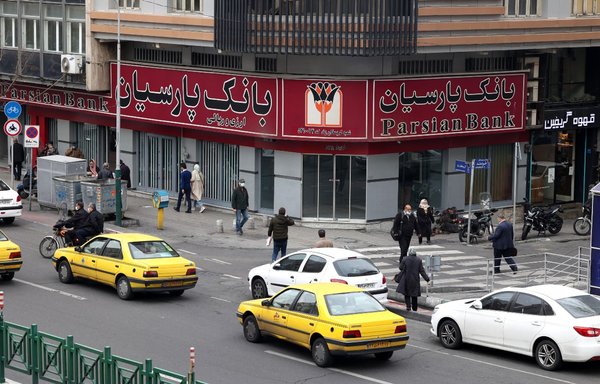 Iranian state media did not acknowledge the tanker's arrival in Venezuela, and Iran's mission to the United Nations (UN) did not respond to a request for comment, according to the AP report.
Tehran has increased its illegal crude exports under cover of the complex Gulf oil market, according to a 2021 Middle East Institute (MEI) report.
"Through exploiting the region's overcrowded shipping lanes, oil industry labyrinths and trading centres, Iran has been able to sell its crude oil to China, Syria, Venezuela and other countries," the report said.
On March 1, Reuters reported that China's purchases of Iranian oil have risen to record levels in recent months, exceeding a 2017 peak when the trade was not subject to US sanctions, tanker tracking data showed.
Front companies, illegal transactions
The Iranian regime has set up a clandestine banking and financial network to handle tens of billions of dollars in annual trade that was banned under international sanctions, the Wall Street Journal (WSJ) reported March 18.
The secret network reportedly includes foreign bank accounts, proxy companies registered outside Iran and companies that co-ordinate prohibited trades.
Iranian banks that are part of this secret network enter trade deals through their affiliate firms in Iran, documents and Western officials' statements suggest.
The firms establish overseas companies that act as the Iranian regime's proxies.
Through accounts they open with foreign banks, these firms then trade in dollars, euros and other currencies with foreign purchasers of Iran's oil and other commodities, as well as with those who export goods to Iran.
Although a portion of the proceeds from these transactions is smuggled to Iran in cash, most of the revenue stays in bank accounts abroad.
A Western official quoted by the WSJ described Iran's secret network as "an unprecedented governmental money-laundering operation".
Iran's illicit transactions through front companies in the region increases the risk that the countries where they are based will be included in the "grey list" of the intergovernmental Financial Action Task Force (FATF), experts told Al-Mashareq.
Political analyst Peyman Zamankhani noted that privately operated Iranian front companies have a significant presence in the United Arab Emirates (UAE), Iran's second-largest trading partner.
"The United States has repeatedly warned the UAE about this," he said.
The UAE was added to the grey list (Jurisdictions Under Increased Monitoring) in March. Jordan, Syria and Yemen also are on the list, which comprises countries that represent a much higher risk of money laundering and terrorism financing.
Countries on the list have formally committed to working with the FATF to develop action plans that will address their issues, but may still face economic sanctions from institutions and adverse effects on trade.
Iranian regime's secrets and lies
The "Edaalat-e Ali" hacking group recently circulated a photo of a governmental letter classified "Very Confidential", dated September 6, 2021, and signed by the IRGC Intelligence Division's deputy director of legal affairs.
The letter gives credence to reports that the Intelligence Division had asked the Public Prosecutor to issue orders barring 37 oil managers from the previous administration from leaving the country.
According to the letter, this sought to avoid the transfer of secret information regarding oil sales.
Individuals named in the letter include the nephew of former president Hassan Rouhani and his wife, as well as some managers of government organisations and agencies.
Among them are managers of the Oil Ministry, Melli Bank, the National Iranian Oil Company (NIOC), National Iranian Gas Company (NIGC), Iran's Petrochemical Holding and the National Iranian Tanker Company (NITC).
Six individuals named in the letter are officials of Persian Gulf Holding, one of Iran's largest oil companies, of which the IRGC is a major shareholder.
"In all probability, the reason behind this decision is that the regime is concerned about oil executives' potential departure from Iran and that they would expose state secrets," said Zamankhani, the political analyst.
Since president Ebrahim Raisi came to power, the IRGC and various transnational institutions have used diverse strategies to survive, bypass sanctions and eliminate the private sector, Zamankhani said.
Raisi's administration came to power with the "Fight Corruption" slogan last year.
Given the ongoing and rising corruption within the regime, however, the UK-based Chatham House think tank recently noted that "without a substantial economic system reform, the state is likely to see more protests and unrest".