A little known militia group in Iraq, which claimed responsibility for an attack on Saudi Arabia and threatened to attack the United Arab Emirates (UAE), is nothing but a new front for the Iran-backed Kataib Hizbullah, experts say.
Alwiyat al-Waad al-Haq (Righteous Promise Brigades) announced on Telegram its responsibility for the January 23 foiled attack on the al-Yamamah Palace and other locations in Riyadh.
In a subsequent post on January 27, the group posted doctored images of the monumental Burj Khalifa skyscraper in the UAE being struck by drones. The image aimed to be reminiscent of the 9/11 terrorist attacks in the United States.
Saudi officials accused the Iran-backed Houthis (Ansarallah) in Yemen of the January 23 attack, but Houthi spokesman Yahya Saree in a tweet the same day denied the Houthis' involvement in the attack.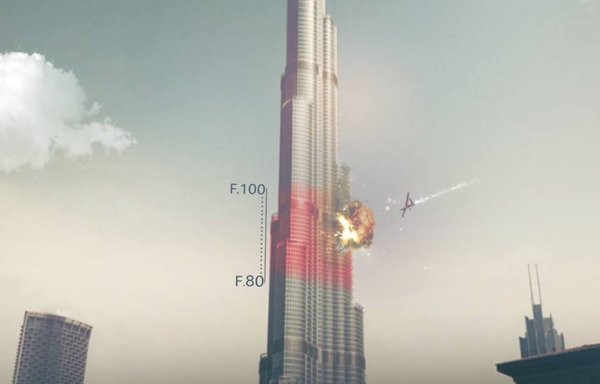 Houthis in the past have openly claimed responsibility for attacks on Saudi Arabia.
Moreover, Sabreen News, a Telegram channel affiliated with Kataib Hizbullah, posted that the attack was carried out by a fixed-wing drone that took off from Iraqi territory.
In a January 24 post, Kataib Hizbullah military official Abu Ali al-Askari praised the strikes on Riyadh and saluted the new Alwiyat al-Waad al-Haq militia.
Iran's threatening message to the Gulf States
An Iraq army general with the Joint Operations Command fighting the "Islamic State of Iraq and Syria" (ISIS) in Baghdad told Al-Mashareq on the condition of anonymity that Alwiyat al-Waad al-Haq is "a new façade" for Kataib Hizbullah.
He said Kataib Hizbullah has camps in several areas on the border with Saudi Arabia, including in Nukhayb, Jadidat Arar and Naqrat al-Salman.
Militias affiliated with the Islamic Revolutionary Guard Corps (IRGC) seek to create tension in order to undermine the renewed relationship between Iraq and Saudi Arabia, he said.
The two countries have reopened the Arar border crossing on November 18 and resumed economic relations.
Hossam al-Saffar, a member of Iraq's Civil Current party, said new claims made by IRGC-backed militias are part of what he described as Iran's threatening message to the Gulf States.
Al-Saffar said Iran is using Iraqi territory "as a platform for implementing its agenda throughout the region, including in Syria, Lebanon, Yemen and lately, the Gulf states".
As such, he said, Iraq and Iraqis are "the primary victims because they pay the price of the subsequent insecurity and instability".
"The role that ISIS played in threatening the security of Iraq and its neighbours, is now aptly played by the militias," he added.
According to al-Saffar, IRGC-supported militias have recently become more hostile partly because of a US-sponsored electrical grid project that Iraq and the Gulf countries agreed upon to free Iraq of its dependence on Iranian gas and electricity.
Iraq's dependence on Iranian gas and power drains some $1.4 billion from its treasury each year. Linking Iraq to the Gulf Co-operation Council's power grid would enable it to acquire electricity at much reduced prices, and Tehran wants to prevent that from happening, he said.
Smokescreen militias
Ahmad al-Hamdani, a researcher at Al-Rafidain Centre for Studies and Research, said Alwiyat al-Waad al-Haq is just a front for a militia that already exists in Iraq, a common tactic used by the IRGC's Quds Force, which supervises and directs the actions of these groups.
A new crop of pro-Iran militias has emerged in Iraq over the last year -- at least 15 in total -- operating under many names and using social media platforms to promote themselves and disseminate incendiary messages.
Iraqi experts have described this proliferation of previously unknown militias as a "smokescreen" intended to deflect attention from the real perpetrators: Kataib Hizbullah, Harakat al-Nujaba and Asaib Ahl al-Haq.
"Ashab al-Kahf, Al-Amr bil Marouf, Qassem al-Jabbarin, Rubu Allah, al-Thaar, al-Muqawama al-Islamiyah, and the recently-emerged Alwiyat al-Waad al-Haq are all fronts for those three militias, to help them manoeuvre and mislead," al-Hamdani said.
Last week, another shadowy group calling itself Awliyaa al-Dam (Guardians of Blood) claimed a deadly attack in northern Iraq's Kurdish region that appeared to have been targeting a military complex in Erbil airport.
The mere fact that Kataib Hizbullah is present in the border strip between Iraq and Saudi Arabia proves that Alwiyat al-Waad al-Haq is a front group for Kataib Hizbullah, al-Hamdani noted.
What this means, said former Iraqi MP Mithal al-Alousi, leader of the al-Umma party, is that Iraq has now turned into a new Iranian front for threatening the Gulf states.
IRGC-affiliated militias, occasionally under new names, aim to spread hatred, instability and lawlessness through acts of terrorism, and drain Iraq's wealth and resources, he said.