The US military is ramping up co-operation and integration with regional partners in the Arabian Gulf amid growing threats from Iran.
US naval forces July 18-22 completed a multilateral joint and combined "air operations in support of maritime surface warfare" (AOMSW) live-fire exercise with the United Kingdom, Bahrain, Saudi Arabia, Kuwait and United Arab Emirates in the Arabian Gulf.
This exercise marked the second multinational AOMSW exercise in two months, US Naval Forces Central Command (NAVCENT) said in a statement July 23.
AOMSW, formerly known as maritime air support, allows for rapid deployment of capabilities and encompasses war-at-sea, armed reconnaissance, air interdiction, strike co-ordination and counter-fast attack craft/fast inshore attack craft in defence of maritime assets, the statement said.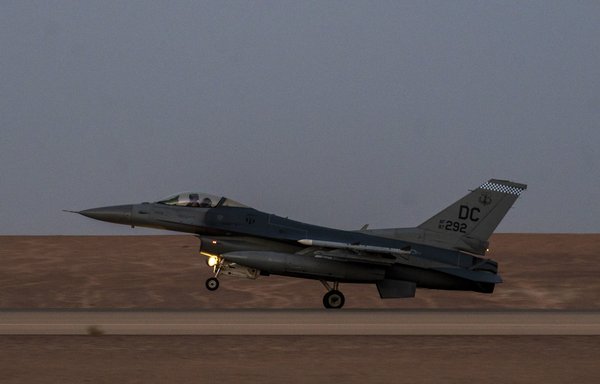 "This Arabian Gulf-wide, week-long exercise... truly highlighted the coalition's ability to integrate and strike targets as a team," said Commodore Christopher Gilbertson, commander of Task Force 55.
The US Navy routinely integrates surface and aviation units to train and enhance coalition forces, he said.
Previous exercises incorporated US Air Force AC-130 gunships, US Army attack helicopters, Joint Terminal Attack Controllers (JTACs), aircraft from the United Arab Emirates Joint Aviation Command and other regional partners.
"Interoperability exercises with our regional partners and Coast Guard counterparts are essential to our ability to counter dynamic maritime threats in the region," said Vice Adm. Brad Cooper, commander of US NAVCENT, 5th Fleet and Combined Maritime Forces.
"Every opportunity to operate together as a team benefits our home nations and this region's future security," he said. "I have been incredibly impressed with the skillset of each nation's service members as they seamlessly join our forces to ensure a free and open maritime domain."
The 5th Fleet area of operations encompasses about 6.5 million square km of water area that includes the Arabian Gulf, Gulf of Oman, Red Sea and parts of the Indian Ocean.
The expanse is comprised of 20 countries and includes three chokepoints, critical to the free flow of global commerce.
Countering UAS threat
Meanwhile, US Air Forces Central has been working to prepare against potential unmanned aerial system (UAS) attacks on US forces and interests in the Middle East.
US and Royal Saudi aircraft on June 17, June 30 and July 29 took to the skies to conduct operations testing and evaluating their ability to collaboratively track and destroy a simulated invading UAS within regional airspace, US AFCENT said.
"The emerging UAS threat in the Middle East requires a wide spectrum of shared resources between the United States and our partners," said Col. Matt Dietz, US AFCENT Director of Operations.
"We're very fortunate that our Saudi Arabian allies have the same understanding and are willing to work so closely with us to combat the threat," he said.
This comes as drone attacks by Iran's proxies in Yemen and Iraq have been on the rise lately.
"Protecting US, Coalition and partner nation forces by countering the UAS threat remains a critical concern across the region," said Dietz.
"Our Saudi Arabian partners share that concern, and together we're building on previous training to develop an effective, collaborative capability to protect our common interests."
US AFCENT continuously works with partner nations to ensure the security and stability of regional airspace, and is continuing an ongoing series of integration missions through the summer of 2021, the statement said.
Iranian maritime threats
The latest drills come as Iran continues to threaten international commerce and freedom of navigation in the Arabian Sea.
The United States, the United Kingdom and Israel have accused Iran of carrying out a July 29 drone attack off Oman on the Israel-linked MT Mercer Street tanker that killed two crew members.
US CENTCOM said August 6 that three one-way drones laden with explosives were launched in the attack, but the first two failed to strike the ship and plunged into the sea. Remnants of one of those were retrieved by investigators.
The third drone struck the ship, exploding and leaving a two-meter hole on the ceiling of the bridge.
CENTCOM said the drone was packed with the explosive RDX, and pieces recovered from it "were nearly identical to previously-collected examples from Iranian one-way attack UAVs", or unmanned aerial vehicles.
"The distance from the Iranian coast to the locations of the attacks was within the range of documented Iranian one-way attack UAVs," CENTCOM added.
The United States also said on August 4 it suspected Iranian involvement in the alleged hijacking of a ship in the Gulf of Oman.
"Iran has undertaken a pattern of belligerence in terms of proxy attacks in the region and of course, these maritime attacks," State Department spokesman Ned Price told reporters in Washington.
United Kingdom Maritime Trade Operations tweeted that the "potential hijack" of the Asphalt Princess ship took place 100km east of the UAE emirate of Fujairah as it headed towards the Strait of Hormuz, one of the world's busiest waterways.
The shipping industry intelligence site Lloyd's List reported that armed men had boarded the Asphalt Princess and ordered it to sail to Iran.