A number of recent deployments and exercises of the US military in the Middle East have been aimed at reassuring regional allies of the willingness and ability of US forces to rapidly deploy around the globe at a moment's notice.
Fighter jets from a US Marine squadron deployed to Prince Sultan Air Base in Saudi Arabia on May 8 as part of US Central Command (CENTCOM)'s ongoing campaign to promote security and stability in the region, US Air Forces Central (AFCENT) said in a statement.
The deployment of the F-18 jets bolsters participation in coalition and regional partner-nation integration events, the statement said.
"The unit's presence in the theatre highlights the US military's ability to deploy and employ forces anywhere around the globe at any moment," it added.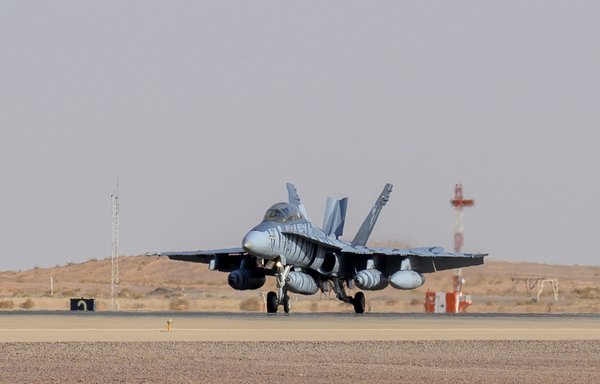 US aircraft also on May 18-19 took part in Desert Mirage III, the third iteration of a bilateral exercise with Saudi forces designed to enhance interoperability and air defence capabilities.
"Dynamic force employment deployments demonstrate the ability to move combat capability into theater just in time for when it is required, not just in case it might be needed," said AFCENT commander Lt. Gen. Greg Guillot.
"These short-term, high-intensity deployments also enhance readiness for both AFCENT and the deploying units," he said.
The ongoing partnership was reiterated during CENTCOM commander Gen. Frank McKenzie's visit to Saudi Arabia on May 23.
"Saudi Arabia is a key partner in the Middle East, and an important pillar of the regional security architecture," McKenzie said, "and I am extremely proud of the strategic relationship we've built over the years."
Similarly in Jordan, McKenzie on May 21 said the kingdom had "an unmatched ability to engage stakeholders from different cultures and points of view".
"Thanks to King Abdullah II's leadership and the Jordan Armed Forces' capabilities, the kingdom continues to be an exceptionally reliable partner and champion of regional peace and stability."
Rapid response
CENTCOM conducted its last dynamic force employment in January, deploying a detachment of US Air Force F-15E Strike Eagles from Seymour Johnson Air Force Base, South Carolina.
The deployment of the F-18 aircraft to Saudi Arabia this month comes amid others aimed at rapidly responding to changing situations on the ground.
On May 4, two additional US Air Force B-52H Stratofortress aircraft arrived at al-Udeid Air Base, Qatar.
The bombers joined the four other B-52 aircraft that previously deployed to al-Udeid in late April to protect the withdrawal of US and coalition forces from Afghanistan.
On April 25, six F-15E Strike Eagles also landed at al-Dhafra Air Base, United Arab Emirates, with a modified munitions configuration as part of an Agile Combat Employment operation.
The aircraft conducted the first combat tactical ferry mission for the F-15E platform, carrying double their standard munitions load in order to support AFCENT priorities to promote regional security, as well as posture for future air warfare capabilities, said an AFCENT statement.
Regional threats
The recent deployments aim to counter threats by destabilising actors in the region, such as Iran's Islamic Revolutionary Guard Corps (IRGC), which funds and directs a host of proxies throughout the region.
A drone packed with explosives hit an Iraqi base housing US troops May 8 causing damage but no casualties, the Iraqi military and the US-led coalition said.
The attack on the Ain al-Asad air base was the fourth targeting US troops in Iraq in less than a week, as an armed campaign blamed on pro-Iranian groups intensifies, AFP reported at the time.
It was only the second time authorities publicly confirmed a drone had been used in an attack on a target inside Iraq.
In the meantime, there has been no let-up in rocket attacks carried out by the coalition's foes over the past 18 months.
The US Embassy in Baghdad and coalition supply convoys have also come under repeated attack.
US President Joe Biden in February ordered air strikes on targets in Syria of Iran-linked militias after a rocket attack in Iraq killed a contractor for the anti-ISIS coalition and injured US personnel.
"You can't act with impunity," Biden said at the time. "Be careful."
In Yemen, the Iran-backed Houthis (Ansarallah) have launched more than 150 ballistic missile, land-attack cruise missile and drone strikes on military, infrastructure and civilian targets in Saudi Arabia since January, McKenzie said on April 20.
Iran remains the biggest threat to stability in the Middle East, he said.
Speaking to the House Armed Services Committee in Washington, McKenzie warned that Iran was increasingly using small and medium-sized drones to attack the anti-ISIS coalition but added that "Iran has failed" in its effort to drive US forces from the region.
Meanwhile, in Afghanistan, the US military is continuing its support of Afghan forces as it aims to complete its withdrawal from the country by September 11.