ADEN -- Yemeni officials say Hassan Eyrlou, Iran's ambassador to Sanaa, is directing military operations in Houthi-controlled areas, including the militia's ongoing assault on the city of Marib.
This violates Yemen's sovereignty and undermines peace efforts, they said.
Eyrlou is overstepping the boundaries of his role and authority in other ways, as well, they added, pointing to recent photos of his May 6 visit to Sanaa's al-Joumhouria Hospital published by local media outlets.
During the visit, he inspected maintenance work in one of the hospital wards, which angered some Yemenis, who said this kind of activity falls outside the purview of ambassadors' diplomatic responsibilities.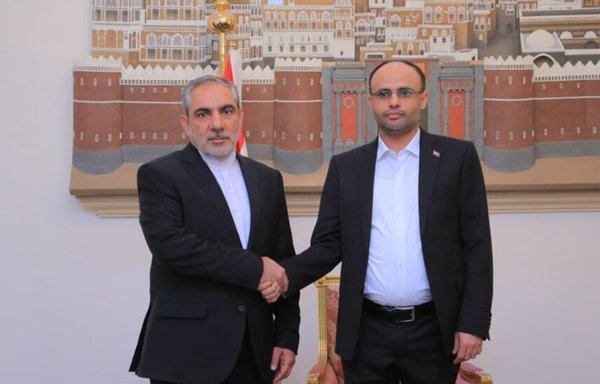 Journalist Khaled Ahmed said Eyrlou was not accompanied by the Houthis' minister of health on his visit. He also visited the hospital's women's ward, an act that offended some in the conservative Yemeni society.
According to a Houthi media outlet, Eyrlou has held meetings with a number of Houthi government ministers since his arrival in Sanaa last year.
'De facto governor'
Eyrlou arrived in Sanaa in mid-October, the first time an Iranian diplomat had been sent to the country in five years. His arrival was met with a wave of popular anger among the Yemeni public.
In November, the military court in Marib began the trial of Eyrlou, a former Islamic Revolutionary Guard Corps (IRGC) officer, who is accused of "espionage, sabotage and participating in hostile actions against Yemenis and the Yemen National Army".
Political analyst Mahmoud al-Taher said Eyrlou is leading the Marib battle, as well as a new group of IRGC mercenaries, who have arrived in Sanaa to participate in the ongoing war in Yemen.
The mercenaries' arrival, which was reported by the Anadolu news agency, confirms Eyrlou's role, al-Taher said.
In a May 5 interview with Al-Arabiya, Yemeni armed forces spokesman Abdo Majali said Eyrlou is directing the military operations in Marib, which is the government's last significant foothold in the north of the country.
He said Yemeni forces were able to take control over a number of fronts in Marib, with local tribes fighting alongside them.
Minister of Information Muammar al-Eryani described Eyrlou as "the de facto governor" of the areas controlled by the Houthis.
He said the presence of Houthi commanders "is merely decorative, as they do not have the authority to make political, military or even administrative decisions".
Illegal appointment
Eyrlou came to Yemen because he is part of the IRGC Quds Force, which is the military institution responsible for expansion outside Iran, said Abaad Studies and Research Centre director Abdulsalam Mohammed.
His appointment as ambassador was "illegal, and was done in order to pursue military and intelligence objectives, not diplomatic or political ones", he said.
Since Eyrlou's arrival in Sanaa, the Houthis' focus has shifted towards priorities that are quite different from those of the past.
For instance, Mohammed said, they have focused on Marib and intensified attacks on Saudi Arabia with missiles and drones, apparently as a result of IRGC decisions.
Deputy Minister of Justice Faisal al-Majeedi said the Islamic Republic believes that gaining control of Marib would enable Iran to impose conditions in any political settlement, which would define the fate of Yemen and the region.
"Eyrlou's meetings with Houthi government ministers confirm that he oversees the entire scene," al-Majeedi said.
Houthi media outlets never report on the ambassador's meetings with Houthi military commanders in the way they publish news about his meetings with government officials aligned with the militia, he noted.
Some IRGC commanders' recent remarks, as well as statements made by Lebanese Hizbullah leader Hassan Nasrallah, confirm the IRGC's presence in Yemen, al-Majeedi said.