BEIRUT -- As Lebanon remains mired in economic and political crisis, there have been renewed calls from the Lebanese people for the full implementation of United Nations Security Council Resolution 1559 (of 2004).
The resolution affirms Lebanon's sovereignty, territorial integrity, unity and political independence under the sole and exclusive authority of the government, and calls for the disbanding and disarmament of all militias.
This specifically pertains to Hizbullah, analysts said, noting that an appropriate mechanism needs to be developed to ensure the Iran-backed militia disarms.
Although this is not a new demand, it has become increasingly urgent as Lebanon's once significant support from the Gulf states "has slowed to a trickle", according to a June report by the Carnegie Middle East Centre.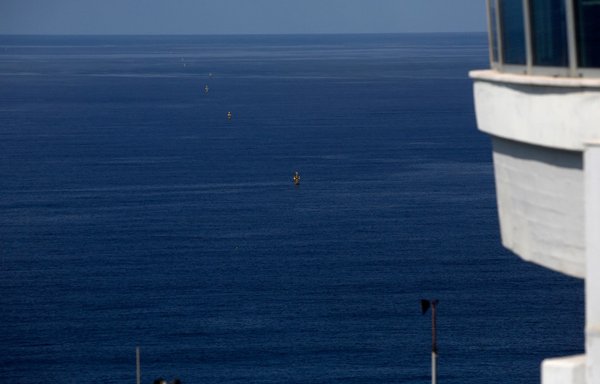 This is mostly a consequence of Iranian influence in Lebanon, via Hizbullah, analysts say, and has contributed both to Lebanon's economic crisis, and to a dimming of its chances of pulling itself back from the brink of financial collapse.
Reluctant to invest
The Gulf states have made it clear on numerous occasions that they are reluctant to invest in Lebanon while Hizbullah continues to dominate the political decision-making process.
In an interview with CNN in April, Saudi Foreign Minister Faisal bin Farhan warned that "the status quo in Lebanon is no longer workable".
"The kingdom doesn't feel that it is appropriate to continue to subsidise or continue to support the status quo," he said.
The Saudi foreign minister lamented that "a non-state actor, Hizbullah, has a de facto rule, veto, over everything that happens in that country and has control over its key infrastructure".
"Lebanon needs a true reform agenda and we hope that the Lebanese politicians can come together to embrace such an agenda. If they do, we will stand there to support them," he said.
Last June, Emirati minister of state for foreign affairs Anwar Gargash told CNBC that the United Arab Emirates would only consider offering financial support to Lebanon in concert with other states.
"But up to now, what we are really seeing here, is a deterioration of Lebanon's Arab relations and Gulf relations over the past 10 years," he said. "Lebanon is partly paying the price for that right now."
During its September meeting, the Arab Ministerial Quartet Committee spoke out against Iranian interference in the internal affairs of Arab countries and its continued support for acts of terrorism and sabotage.
The committee condemned Hizbullah chief Hassan Nasrallah's "unacceptable statements" regarding Bahrain, Saudi Arabia, the United Arab Emirates and Yemen, saying these constitute "a blatant interference in their internal affairs".
It stressed that the party is "a major source of tension that should be deterred and confronted along with those who support it", and welcomed the decision of Germany and Kosovo to designate Hizbullah as a terrorist organisation.
And it called on the Lebanese government to condemn Hizbullah, "within the framework of the commitment to the brotherly relations linking the Arab countries with the Lebanese Republic".
Under Hizbullah's shadow
"Lebanon cannot survive under Hizbullah's shadow," said Future Movement leader and former Lebanese MP Mustafa Alloush.
"Arab and Gulf countries have been calling for toppling Hizbullah in Lebanon for a long time," he said, noting that Hizbullah and Iran have done a lot of harm to them.
US efforts also are crucial to Lebanon's stability, he added, noting that the Gulf states have strong collective and individual partnerships with the United States and share its desire to see Hizbullah's influence in Lebanon curbed.
The United States has in recent months brokered normalisation agreements between Israel -- Lebanon's southern neighbour -- and the Gulf states of Bahrain and the United Arab Emirates, among others, amid a general warming of ties.
At the same time, it has demonstrated its commitment to resolving Lebanon's maritime boundary disputes with Israel, brokering a fresh round of talks that kicked off Tuesday (May 4).
These talks are going ahead without the participation of Hizbullah.
The US role has been critical in restarting these negotiations, said Regional Forum for Consultations and Studies director Khaled Hamada.
The United States has said it is willing to bring in international border demarcation experts to express their opinion on the technical negotiations and the proposed lines.
The end agreement "may not fully match the Lebanese vision", Hamada said, adding that the experts' decision should be binding, away from Hizbullah's interference.
'Lebanese must build Lebanon'
Iran-affiliated militias have increased their influence in the region, Hamada said, noting that Iran has destabilised four countries as a result of its interference: Lebanon, Iraq, Syria and Yemen.
"As long as the conflict between Iran and Saudi Arabia and its Arab allies is not resolved with a new compromise, Lebanon will remain a hotspot between the two regional axes," political writer Tony Issa said.
He noted that "Iran benefits from Lebanon being a proxy centre for regional conflict".
Arab and Gulf states are demanding an end to Iranian interference in Lebanon, via Hizbullah, and support the US efforts aimed at achieving this goal, he said.
He noted that the Arab-Gulf blockade on Lebanon is worsening, due to the heightened intensity of the regional conflict with Iran.
The Lebanese people must exercise their rights, build Lebanon, and stop fighting Iran's battles in the Middle East, he said.