BEIRUT -- Lebanon and Israel resumed US-mediated talks on their disputed maritime boundary on Tuesday (May 4), as part of a long-term US effort to broker peace between the two neighbours, which are technically still at war.
The US team mediating the negotiations between representatives of the two governments is led by Ambassador John P. Desrocher, who arrived in Lebanon on Monday.
"The resumption of talks is a positive step towards a long-awaited resolution," the US State Department said in a statement announcing the resumption of talks, which began in October but stalled after a few weeks.
Ahead of the talks, Lebanese President Michel Aoun met with the Lebanese delegation, with Army Commander Gen. Joseph Aoun in attendance, Lebanon's National News Agency reported Monday.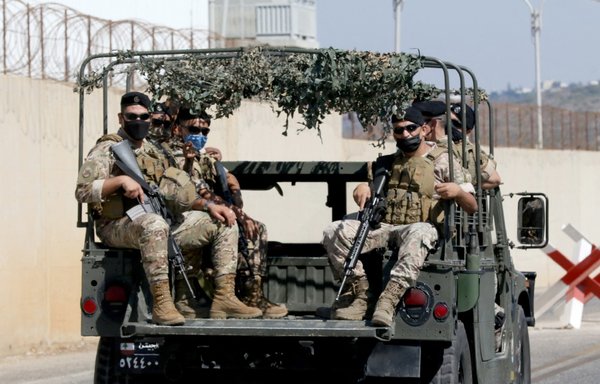 The demarcation of the maritime borders between the two countries is expected to clear the way for offshore oil and gas exploration.
The talks follow years of US shuttle diplomacy between the two sides. But they stalled after Lebanon demanded a larger area, including part of the Karish gas field, where Israel has given a Greek firm rights for exploration.
During a mid-April visit to Beirut, US envoy David Hale said the US will continue to broker the talks "on the basis of which we initiated these discussions", appearing to reject the Lebanese move towards demanding a larger area.
Reducing regional tensions
The US administration's renewal of its pledge to assist in the negotiations with Israel is "very positive", said Lebanese energy expert Laury Haytayan.
Of key importance is the US willingness to "bring in international border demarcation experts to express their opinion on the technical negotiations and the proposed [demarcation] lines", she said.
"All indications point to the readiness of the United States to discuss all [demarcation] lines, and David Hale's statements express the new administration's commitment to help Lebanon," Haytayan added.
The talks are expected to enhance regional stability by reducing tension on Lebanon's southern borders and enabling it to benefit from oil and gas resources that are currently under dispute.
In an October 1 statement, the United Nations interim peacekeeping force in southern Lebanon (UNIFIL) expressed support for the maritime boundary talks, saying it "stands ready to extend to the parties all the support at its disposal".
UNIFIL, established in 1978 as a peacekeeping mission mandated to assist the Lebanese forces in disarming Hizbullah, has seen its work repeatedly obstructed by the Iran-backed party.
The UN Security Council last year voted to renew UNIFIL's mandate until August 31, reiterating its condemnation of all attempts to restrict the free movement of its personnel or to attack its personnel and equipment.
It also called for full access to sites UNIFIL wants to investigate, to which it has been consistently denied access, including those related to illicit cross-border tunnels used by Hizbullah.
Call for 'fundamental reform'
Lebanon is mired in an economic and political crisis that has been exacerbated by a deadly August 4 explosion at the Beirut port and the coronavirus pandemic.
In remarks delivered April 15 at Baabda Palace, the official residence of the Lebanese president, Hale called on Lebanese leaders to form a new government "that is willing and capable of true and fundamental reform".
"That's the only path out of the crisis," he said.
He also accused Hizbullah of undermining the Lebanese state.
"Hizbullah's accumulation of dangerous weapons, smuggling and other illicit and corrupt activities undermine legitimate state institutions," he said. "They rob the Lebanese of the ability to build a peaceful and prosperous country."
"It is Iran that is fueling and financing this challenge to the state and this distortion of Lebanese political life," he said.
"Those who continue to obstruct progress on the reform agenda jeopardise their relationship with the United States and our partners and open themselves up to punitive actions," he added.
"Those who facilitate progress can be assured of our strong support."
These "are words that Lebanon has been waiting for", said former justice minister Ashraf Rifi.
The US "enjoys credibility by virtue of its co-operation with Lebanon despite the dilemma that Hizbullah represents", he said, expressing his hopes that the US "will contribute to liberating Lebanon from the Iranian hegemony".
France's efforts to break deadlock
France has played a leading role in trying to break the political deadlock, but many Lebanese have said their country cannot rely on France alone, but must look to the international community and to the United States.
The United States is opposed to any government that includes Hizbullah, as are many Lebanese, who claim the party has taken their country "hostage".
Foreign Minister Jean-Yves Le Drian on Thursday announced that France has begun imposing entry restrictions on certain Lebanese figures as a sanction for their role in Lebanon's political crisis or corruption, AFP reported.
"On a national basis, we have started to implement restrictions on access to French territory against personalities involved in the current political blockage or involved in corruption," he said in a statement.
"We reserve the right to adopt additional measures against all those preventing an exit from the crisis, and we will do so in co-ordination with our international partners," Le Drian said, without naming the figures the measure targeted.
Two diplomats said a list of names had been put together and people were being made aware, according to Reuters.
Le Drian said discussions were already under way with France's European partners on what "instruments" could be used to increase pressure on Lebanese political figures who are "obstructing a way out of the crisis".
Nohad Topalian contributed to this report from Beirut.