Recent regional developments that have brought Arab states closer together and created new regional partnerships diminish Iran's influence and have stranded it on the "other side" of Middle East politics, observers say.
These developments come at a time when Iran is severely isolated, on the brink of bankruptcy and facing both international sanctions and domestic dissent.
The country is in dire need of global engagement, yet the Iranian regime is doing little to demonstrate its commitment to international conventions.
Rather, at a time when it needs to be on good terms with both the United States and European powers, it has announced it has begun enriching uranium up to a 60% purity level.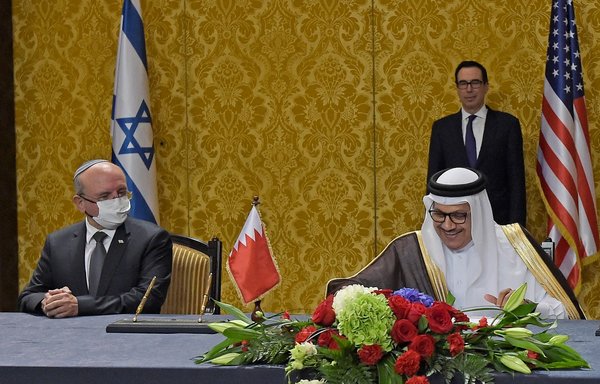 The move violates Tehran's commitments under the terms of the 2015 nuclear deal, known as the Joint Comprehensive Plan of Action (JCPOA), the very deal which it expects to be revived and wants world powers to return to.
Region moves forward without Iran
As Iran grapples with its commitments to the global community, a host of countries in the Middle East are moving on from persistent conflicts and turning the page on decades-old violence and strife.
There have been major diplomatic breakthroughs in the Middle East in the past year, including normalisation agreements between Israel and several Arab and a rapprochement between Saudi Arabia and Qatar.
The UAE and Bahrain signed the US-brokered agreements with Israel on September 15, followed by Sudan on October 23 and Morocco on December 10. There are signs that other Arab states will sign the agreements as well.
The normalisation agreements reflect a changing dynamic in the region, where countries now recognise the need to co-operate against Iranian influence.
Iran has denounced the treaties, which it sees as a direct threat to its expansionist agenda as they hinder the plans of its Islamic Revolutionary Guard Corps (IRGC), rooted in creating instability, observers say.
In a demonstration of profound change in the Middle East, in December observers witnessed a once-inconceivable scene: Israelis celebrating Hanukkah in the heart of the Gulf.
In early January, Qatar inked a reconciliation treaty with neighbouring Gulf states, bringing about a series of welcome changes that include the reopening of airspace and of land and sea borders with the other Gulf states and Egypt.
Iran's proxies wreak havoc in Iraq
Meanwhile, the Iranian regime is further isolating itself through its continuing support of proxy militias.
The Iraqi government, with the support of senior Shia cleric Ali al-Sistani, is working to counter the influence of militias that threaten the legitimacy of the state and its official institutions.
Iran-backed militias are widely viewed by Iraqis as unruly armed groups that threaten stability and peace in their country and beyond.
These militias do not comply with the Iraqi government's decisions, and instead follow the agenda set by the IRGC's Quds Force.
Following repeated attacks on foreign embassies, assassinations and the forced disappearance of activists, the Iraqi public has been calling for the containment of IRGC-affiliated militias.
In recent days, these groups have upped the stakes with a series of rocket and drone attacks, including a terrorist drone strike in Erbil last week, the first such attack in Iraq.
It is, however, a common tactic elsewhere in the Middle East where Iran's proxies are active.
Houthis attack Saudi Arabia, Yemen
"The Iranian-backed militias have drones now with a 15-foot wingspan," a senior US defence official told AFP April 15. "It's an Iranian-made CAS-04, which we've already seen weaponised by the Houthis against Saudi [Arabia]."
In January, drones packed with explosives were intercepted over the royal palace in Riyadh.
Alwiyat al-Waad al-Haq (Righteous Promise Brigades) -- a new façade group for IRGC-backed Iraqi Kataib Hizbullah -- took credit for the January 23 foiled attack on al-Yamamah Palace and other locations in Riyadh.
More recently, the Iran-backed Houthis (Ansarallah) claimed a March 7 missile and drone strike targeting the heart of Saudi Arabia's oil industry.
In November, the Houthis launched an attack on an Aramco oil facility in Jeddah.
The Houthis -- whom the IRGC has backed for years with weapons, expertise and technology -- also continue to carry out deadly attacks in Yemen.
A United Nations team tasked with investigating a December 30 attack on Aden airport that killed at least 26 people and wounded more than 50 released its findings on March 29, which identified the Houthis as the perpetrators.
Even as Iran creates instability in the region, it is cracking down on domestic dissent and ignoring the needs of its own people, who are struggling with severe economic pressure and disenchantment with the regime.