BEIRUT -- Lebanese protesters set up new road blocks this week to vent anger over political inaction in the face of deepening poverty, as the country's economic crisis has brought surging unemployment, spiralling prices and a plunging currency.
More than half of the population is living below the poverty line, and prices have soared as the Lebanese pound has lost more than 80% of its value.
Yet the government -- which formally resigned after the massive Beirut port explosion last August that killed more than 200 people -- has failed to agree on a new cabinet since.
Many Lebanese -- some of whom are demanding the removal of Lebanon's entire political class, widely seen as incompetent and corrupt -- are looking outside their country, in particular to France, to help put the country back on a path to achieving peace, stability and prosperity.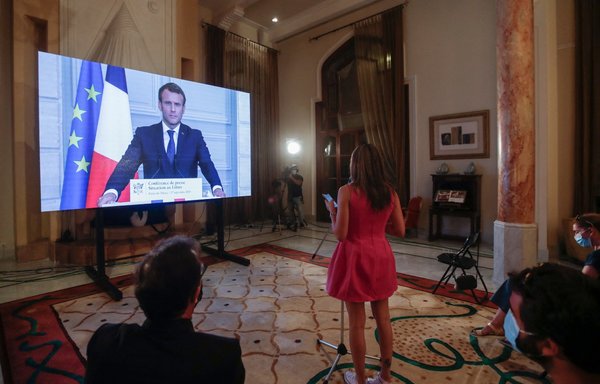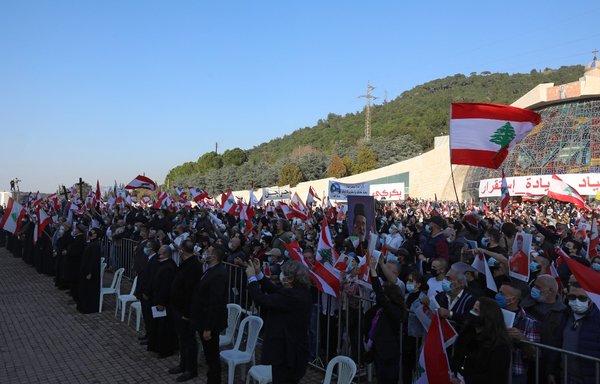 Part of that help involves ending Hizbullah's hegemony over Lebanon, which is widely seen as the source of the country's problems.
The Iran-backed party's blatant interference in the state's administration and its insistence on being represented in any new government has caused untold damage to Lebanon's reputation, Lebanese analysts and activists say
The damage has been so extensive that in the aftermath of the Beirut port blast, many Lebanese looked to France for assistance, instead of their own government.
They are now calling on the French president to fulfill his promise to help Lebanon recover from the collapse at all levels, and to rein in Hizbullah.
The Beirut port blast "did not stir the sentiments of [Lebanese] officials, but it did stir French President Emmanuel Macron", said activist Paula Rbeiz, who has taken part in the popular protests as part of various groups.
Macron visited Beirut on August 6, two days after the blast, to tour the affected neighbourhoods and listen to the concerns of people.
He visited again on September 1, as the former French mandate marked its centenary, and pressed a drive for reform and political change in Lebanon.
Last month, Macron invited Lebanese Prime Minister-designate Saad al-Hariri to dinner at the Elysee Palace in Paris, and according to a tweet from al-Hariri, "Presidents Hariri and Macron discussed the internal Lebanese difficulties that hinder the formation of the government and the possible ways to overcome them".
Calls for greater French role
Macron "visited us twice and listened to our pain and our demands as victims and a people controlled by a corrupt authority and Hizbullah", Rbeiz said.
Activists "are counting on a major French role to rein in Hizbullah and stop it from compromising the decision-making process and Lebanese sovereignty", she said, likening the party to "an octopus holding all the levers of the state".
Rbeiz called on France to "play a larger role in Lebanon to curb Hizbullah and prevent it from being represented in any government", suggesting that this would receive support from Lebanese activists and a wide spectrum of society.
Hizbullah is largely responsible for putting Lebanon on the path to financial ruin, by virtue of its association with Iran. It also has embroiled Lebanon in the region's wars, in violation of the country's policy of dissociation.
Former Lebanese MP Ahmad Fatfat said the French role "is very important to putting an end to Hizbullah's interference in the affairs of the Lebanese state".
France has always had a role in Lebanon, and is trying to maintain its influence, he said. But the French intervention by itself is not very effective against Hizbullah, as the party is part of the Iranian system.
Fatfat said Macron's visit to Lebanon in the wake of the August 4 explosion "soothed" the Lebanese people, "who were reeling from the explosion's psychological and financial repercussions".
Meanwhile, Lebanese officials proved themselves unable to deal with the country's multiple crises, he said.
Ending government stalemate
Maronite Patriarch Beshara Boutros al-Rahi in July called for Lebanon to return to its policy of neutrality -- a message that was well received in Lebanon and helped to focus attention on the need to restore the authority of the state.
In February, he followed up on this demand, calling for a UN-sponsored international conference on Lebanon's economic collapse and political impasse -- a move that was swiftly quashed by Hizbullah chief Hassan Nasrallah.
In response, thousands rallied to al-Rahi's support, gathering at the Maronite Patriarchate in the mountain village of Bkerke, northeast of Beirut.
General Security chief Maj. Gen. Abbas Ibrahim met Tuesday (March 9) with al-Rahi, to discuss the latter's initiative for resolving the government's formation crisis.
Ibrahim's initiative is "still on the front burner" and has gained the support of "influential countries", local media reported, in possible reference to France.
Ibrahim did not make a statement, but sources close to him said his initiative could be "the only solution that is strongly present on the table".
To date, there has only been the initiative launched by President Macron to form a technocratic government that carries out a reform plan to resolve Lebanon's economic crisis, "but that has not been possible to implement", said Bechara Charbel, editor-in-chief of Nida al-Watan newspaper.
"There is a need for an internal consensus that ends the duality of the state," he said.
US support
"Reliance on France alone is not enough because we need the international community's support of an international conference that guarantees Lebanon's neutrality and Hizbullah's dissolution," Charbel said.
But France can be helpful in that regard, he added, pointing out that "there is US-French co-operation on the Lebanese issue".
The US is opposed to any government that includes Hizbullah, however, and France will need its support -- and the support of the international community -- for any proposal that is put forward.
The exclusion of Hizbullah from any future government would unblock aid to Lebanon, paving the way for the restoration of its battered economy.
"It is hoped that the new US administration will persuade Paris and most European countries to stand with it in countering Iran's expansion beyond its geographical borders," said political analyst George Chaheen.
Putting an end to Hizbullah's hegemony hinges on the international community pushing Iran to make concessions with regard to the Lebanese crisis, he said.