Lebanon's hopes that successful offshore gas exploitation in the Levantine basin could help it mitigate the impact of its economic crisis have been fading in light of recent setbacks, experts in the field told Al-Mashareq.
An international consortium recently suspended gas exploration efforts in an area known as Block 4 after finding no viable gas at that site, and the future of the Block 9 exploration effort is increasingly uncertain.
The August 4th explosion at the Beirut port, which the consortium had been using as a staging point, has further lowered hopes that these efforts will bear fruit any time soon.
The French-Italian-Russian consortium (Total, Eni and Novatek) commenced operations February 27th, but in April announced that no gas or commercially viable reserves had been found in Block 4.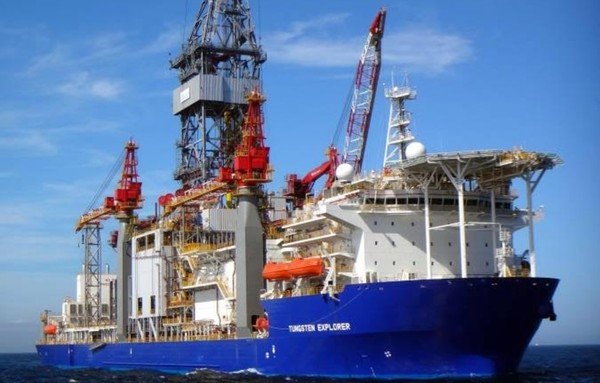 Located in southern Lebanese territorial waters, Block 9 is part of the Leviathan gas field, in an area also claimed by Israel. An agreement on maritime borders has yet to be reached, and without this the exploration rights are not certain.
Meanwhile, US sanctions imposed on Hizbullah supporters as part of the Caesar Syrian Civilian Protection Act of 2019 have further complicated the picture.
Some Hizbullah supporters in the Lebanese government are involved in the project, which increases the risk that the investors will pull out, leading to accusations that Hizbullah is destroying Lebanon's economic and oil future.
Beirut port destroyed
The destruction of the Beirut port will curtail Lebanon's gas exploration efforts in its territorial waters, economic analyst Tony Farah told Al-Mashareq.
"The port of Beirut was a main hub for oil and gas exploration, and international gas exploration companies used it as a logistical station for support and the import of the equipment needed for exploration operations," he said.
"Now, however, with the port destroyed, it has become impossible to carry out exploration operations," he said, adding that it may take years to rebuild.
"We were expecting drilling operations to resume soon, pending the resolution of problems related to exploration, but now we have an additional problem that prevents exploration, and it is a technical problem related to the port of Beirut."
"Consequently, the resumption of drilling operations is currently out of the realm of possibility, until the port is rebuilt," Farah said.
Lebanese hopes "were pinned on oil and gas exploration, especially in Block 9", he said, noting that in an August 6th interview with An-Nahar, House Speaker Nabih Berri said talks on the demarcation of the border "are in the final stages".
'A stage of stagnation'
"Lebanon is experiencing a difficult governmental crisis that is preventing it from addressing its economic and financial problems," Laury Haytayan, an oil and gas expert in the Middle East and North Africa, told Al-Mashareq.
Since the French company Total revealed in April it had found no viable gas in the Byblos-1 exploration well it had drilled in Block 4, the government has pinned its hopes on the oil and gas exploration in Block 9, she said.
"It should be noted, however, that betting on oil alone was wrong, because the country can only improve with radical reforms," Haytayan said. "While we looked forward in anticipation to the amount gas Block 9 could potentially hold, we entered a stage of stagnation in the oil and gas sector."
"The Ministry of Energy postponed the second round of granting licenses for drilling activities in new blocks, which means no new companies will be drilling in new blocks in Lebanon in the short term," she said.
The stoppage of drilling in Block 9 can be attributed to the "border demarcation problem", Haytayan said.
She noted that the demarcation of Lebanon's southern border, where Blocks 9 and 8 are located, has been hindered by Hizbullah's insistence on the simultaneous demarcation of both the land and maritime borders.
"Total is still committed to working in Block 9 in Lebanon, and has not announced its formal withdrawal," Haytayan said.
"It could still do that for political and economic considerations, however, especially if the US imposes sanctions on companies operating in Lebanon's oil and gas sector."
Haytayan pointed out that Total withdrew from Iran in response to the threat of sanctions on companies operating in the Iranian oil and gas sector.
Hizbullah puts Lebanon's future at risk
"We should expect more economic and political difficulties as long as Hizbullah controls the government and boasts of its subservience to Iran, and as long as sanctions are imposed on figures who support it," Haytayan said.
"We cannot ask the world to help us and be hostile to it at the same time."
"As long as there are weapons outside state control, and a party that sees Lebanon as part of the Iranian Islamic resistance in the region and is executing its agenda, Lebanon will not have a prosperous economic future," said military expert Naji Malaeb.
As long as this remains the case, he told Al-Mashareq, "the efforts by the Lebanese and the international community to institute the desired reforms will not see the light of day".
"Companies will not start oil and gas exploration [in Block 9] as long as Hizbullah dominates the government and its decisions and sanctions are imposed on it and those close to it," Malaeb said.
Hizbullah "controls the political game and the work of the government", strategy analyst George Chaheen told Al-Mashareq, accusing the party of "dragging the country to where no one wants to go".
"Oil and gas exploration hopes have entered into a coma in the wake of the various sanctions imposed on Lebanon because of Hizbullah, and also imposed on figures who support it," Chaheen said.