ARABIAN SEA -- Joint forces from France, Belgium, Japan and the United States recently concluded naval exercises in the Arabian Sea and Gulf of Oman to address threats to regional security.
The Group Arabian Sea Warfare Exercise (GASWEX) 21 was held March 19-22, as part of France's Charles de Gaulle carrier strike group mission Clemenceau 21.
During the exercise, participating forces focused on the full spectrum of maritime warfare operations, practicing anti-air warfare, anti-surface warfare, and anti-submarine warfare tactics and procedures.
"The capability to train in such conditions of realism and complexity certainly represented a challenge but also and above all a real opportunity," said Adm. Marc Aussedat, French carrier strike group commander.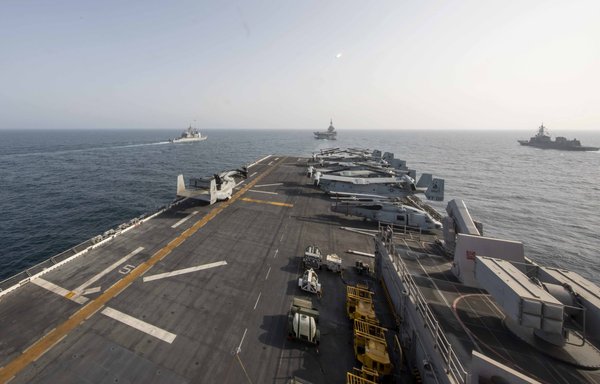 "It put the capabilities of the Charles de Gaulle carrier strike group with its American, Belgian and Japanese partners into high-end operations to ensure the security in any strategic area where our shared values would be at stake," he said.
"Partnership is fundamental to everything we do, and those partnerships are our asymmetrical advantage," said Vice Adm. Samuel Paparo, commander of US Naval Forces Central Command (NAVCENT), US 5th Fleet and Combined Maritime Forces.
"Integrating processes, systems, and command and control functions strengthen relationships and trust -- neither of which can be surged in time of crisis," he said.
Countering Iranian threats
The drill comes as Iran has doubled down on its obstinacy regarding the 2015 nuclear deal known as the Joint Comprehensive Plan of Action (JCPOA).
US President Joe Biden has expressed a desire to return to the deal if Iran honours the deal's limits on its nuclear programme. The European Union has offered to broker talks to discuss Tehran's return to compliance.
So far Iran has rebuffed those efforts, while it continues its acts of aggression in the Middle East through the Islamic Revolutionary Guard Corps (IRGC) and its proxies.
A number of recent military drills and exercises in the region underscore NATO and global partners' efforts to deter Iranian threats.
A pair of US B-52 bombers flew a multinational patrol mission across the Middle East on March 7, in what the US military says was a message to deter aggression and reassure partners and allies of the US military's commitment to security in the region.
Warplanes of multiple partner nations accompanied the US bombers at different points during the flight, including Saudi Arabia and Qatar.
It was the fourth bomber deployment to the Middle East this year.
In another example of such co-operation, US and allied air forces in the Gulf conducted the Agile Combat Employment (ACE) across the Middle East from February 28 to March 5.
In addition to the risks posed by Iran, Russia and China are vying for influence in the region, CENTCOM commander Gen. Kenneth McKenzie said during a February 8 address to the Middle East Institute.
But Iran remains the main problem, he said.
"For more than 40 years, the Iranian regime has funded and aggressively supported terrorism and terrorist organisations and defied international norms by conducting malign activities," he said.
These activities destabilise the region, global security and commerce, he said.
Taken together, these security challenges underscore the need for co-ordinated US inter-agency efforts, strong allies and partner relationships, he said.
Stronger together
Meanwhile, the European Maritime Awareness in the Strait of Hormuz (EMASOH) operation -- led by Germany, the Netherlands, Belgium, Portugal, Greece, France, Italy and Denmark -- celebrated its first anniversary on February 25.
Since its inception last year, seven frigates and a surveillance aircraft have been part of the EMASOH operation, which is headquartered in Abu Dhabi.
"In total, these assets have conducted more than 100 flights, spent 400 days at sea, reassured over 20 merchant ships, and have crossed the Strait of Hormuz close to 100 times," EMASOH said in a statement marking the occasion.
The Gulf and the Strait of Hormuz have experienced rising insecurity and instability since 2019 as a result of growing regional tensions, the French Foreign Ministry said.
But as the international presence in the region has increased in recent months -- of which EMASOH is one component -- fewer incidents have occurred, it noted.